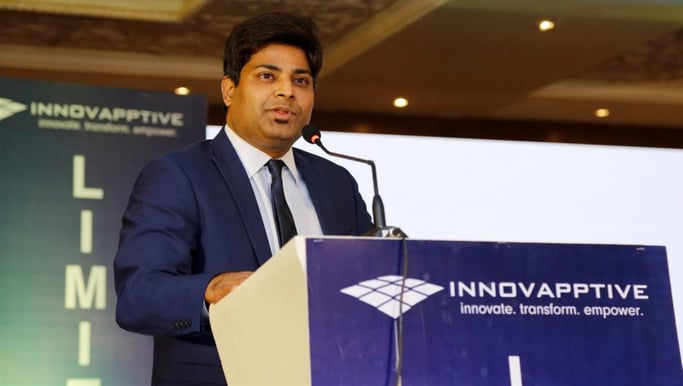 When Sundeep Ravande, Innovapptive's CEO & Co-Founder, opened the doors for Innovapptive with Hari Kamineni, CPO & Co-Founder, in 2012, their dream was to seize on the open market opportunity to deliver mobile workforce management solutions to business clients that standardizes business processes, creates best practices, as well as builds communities while driving product vision throughout the entire process. The Innovapptive success story is backed by actual business results, customer references, testimonials and industry credibility that provides enterprises around the world assurance with being in safe hands.
Comprised of a team of over 160 top contributors throughout the United States, Germany, UK, Netherlands, Australia, and India; Sundeep and Hari, along with Innovapptive's high caliber Executive Leadership Team, created Innovapptive to be leader in field operations and supply chain software solutions for oil & gas, mining, manufacturing, chemicals, and utilities. Innovapptive is a software provider of highly configurable Mobile Workforce Management solutions for Enterprise Asset Management (EAM), Field Services, Supply Chain, and a Rapid Mobile Application Development (RMAD) platform.
The mission of Innovapptive is simple:
Innovate, develop, deliver, and support superior solutions for continuous improvement in business performance.
Transform business processes, people and technology for businesses to achieve their strategic vision and goals.
Empower businesses and their people with access to real-time information and the ability to execute business processes with ease, anytime and anywhere.
Recently, I (MaryJane Boyd) had the pleasure of having a conversation with Mr. Ravande to discuss his vision for Innovapptive, its evolution and where 2018 is taking the company and beyond. What follows is the transcript of our conversation:
MaryJane Boyd: Thank you for your time Sundeep. I know you are incredibly busy. 2017 and 2018 have been amazing years for Innovapptive, so far. What has been the biggest achievement for Innovapptive in the first half of 2018? What has been the biggest thing we can do?
Sundeep Ravande: Well the numbers eliminate anything that lingers in a few minutes. I believe we (Innovapptive) have come together as one unit to help improve our customers' operational efficiencies as well as their employee's day to day lives. We have started to add in new products and engagements in mass scale with a lot of former customers, and this trend is continuing as we speak.
Ravande: I consider it to be a significant achievement, from a growth perspective over the last six months, that we have grown our sales bookings in the last six months. And we're also coming from the big momentum that we had in 2017, where we had 500 percent growth in sales bookings. We have continued that momentum in the last nine months where we are almost close to 150 percent of 2017's five hundred percent booking growth. This clearly aligns with, when we started this conversation, how we are focused on helping people and helping improve our customers' employees' lives, daily. The numbers nicely tie up and tell a story.
Boyd: With such fantastic projected growth, what kind of response are you seeing in the market?
Ravande: The market is responding. The mission and the vision of the company [Innovapptive] are to simplify consumption and adoption of our digital technologies is to solve meaningful business challenges. I think that mission and vision is coming to life very clearly and that's demonstrated by two facts. One is obviously at an emotional level - we can certainly look at customers like UNICEF, Hess or Jemena, and see that they're extremely ecstatic. The second also comes to life in the quantitative metrics: 1100% growth in cloud bookings and achieving last year bookings which were already at 500 percent, we're already year to date at that. That really tells the story of the achievements so far to date, but we have a long road ahead of us.
Boyd: You mention a "long road ahead". What does that look like for Innovapptive?
Ravande: We are still looking to grow 250% compared to last year 500%. And we want to grow our cloud bookings at the same rate. We're hoping to finish this year at a 1700% growth of cloud bookings, which will be a significant jump from last year. And we are building and shifting our entire business to a cloud business model versus, historically we have just been a perpetual license or an on-premise traditional business model.
Boyd: With Innovapptive's shift in focus to the Cloud, what challenges do you foresee ahead for the team?
Ravande: I think the biggest challenges for us over the next six months, and the rest of 2018, will be to continue keeping our customers extremely happy and satisfied. If we can continue to help our customers succeed and make that our number one priority as a company...There's a saying "when you help people, it helps you back in return". Staying focused on that is extremely critical for us. Our laser focus is customer-centric - solving our customers' problems and wanting to keep them happy.
Boyd: Sundeep, what's causing Innovapptive's shift to the cloud away from the licensing perspective?
Ravande: There are two things: One is the company's existence itself - the purpose and, when you look at the mission statement of Innovapptive, it says "simplified adoption and consumption of digital technologies to solve meaningful business challenges". The moment you hear the word "simplify" it correlates back to the Cloud because when you have a cloud deployment, it makes it extremely simple for someone to adopt resolutions and for a business user to come in and solve business challenges with digital technologies. That is exactly the vision. That's the shift we're making to align the company's mission.
The second goal is to build a very financially stable company and move into a recurring revenue, or a subscription revenue, model. This is obviously extremely important to us and the company. We can create a more predictable revenue model for our company in an annual recurring revenue model.
Boyd: Will Innovapptive's move to cloud effect its mission and direction?
Ravande: What if we only focused on just improving shifting to an annual recurring revenue model but never tied it to a mission and neglected to focus on helping our customers and keeping them happy? That would be the wrong shift obviously. It starts with the purpose of the mission and then keeping the customers happy solving their business problems for them to see an immense return on investment and in return be able to create a very predictable revenue model for us.
Boyd: This is my last question, and I think I know the answer based on our conversation, how has the mission helped push Innovapptive forward and what's next?
Ravande: Since I took over as the CEO of the company and we've seen some tremendous changes right away. Number one is, I think; I rallied the entire company around focusing around the mission. We've (Innovapptive) had a mission in the past, but that mission was not clear to people. Defining our existence and our purpose is extremely critical and what I've started to see is all employees, 160 plus employees in the company, are starting to get behind that mission. And when you're able to get behind that mission and you can solve problems, other people's problems, you start to see results come through for you as a company. And that's the predominant reason why we are seeing such phenomenal growth at Innovapptive.
We (Innovapptive) made a shift. We created an immense amount of focus. We stopped worrying about doing too many things too fast. We started to focus on solving small problems with laser focus and becoming experts at them. "Doing too many things too fast, as the saying goes, creates a jack of all trades, master of none".
To learn more about Innovapptive's Mobile Workforce Management Solutions, RACE™ Configuration toolkit and RACE™ App Builder, our Solution Experts are ready to chat with you live, or you can reach us at (713) 275-1804.