mWorkOrder version 5.0 What new features can our Customers expect?
We at Innovapptive are excited to inform you about the upcoming release of version 5.0 of our mWorkOrder mobile solution. We are committed to enhancing and improving our features of our solutions and encourage our customers to upgrade to the latest version of the software so that you can take advantage of the most current features. Based on the proven success of the Rapid App Configurator Engine (RACE™) we have advanced the ball on our latest release. As we approach our release we would like to share a sneak peek of the features you can expect to see in Version 5.0
mWorkOrder – Mobile Work Order Management
Innovapptive's mWorkOrder is the most configurable enterprise-grade SAP Mobile Plant Maintenance solution in the market. It gives you the power to improve capital asset management in ways that increase reliability, enhance predictive maintenance, ensure regulatory compliance, reduce energy usage, and support sustainability initiatives. Fully configurable with RACE™, it gives you unparalleled flexibility to zero in on the specialized, industry requirements that can turn your company's asset management into a competitive advantage.
With it, users can download work orders directly from SAP or any backend system and then assign or re-assign those work orders to the appropriate individual. mWorkOrder mobile users can view their assigned activities and access work order history and asset information to facilitate diagnosis and repair. They can also issue and return parts, book labor hours, view documents, and add images and attachments to the work order for future reference. Also, users can create personalized to-do lists that include the specific details for a task. When workers have completed the task, they can close the order, include comments, and closing codes, and even upload pictures. With mWorkOrder, it's simple to book and capture labour information accurately using start, stop, and pause controls, and you can print work order reports just as easily. Allow remote workers to use mobile devices to enter asset data from the location of the equipment in an offline mode. mWorkOrder can even work in places where internet access is intermittent or non-existent - and seamlessly switch between online and offline modes.
With mWorkOrder, workers can view all equipment on a map, consult the full history of the equipment, and see all relevant documents. Additionally, the mAssetTag add-on also supports the fixed asset physical inventory process. To speed and simplify your work, the mWorkOrder solution offers fully optimized, role-specific feature sets for each platform. That way you don't suffer from reading tiny screens cluttered with excess details, while keeping the most important information easy to read and use on any kind of device - smartphones, tablets, rugged handhelds, or desktops.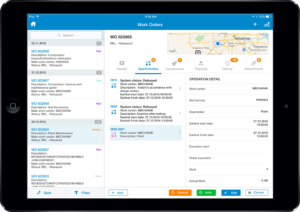 Redefine the way you operate, What's new in it for you, users
The new features include copying an existing work order and creating a new one. Likewise, with notifications. It provides the ability to display historical work orders from a new work order history section, based on the equipment or functional location selected. Likewise, with notifications.
The new release comes with the update to create a sub work order from an existing (parent) work order. It also displays user preference data and decimal formats.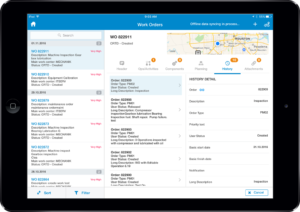 You can also process sub-operations within work orders using task list feature. It lets you create notification from functional location module, perform material issue reversal/cancellation, configure various attachment options, and add additional custom tabs.
If you would like a demo of Innovapptive's mWorkOrder(Work Order Management) solution, please click on the button

. Alternatively, if you would like to discuss with an Innovapptive solution expert, you can reach out to us by emailing us at sales@innovapptive.com or you can reach a sales representative at (713) 275-1804.