With the start of the New Year 2018 approaching, Innovapptive is excited to announce the general availability mWorkOrder 6.0 from today. The Release of mWorkOrder 6.0 is an achievement for us and we are eager to showcase the latest features and functionality to customers across our portfolio of products!
mWorkOrder- Mobile Work Order Solution
The mWorkOrder helps avoiding unexpected downtime, scheduling work orders & delivering a consistent and productive asset maintenance experience on mobile devices. The solution lets plant technicians/maintenance workers to work more safely, productively, and independently, providing an intuitive & seamless user experience. It provides them anytime, anywhere access to the information they need to do their jobs. This SAP® Certified solution leverages the SAP Plant Maintenance (PM) module at the back-end to deliver a consistent, reliable and a productive asset maintenance experience across a wide range of industries.
With both online and offline access, it helps ensuring delivery of mission-critical support of assets without any interruptions or delays, leading to better performance and reliability across plants, fleets, networks, and the enterprise infrastructure. It helps users manage priorities in real time, avoid any potential equipment failure, unexpected downtime, safety and environmental risks. By using mWorkOrder, plant workers/technicians instantly get alerted through push notifications when they are assigned new work orders or notifications.
mWorkOrder 6.0 features out-of-the-box support for the SAP Plant Maintenance (PM) module.
Asset/Equipment Dashboard
The mWorkOrder 6.0 is coming with the new Asset Dashboard which allows users to access Asset/Equipment data such as Equipment's Details, Location, Warranty, Bill of Material, History, Overdue Notifications and more in one single screen. It helps users/technicians to drive quick decisions and actions in a single view.
List Count View
We have added a new feature List Count View that provides users the total number of data records synchronized and available by every module, on the Home Screen. It helps users to plan their work accordingly.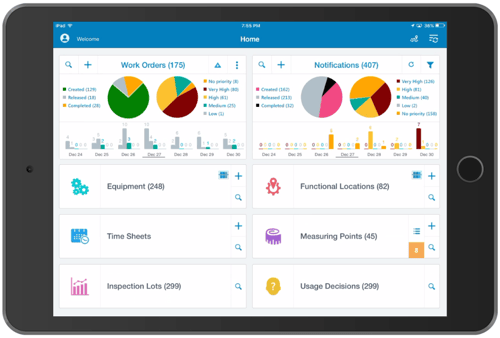 Emergency Work Order:
An important feature Emergency Work Order has added to mWorkOrder, which enables a technician to record an emergency maintenance event and related work completion by automating all the process steps. After saving the work order, the status of work order gets changed from created to Release. Operations get confirmed automatically and goods issue will be done if any.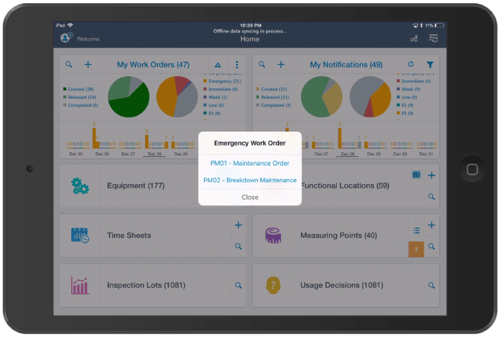 User Profile and User Shift time logging
A new icon – Profile is added on the Home Screen of mWorkOrder application, displays a profile pop-up when tapped. Now, users can initiate Shift Start and Shift End process steps. The Default Settings of the User is also included in the Profile pop-up.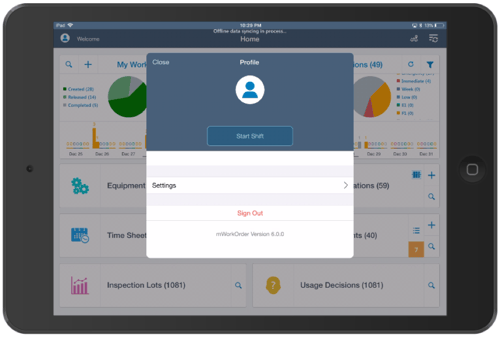 Image annotations
The mWorkOrder 6.0 has a new feature Adding Image Annotation, which enables users to edit an image before inserting it as an attachment on Work Orders, Notifications, Equipment and Functional Locations. This will help users understand the exact fault/issues that need to be fixed.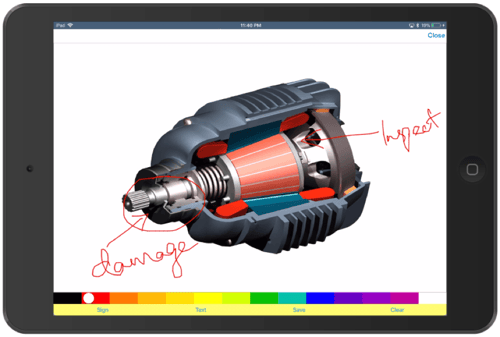 Thumbnails of attachments
We have added a new feature Thumbnails of Attachments in mWorkOrder, which distinctly displays thumbnails of all the attached documents/images under the attachment section. It saves users time by providing them the preview of all the attached documents/images in a single click.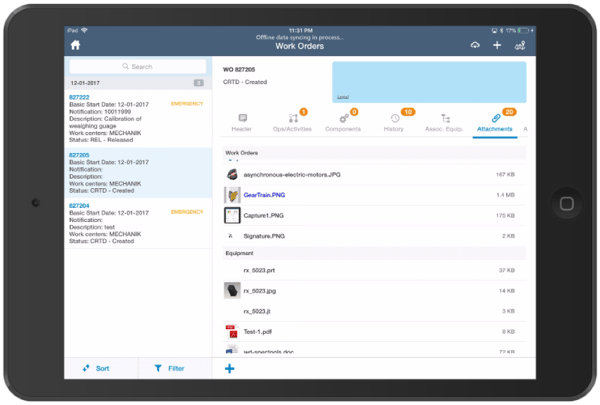 Follow-up Notification
This newly added feature enables users to create Follow-up Notification to a Work Order. This will help them to find details of maintenance work even after the processing of the Work Order.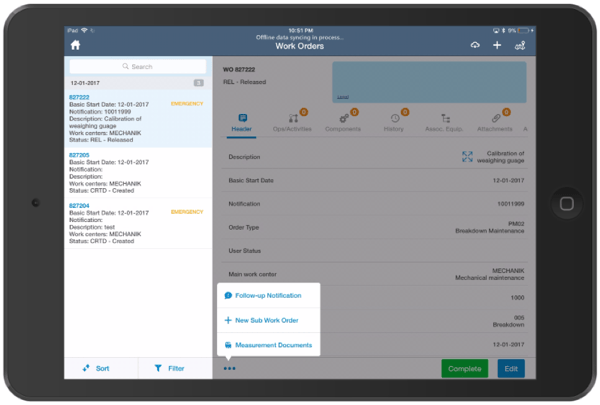 We encourage our customers to upgrade to the latest version of the software so that they can take advantage of the improved features.


If you would like a demo of Innovapptive's solution,

please click on the link. Alternatively, if you would like to discuss with an Innovapptive solution expert, you can reach out to us by emailing us at sales@innovapptive.com or you can reach a sales representative at (713) 275-1804.