Mining has taken its lumps during the ongoing coronavirus pandemic. The crisis has suppressed metals and minerals demand, hurt prices and stymied development.
There could be something big in the works, however, that may help the industry recover, ramp up production and raise revenues. Are mines ready for this potential boost and will their SAP PM enterprise asset management (EAM) systems be able to keep pace with increased maintenance demands?
Musk's Automotive Plans Could Rev Up Nickel Mining
Entrepreneur Elon Musk last September made a stunning announcement that left mine owners and operators excited about future prospects. Musk told guests at Tesla's annual Battery Day that he intends to build 20 million cars per year by 2030 and for that he's going to need a lot of metals and minerals, particularly nickel, for electric auto batteries.
"(A)ny mining companies out there, please mine more nickel."
Tesla CEO Elon Musk
Musk made this request: "(A)ny mining companies out there, please mine more nickel."
Tesla's will also require other metals and minerals mining firms will need to provide for engine parts, chassis, and other components. The company delivered nearly 500,000 automobiles in 2020, so it has a long way to go to meet its lofty goals by 2030. Tesla is currently building factories in Texas and Germany to help it reach those aspirations. Now is the time for mining companies to prepare for rapidly increasing demand, not only from Tesla but other electric car makers.
Special Challenges of Mine Enterprise Asset Management
Mining is a dangerous and hazardous business. Mines require lots of specialized equipment in daily operations. This equipment can be prone to breakdowns and requires daily maintenance and an ample supply of spare parts to keep up production and preserve revenue flows.
The industry faces losses of up to $300 million per year due to inefficient maintenance processes and spare parts procedures. It confronts four times higher maintenance costs thanks to unplanned equipment downtime and maintenance backlogs.
That's not all.
Mining maintenance faces a growing skills gap. Its frontline workforce has an average age of 47 years, one of the oldest of any industry. Retiring older workers take their accumulated tribal and institutional knowledge with them, leaving younger frontline workers scrambling to learn the ropes without the benefits of mentorship or instructions.
Finally, due to the dangerous nature of the business, mining companies must confront greater safety risks to frontline workers and greater exposure to legal fines and penalties. The Mine Safety and Health Administration (MSHA) has reported that 27 mining frontline workers died on the job and nearly 4,000 were injured in 2019.
Mobile Enterprise Asset Management to Keep Mine Equipment Running and Frontline Workers Safe
Innovapptive, a Connected Worker strategy pioneer, has developed a digital suite of EAM solutions that:
Integrate with SAP PM
Boost maintenance productivity
Reduce unplanned downtime
Cut maintenance backlogs
Overcome tribal knowledge loss
Enable guided work instructions>
Aid talent recruitment and retention
Improve daily equipment inspections
Enhance collaboration
Strengthen data collection and accuracy
Foster greater safety
Mitigate risks
These EAM solutions replace inefficient paper maintenance work orders, work instructions, inspection checklists and planning documents with hand-held mobile devices such as smartphones, tablets and wearables. . Using mobile devices adds greater speed, flexibility, agility and accuracy to the mine maintenance process, delivering timely operational information from the field to decision makers for action.
The results are smoother operations, decreased margin pressures and a safer working environment, all critical components of keeping up with increased demand from new products like electric vehicles.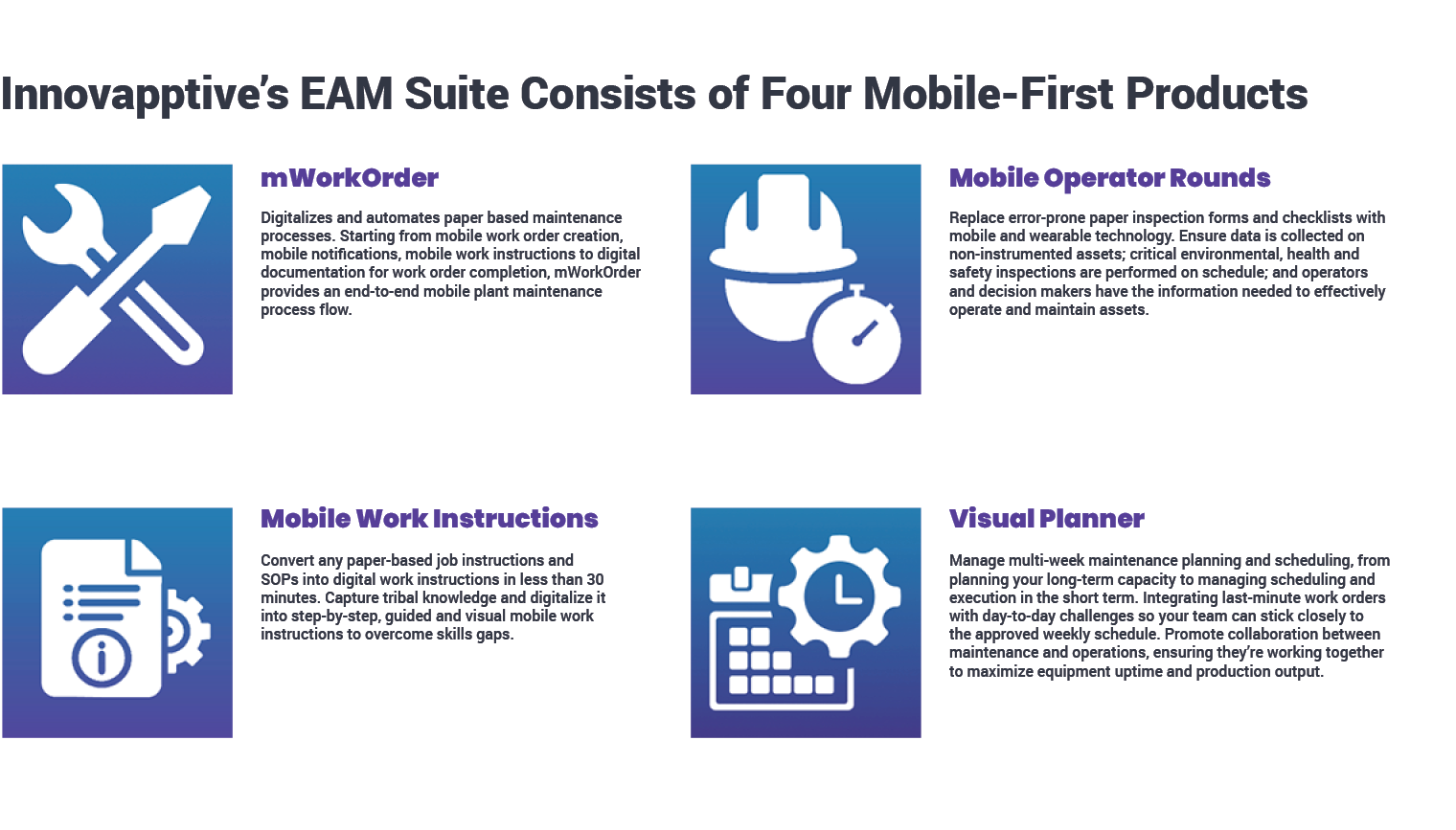 Learn More about Mobile Enterprise Asset Management
Innovapptive's Enterprise Asset Management solutions digitalize maintenance work order planning and execution, work instructions and operator rounds. Optimize resource utilization, extend asset lifespans and reliability, minimize asset breakdowns, boost safety compliance, and improve profitability. Schedule an EAM solution demo today or call us at 844-464-6668.