In the light of asset intensive industries embracing automation and mobility like never before, a good mobile work order solution assumes significance to take care of the varied industry needs, address their unique challenges and add value to their existing operational workflows. Since asset intensive industries such as oil & gas or manufacturing have assets running into several millions of dollars, it is pertinent that a prudent and an efficient asset management program be embarked. One of the major goals of asset management is how effectively work orders can be generated and tracked and at the time how they can effectively fulfil the purpose of strong plant or asset maintenance including fixing equipment failures or replacing existing assets with new assets.
This blog tries to explore the aspect of work order management from a business perspective, throwing light on what points you need to consider, before planning to invest on the right mobile work order tracking software.
What is the objective of the work order management software?
A work order refers to a job order created internally in an organization to perform a specific task. It is usually an order related to maintenance or repair request, generated by the quality inspector and sent to his plant personnel.
A right work order management software has to solve two goals: accomplish quality work more swiftly and at the same time with less cost. An effective work order management software minimizes the friction between pronouncing work instructions and effectively executing them. Apart from that, it provides a perfect channel for key decision makers to analyze completed work to track process inefficiencies and identify how these inefficiencies can be plugged.
Now let's take a look at some of the critical aspects from a functional perspective that one need to look before planning to invest in such a software:
Work requests and order creation: At the rudimentary level, a work order software should enable you to create a document or a note that can be tracked, identifying what work needs to done and how it can be completed. Even this basic step is aimed to improve the efficiency of the workforce tremendously, wherein employees can rapidly and accurately convey work requests and instructions.
Scheduling and resource allocation: This is one of the major operational aspects that one need to consider while looking for a good work order tracking system. Determining who need to be assigned work, what is required to complete it and when it should be completed is an important task within work order management. A work order management solution should maintain a database of information that should identify what equipment and materials are required to complete each type of job. Apart from that, a perfect work order system should include calendaring tools to optimize equipment and usage of labor resources.
Change orders: A comprehensive work order management should include the capability to take care of dynamic change orders, as there is always a possibility of changes to the scope of work or method of completion, even after the work order is created.
Status updates and monitoring the completion of activities: A good work order management software should provide complete visibility into the completion of jobs. Being able to accurately predict the work order completion can be the most efficient aspect in ensuring immense customer satisfaction.
Reporting: A work order management system should provide a rich source of data about your operational efficiency. Reporting tools in the work order system should help you convert this data into actionable information for improving your processes. Having good reporting tools integrated into the software can help you evaluate the key performance indicators on completed work pertaining to error rates, adherence to quality standards and time of completion.
Remote and mobile access: Though most of the mobile work management software solutions can provide this capability, however, the significant aspect that one needs to consider is the security and the ease with which the data can be accessed, providing a seamless integration with your organization's backend systems.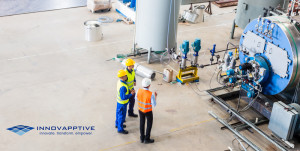 Innovapptive's offers a turnkey native mobile solution for Work Order Management
Innovapptive Inc., a premier SAP certified partner has thoroughly researched and assessed the key requirements of the asset intensive organizations, particularly the pain points encountered by such organizations to generate work orders and to effectively get them executed. To mitigate these challenges and above all help organizations derive maximum value out of their investments, Innovapptive Solutions came out with a cutting edge mobile work order management solution – mWorkOrder. mWorkOrder leverages the SAP's Plant Maintenance module at the back-end to deliver a consistent, reliable and a productive asset maintenance experience across a wide range of industries.
Using mWorkOrder, a quality inspector can notify their field personnel and technicians about an asset that needs maintenance/repair or even update an existing work order to let their field personnel accomplish a specific maintenance task of an equipment/machinery in their factory premises. On the other hand, field technicians can constantly keep track and update the status pertaining to their notifications/work orders or even fill up time sheets to keep track of the time spent on their respective activities.

If you would like a demo of Innovapptive's portfolio of Native or Web based mobile solutions, please click on the link. Alternatively, if you would like to discuss with an Innovapptive solution expert, you can reach out to us by emailing us at sales@innovapptive.com or you can reach a sales representative at (713) 275-1804.
How are work orders processed from mWorkOrder solution?
In a typical scenario, once a quality inspector gets a notification, he/she can inspect the proposed equipment/asset that needs maintenance and immediately raise a work order against the notification. Alternatively, he/she can proceed to create a work order directly without reference to any notification.
Using the Work Orders module in this application, a quality inspector can create and release work orders from anywhere, anytime directly from a mobile device. Work orders are created in the SAP Plant Maintenance module based on existing business practices and assigned to field workers. On the other hand, field users can directly search and modify a work order that may be related to any equipment maintenance, repair or replacement of any parts for that equipment. In addition to that, you can even edit a work order to suit your dynamic requirements. Work order can be created under three primary sections such as Header (primary details of work order), Operations (details of sub-tasks with respective start and finish dates) and components (details of spare parts required to execute a work order successfully).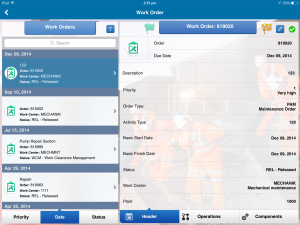 Key Differentiators
Aligned with SAP's mobile strategy.
Runs on SAP mobile Platform OData & HANA Cloud Platform Mobile Services.
Synchronous updates based on OData technology – minimized Offline dependency and conflict resolution
Allows unlimited customizations with simple SAP configurations without a bit of code change.
Quick deployment of 8 to 12 weeks.
Winner of SAP Pinnacle Award and SAP Mobile App Challenge.
Business Benefits
Extend and improve asset life and reliability.
Improve plant, fleet and equipment performance.
Improve workforce safety and productivity.
Minimize accidents, failures and outages.
Reduce unplanned downtime and maintenance backlog.
Improve first-time resolution rates.
Enhance the efficiency of warehouse, plant, field and accounts payable personnel.
Ensure assets run at peak performance with shorter response times and timely maintenance.
Complete safety checks and adhere to safe practices.
Conclusion
This blog provided an overview of what functional aspects one need to look into before embarking on a good work order tracking software and also threw light on how Innovapptive's mWorkOrder solution can perfectly suit the dynamic requirements of an organization, adding value to their existing workflows, cut costs and drive workforce efficiency.