Migrating to SAP S/4HANA is one of the biggest IT projects on most companies' radars and it's moving to the front burner for many now that SAP has declared 2027 as the end-of-support deadline for ECC systems.
That makes the next few years the perfect time to think about every possible use case for the new, upgraded ERP. This is a unique opportunity for forward-looking companies to connect their frontline workers and leverage digital technologies to the fullest.
S/4HANA utilizes artificial intelligence, machine learning and big data technologies to process industrial data faster and provide real-time reports to conduct predictive analyses and simulations.
These reports are great, but they're only good if they're accessible. Field technicians won't be able to get the information they need when they need it without a strong connection between frontline workers and the back-office.
Earlier versions of SAP provided some support for mobile workers but these solutions had significant drawbacks. One example — SAP Fiori apps, which launched in 2013, were a huge step toward simplifying the user desktop experience. They haven't been as effective for mission-critical business applications in manufacturing, warehousing and plant maintenance. Any customization requires expensive coding and, as a browser-based solution, they are unable to leverage the full features of a modern, mobile device, like videos, photos, notifications, attachments and GPS.
A mobile Connected Worker platform with simplicity, customizability and scalability eliminates performance limitations and gives the power of SAP S/4HANA to frontline workers. It establishes a cross-functional communication system that breaks information silos. Because business processes are interlinked, the Connected Worker platform eliminates data redundancy and disparities between teams and paves way for seamless coordination.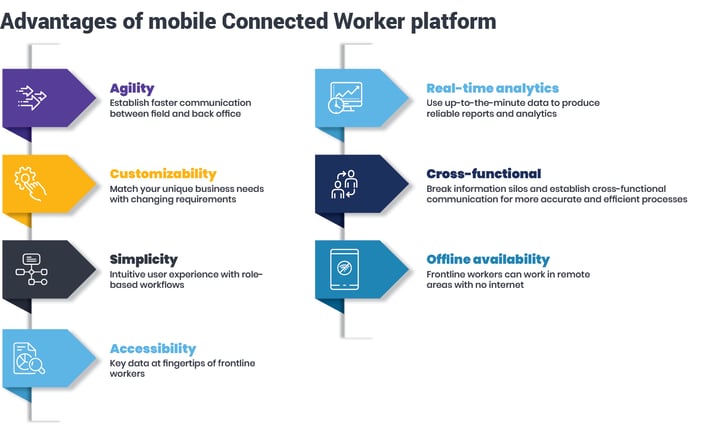 Learn more about including a Connected Worker Platform in your upgrade plans in our latest whitepaper.
Want to learn more about our Connected Worker platform? Request a live demo to see how the platform transforms your company. Or call 1-844-464-6668 to talk to our experts.