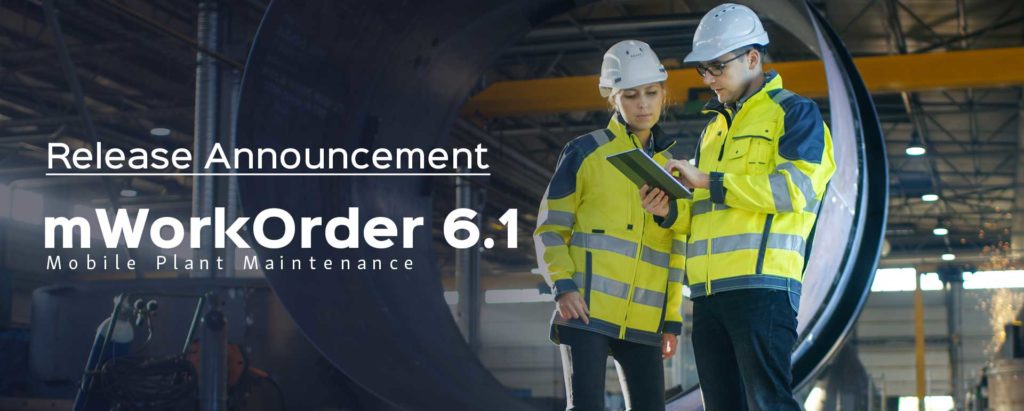 Offering best-in-class and newly improved mobile solution for plant maintenance, Innovapptive is very pleased to announce the availability of mWorkOrder 6.1. Our teams have been putting continuous efforts to make sure that everything is primed and ready to go with the launch of our newest mWorkOrder 6.1 release. We are excited to share with customers the fantastic new features and capabilities available throughout our product portfolio!
mWorkOrder– Mobile Work Order Solution
Innovapptive's mWorkOrder enables plant technicians/maintenance workers to work more safely, productively, and independently, providing an intuitive user experience and provides them anytime, anywhere access to the information they need to do their jobs efficiently and effectively. This SAP® Certified solution leverages the SAP Plant Maintenance (PM) module at the back-end to deliver a consistent, reliable and a productive asset maintenance experience across a wide range of industries.
With both online and offline access, mWorkOrder ensures delivery of mission-critical support of assets without interruptions or delays, leading to better performance and reliability across plants, fleets, networks, and the enterprise infrastructure. It helps users manage priorities in real time, as well avoid any potential equipment failure, unexpected downtime issues, and/or safety and environmental risks. With mWorkOrder, plant workers/technicians instantly are alerted through push notifications when they are assigned new work orders or notifications.
Innovapptive is constantly adding new features to our applications; adding new capabilities and extending existing ones, enabling the mobile workforce, thereby maximizing asset reliability and reducing maintenance costs. mWorkOrder 6.1 is no different! "We are excited to be able to offer a compelling and integrated Mobile Plant Maintenance solution to solve critical maintenance problems for our current and future customers," Hari Kamineni, Co-Founder/Chief Product Officer, Innovapptive.
What's New in mWorkOrder 6.1?
Auto HR Timesheet
Classification—Equipment
Manual Work Order from Maintenance Plan
User Preferred Offline Synchronization
Offline Failed Postings Reprocessing (Android and Windows)
UI Enhancement—History Navigation
Configurable Dashboard
Color Coded Work Order Numbers in Work Order List
Hierarchy Enhancements—Equipment and Functional Location
Internet Explorer Compatibility—UI5
Auto HR Timesheet is a time saver for your plant supervisors/managers! Now they can easily keep track of a user's productive and non-productive hours. You can gain actionable insight regarding how your maintenance workforce is impacting your organization's bottom-line which will help decrease labour costs, improve maintenance operation execution and achieve unparalleled compliance.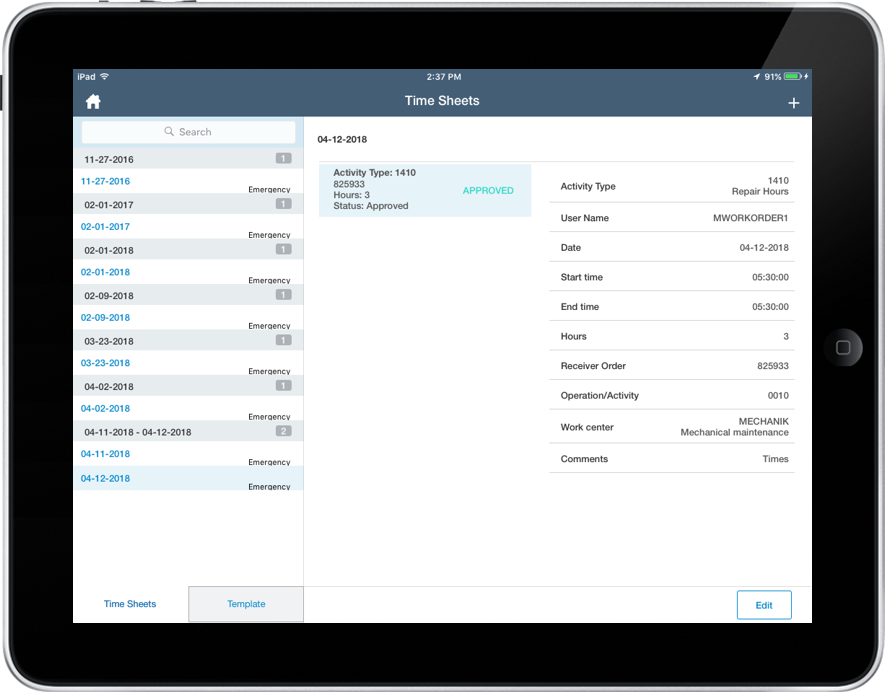 Classification—Equipment
Without having proper equipment details, creating an effective maintenance plan can be difficult for your maintenance worker. We've added a new tab, Classification, in mWorkOrder 6.1 which lets you provide your maintenance workers with all the necessary information of equipment such as Class, Class Type, and Characteristics of the equipment. One stop for all the details. Simple!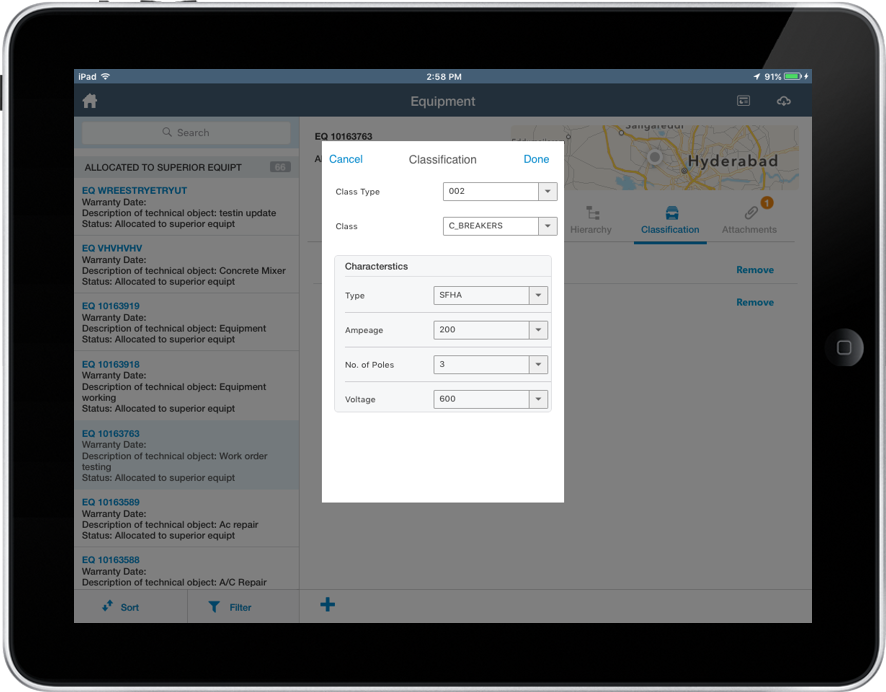 UI Enhancement—History Navigation
Lack of visibility into equipment history is a constant struggle for maintenance users & technicians, yet it is necessary tool to complete their work orders effectively. In mWorkOrder 6.1, we've enhanced the History navigation screen with easy identification and navigation capabilities to historic data of a Work Order.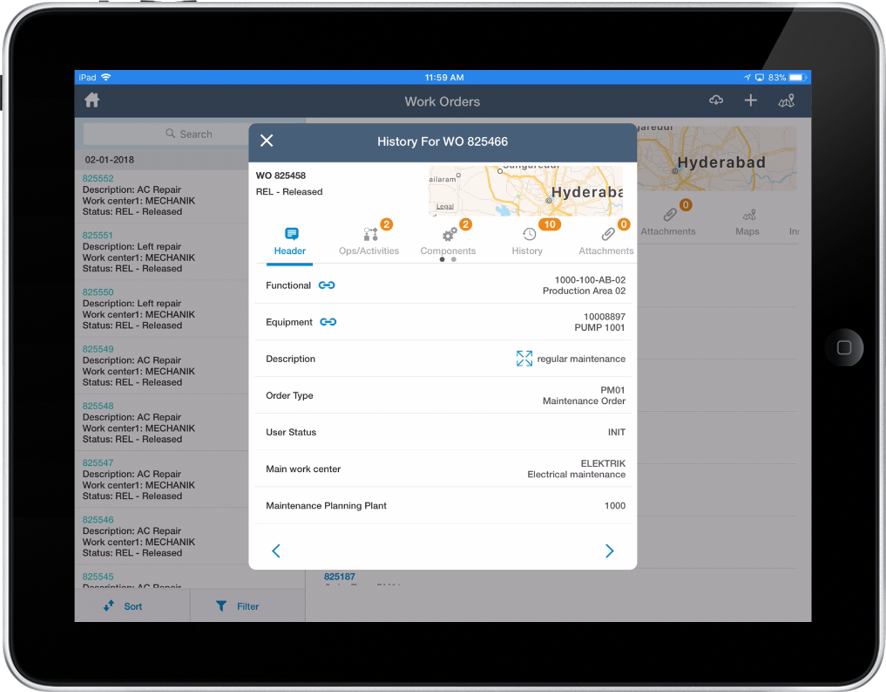 Configurable Dashboard
The entire point of enhanced Configurable Dashboard is to enable users to take better advantage of the available information. New capabilities such as Date Filter, Dashboard and Module level data filters, Tabbed Modules and more have been added in mWorkOrder 6.1. Moreover, users can easily search and create objects.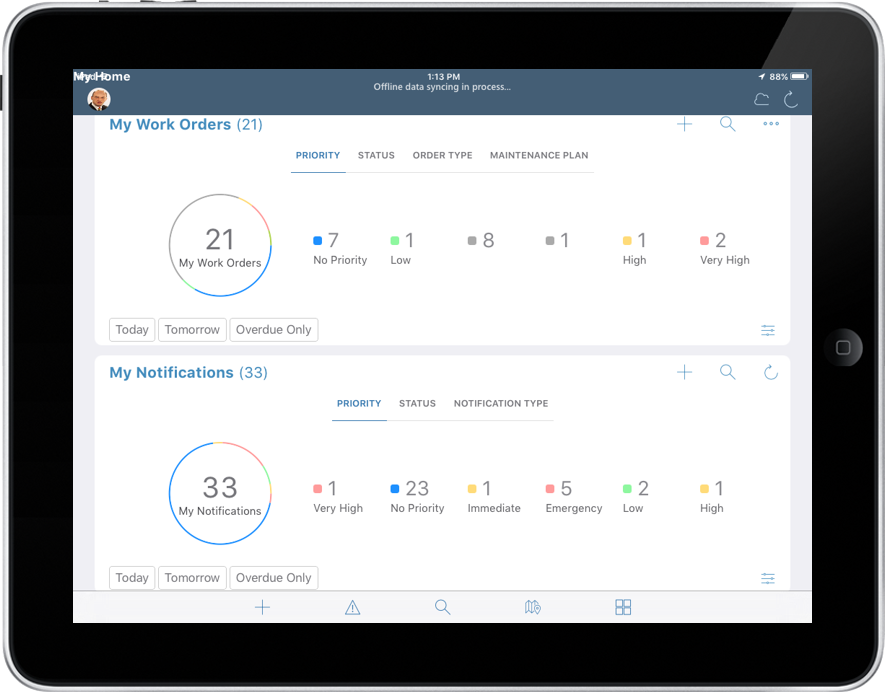 The Manual Work Order – Maintenance Plan feature of mWorkOrder 6.1 yields great benefit in efficiency to the Maintenance users. With 6.1, they can create work orders directly from the home page during preventive maintenance.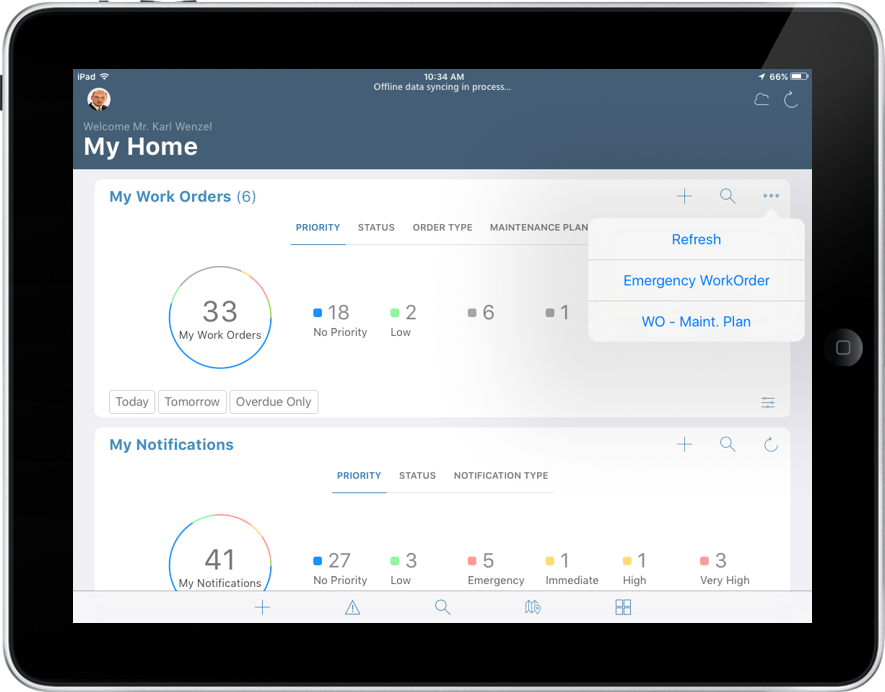 User Preferred Offline Synchronization is a high-demand new feature in mWorkOrder 6.1. Maintenance user (workers) can save their data in offline mode and the data is synchronized automatically when users are back within network range. They can configure their preferences for offline data synchronization for each of the modules.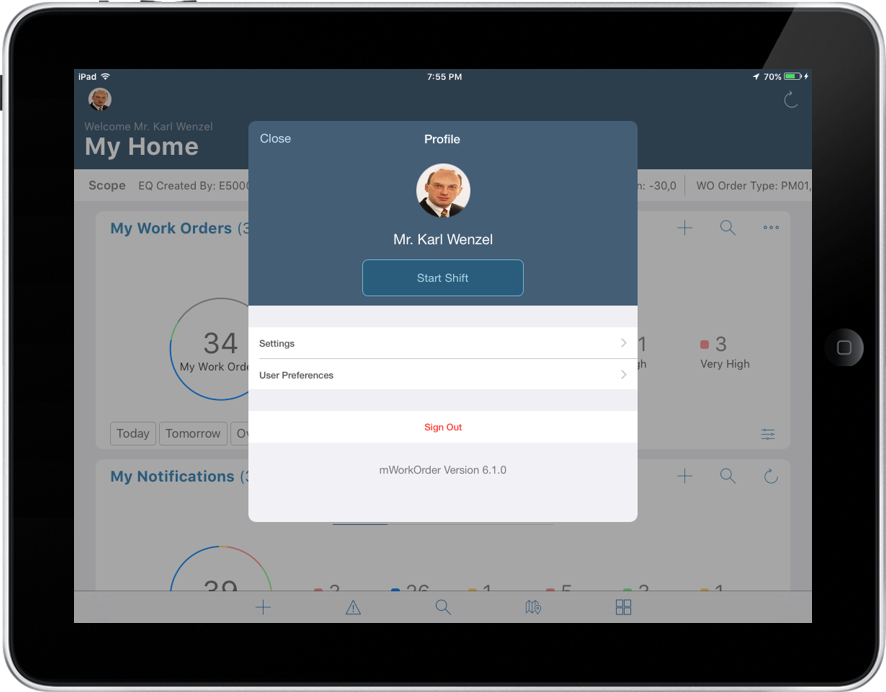 Offline Failed Postings Reprocessing
Gone are the days when users must suffer due to lost network connectivity issues and/or write down information on paper. The newly added feature, Offline Failed Posting Reprocessing, in mWorkOrder 6.1, allows users to re-process the failed documents that were processed during offline mode. Now, they don't need to write down information on papers.
We've highlighted our top updates, but there are many more exciting new feature and changes in mWorkOrder 6.1. If you'd like to read further, please refer to mWorkOrder 6.1 Release Notes.
We encourage our customers to upgrade to the latest version of the mWorkOrder to take advantage of the new and improved features.
If you would like a demo of Innovapptive's mWorkOrder (Mobile Work Order Management) solution, please click on the link. Alternatively, If you would like to discuss with an Innovapptive Solution Expert, you can email us

at sales@innovapptive.com or via phone at (713) 275-1804.