The trend of processing and consuming information anywhere and anytime has created enormous expectations from customers' enterprise IT teams to provide On-Demand mobile solutions to transact business. However, meeting this demand is next to impossible for IT, if a mix of pre-packaged mobile apps and custom mobile app development is not considered within their long term strategy. Unfortunately, most of the commercially available pre-packaged apps provide none to minimal customization options, making these pre-packaged mobile apps a non-viable option.
It is here that Innovapptive's Rapid App Configurator Engine (RACE) pitches in to empower your IT teams to manage your evolving and unique business requirements across core lines of business such as Sales, Finance, Supply Chain, Operations and Field Services. Irrespective of the size of your enterprise or the type of the infrastructure that your organization currently maintains, we at Innovapptive will help towards achieving your goal to put ahead of your competitors.
Existing landscape of Innovapptive's RACE
Innovapptive's entire mPower Apps Suite comes with RACE that provides your IT teams the flexibility and agility to achieve SAP mobile customizations with simple configurations, eliminating any code changes – within minimal time and zero investment, translating to 40% rise in operational efficiency. With RACE, you can activate or deactivate the required modules and transactions, based on your current business scope. Apart from that, it empowers your IT teams to accelerate your enterprise time to market without becoming a bottleneck.
New Innovations in existing RACE to create value to our customers
However, the present landscape of RACE is limited to only activating/deactivating specific modules and transactions (adding/removing/re-sequencing new fields and other related logic). The new generation RACE aims to redefine the way customizations can be accomplished – customers can dynamically create new modules as well as UI screens as per their specific requirements, which is a major value addition, all without the necessity to change a bit of the code.
Backend process/configuration to accomplish this new logic
Create modules dynamically using AppScoping configuration.
In the Data Browser: Table ZAPPSCOPING Select Entries screen, enter the appropriate values under the respective column fields such as Appid, Application Name, MODULE_NAME, Title Name, DESCRIPTION and MODULE_TYPE. (Please refer Notes).

Note:
The data structure that you create here is mapped to the existing RACE landscape.
Table Description:
| | |
| --- | --- |
| Column field | Description |
| Appid | Application reference id (Here mInventory app is taken as the reference application) |
| Application Name | Name of the referenced application. |
| MODULE_NAME | Name of the referenced module |
| Title Name | Name of the referenced title |
| DESCRIPTION | Description of the module (what this module does?) |
| MODULE_TYPE | "S" (Standard) or "C" (New Module) |
Build the UI screens dynamically with elements based on configuration in SAP NetWeaver Gateway.
The value TOCOLLECTIONDYNAMICRACCOLLECTION under DATA_PROVIDER column field is used to dynamically retrieve the data.
Thus the data within the TRANSFERORDER module (as illustrated in Figure 1) gets retrieved in the Data Browser: Table APPSCREEN_CONF Select Entries screen including screen names, screen types, elements, element type and UI labels.

Note: Elements here refer to UI elements such as buttons, checkboxes, radio buttons, etc.
Retrieve the data dynamically based on data provider from RACE.

Front end data flow process illustrated on a mobile screen
The following sequence of screen shots illustrate the data flow taking the example of Innovapptive's mInventory application.
Open the mInventory app and in the Login screen, type the username and password in the respective fields and tap Login.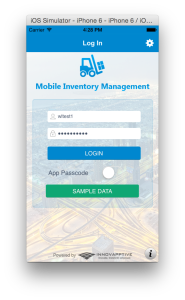 2. In the Home screen:
The respective configured modules: TRANSFER ORDER and PURCHASE ORDER (as illustrated in the backend procedure) gets displayed here.
Tap PURCHASE ORDER to display the transactional data available within this module such as purchasing document number and company code (refer figure 6).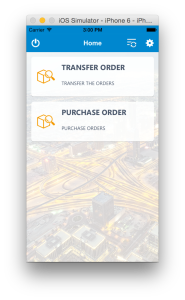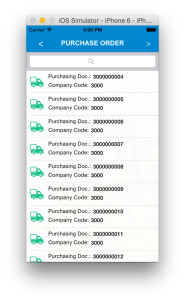 3. In the PURCHASE ORDER screen:
Tap the appropriate transaction to get the detailed information of the transaction record including the available line items for this transaction.
Tap the appropriate line item to view the detailed information of that line item.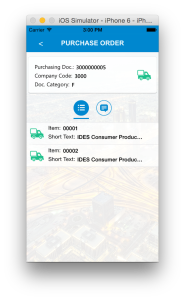 More innovative features in the offing
X509 certificate: Configuration of X509 certificate will be accomplished directly into the user's mobile to do away with the Login button. User can directly open the application without the necessity of typing in login credentials to authenticate.
Localization options: Desired language option can be configured so that all label names, screen names, etc are translated into the desired language that is configured.
Postings: User's mobile can be configured to enable direct posting of data to the backend. In other words, whatever configurations that user executes in his/her mobile, all such configuration data will be posted directly to the backend.
How this new innovation adds value to Innovapptive's Customers?
Eliminates coding efforts completely.
Eliminates the efforts required to configure the backend.
Offers the opportunity to create new mobile apps within the shortest possible time.
Eliminates the need to hire additional skill sets (Mobile UI/UX designer, iOS, Android or Appcelerator developer).
20% direct cost savings through enhanced productivity.
40% rise in productivity to drive higher operational efficiency.
If you would like a demo of Innovapptive's portfolio of Native or Web based mobile solutions, please click on the button

. Alternatively, if you would like to discuss with an Innovapptive solution expert, you can reach out to us by emailing us at sales@innovapptive.com or you can reach a sales representative at (713) 275-1804.