American manufacturing plants face a growing crisis as aging Baby Boomers retire from the workforce. Once these employees walk out the front gate for the last time, valuable process knowledge and experience goes with them. Demographers call this phenomenon the Great Crew Change. The change results in the instant loss of tribal knowledge (or institutional knowledge) built over a career. The loss also puts manufacturers at greater risk of several negative outcomes. These include increased workplace mishaps, drops in productivity and declining revenues as younger, less-experienced workers replace seasoned, retiring ones. Innovapptive's new Mobile Work Instructions solution is designed to help plants overcome this loss.
Protect Your Plant from the Great Crew Change
Innovapptive, a Connected Worker platform provider and digital transformation leader, is introducing a new Cloud-based software-as-a-service (SaaS) solution to help manufacturing facilities lessen the Great Crew Change's potential impact. Mobile Work Instructions enable veteran plant employees to coach and tutor younger counterparts via connected devices, even if they are separated by a great distance. The young worker gets needed guidance and assistance completing a work order or project while the plant benefits from the passing of knowledge and know-how from one generation to the next.
Twelve million American manufacturing workers are age 55 or older. This means they're literally at retirement's door. So plants and facilities are looking at large-scale tribal knowledge losses in the near future. They need help and they need it now. This knowledge loss will hurt workplace safety, operational efficiency, profit margins, and talent recruitment and retention. The Mobile Work Instructions solution can blunt the Great Crew Change's effects. With it, manufacturers can pass along valuable process expertise before it vanishes forever.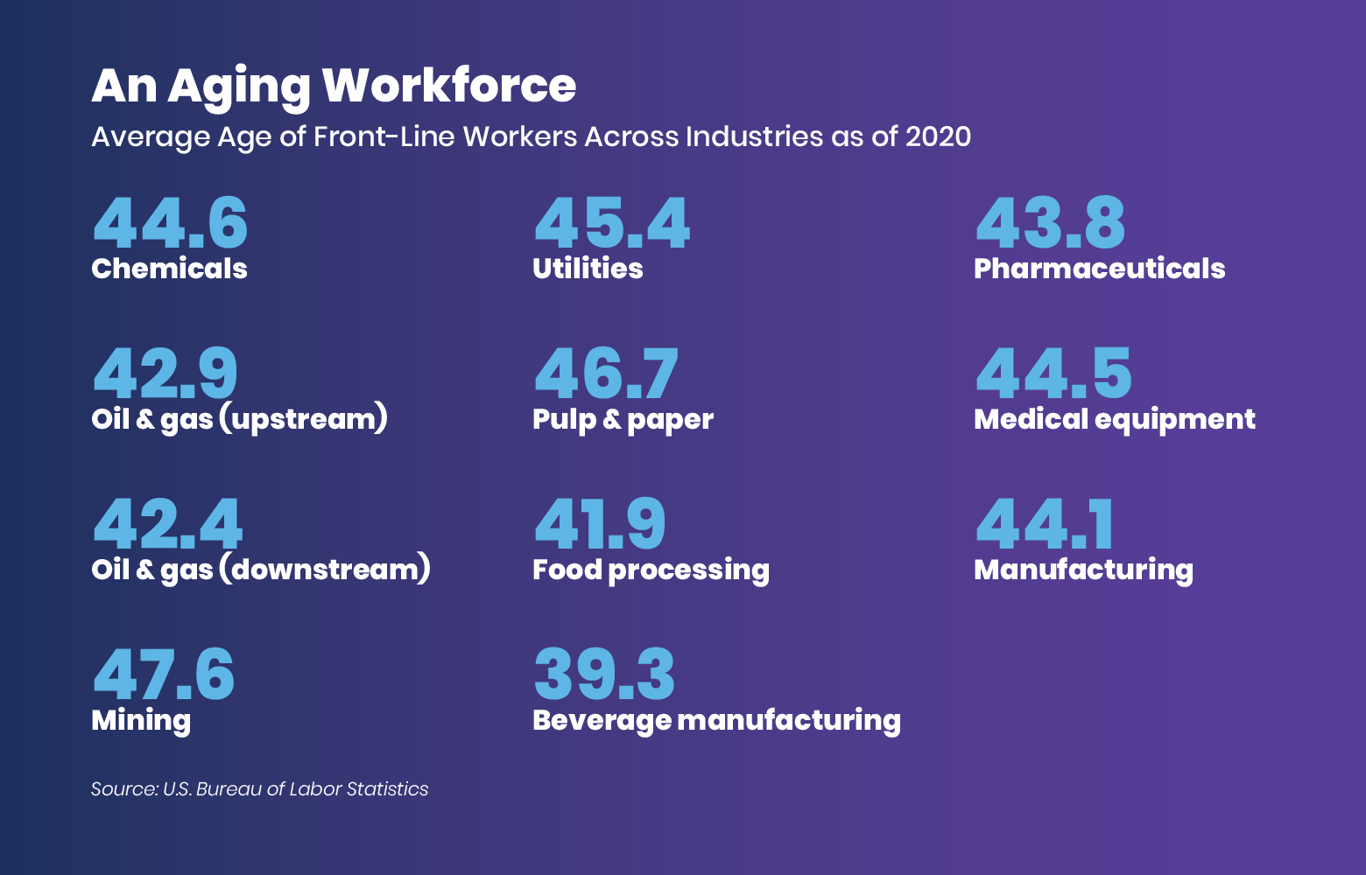 Mobile Work Instructions – The Next Step in a Connected Worker Strategy
Mobile Work Instructions is part of Innovapptive's Connected Worker platform. The concept is simple: When new-hires or less-experienced front-line employees are assigned work orders, they can digitally collaborate from the job site in real time with a veteran counterpart via smartphones, smartglasses or smartwatches. The more seasoned employee does not have to accompany the front-line worker. He or she can be in a nearby office or shop, at another unit within the plant, or across the country or world. The two connect via a secure teleconference. In this teleconference, the veteran can "see" what the onsite worker is looking at, answer questions and offer verbal step-by-step instructions or share documents, photos and videos that can explain proper procedures.
Mobile Work Instructions not only enables the real-time sharing of knowledge, but it also boosts front-line worker productivity, reduces costly errors and reworks, and increases job safety. It lets manufacturers upskill their team, giving greater workforce agility, flexibility and capability.
Innovapptive offers a prepackaged library of more than 150 work instructions, SOPs (standard operating procedures) and digital forms. These forms can be quickly and easily customized and configured to meet specific user needs as part of the company's RACETM Dynamic Forms application.
To learn more, schedule a free demo today by calling 844-464-6668 or by clicking here.