Oil & Gas is a very practical industry and has led the way in information technology adoption since the 1960s when British Petroleum (BP) was mapping oil reservoirs in Alaska wilderness with oil recovery technology, then considered far advanced for the time. Everchanging market pricing for crude is forcing oil & gas companies to reevaluate every aspect of their operations. Enter the day and age of "The Cloud" or an "emerging model of computing where machines in large data centers are dynamically provisioned, configured, and reconfigured to deliver services in a scalable manner, for needs ranging from scientific research to video sharing to email," (First Monday, 2009).
Cloud computing is one of those technologies that is having a surmountable impact on oil and gas as most, if not all, new digital solutions run on cloud computing and some of the necessary solutions in the remote oil fields wouldn't exist without it. Cloud-enabled technologies provide the ability to rapidly develop applications that can access data across the enterprise which, in the oil & gas environment, is crucial especially as the industry transforms to meet more dynamic market challenges.

Oil & Gas, as a whole, has gone through an unparalleled transformation in the past five years with cloud-enabled technologies providing the ability to develop applications that can access data across the enterprise rapidly. Since "How" of connectivity and bandwidth are no longer issues plaguing the minds of the organizations, the "What/What If" questions still remain as nagging factors:
What do people connect to?

Is the data being transmitted and transferred to the Cloud building valuable enterprise information?

Most importantly, is the data secure?
Aside from the factors and questions, the benefits of the Cloud to Oil & Gas Companies cannot be ignored.
Scalable - All companies are looking for effective and efficient ways to scale their systems, or grow quickly, as demands increase. With digitization in full swing, oil and gas companies are moving to cloud environments which offer the ability quickly scale their environments based on

data storage capacity needs or scale it down to meet the demands of the growing business.

Oil and gas companies often need to build custom-made solutions for their organizations which would benefit from the cloud environment.

Cloud computing answers this need by providing lots of computer horsepower on short notice for workspace, trials and production systems to answer the demands of fast-moving innovative developers.

Companies are able to run multiple projects in parallel because of the effectively unlimited availability of computer capacity.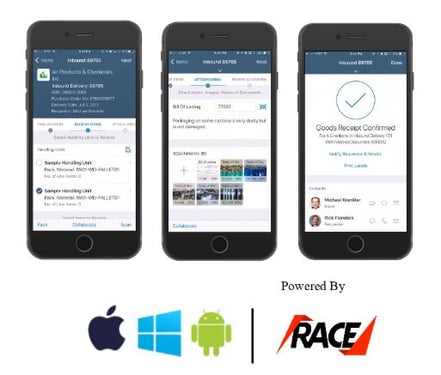 Innovapptive's mInventory lets you perform day-to-day inventory transactions through handheld devices and laptops by accessing the master data of SAP. This SAP® certified solution leverages the SAP Inventory Management (IM), Warehouse Management (WM) and Extended Warehouse Management (EWM) modules and delivers a simple, reliable and productive user experience across a wide range of industries.
With Innovapptive's mInventory, Oil & Gas companies can extend their inventory management system into the field to increase availability and avoid downtime! The mInventory mobile app enables precise tracking and paperless management of inventory and helps increase productivity, lower costs, optimize the supply chain, all while improving customer service.
If you would like a demo of Innovapptive's mInventory (Mobile Inventory and Warehouse Management) solution, please click on the link/button. Alternatively, if you would like to discuss with an Innovapptive solution expert, you can reach out to us by emailing us at sales@innovapptive.com or via phone at (713) 275-1804.