In today's competitive business environments, it is essential for asset-oriented organizations to have efficient processes and optimized workflows to stay ahead of the curve. The mass adoption of augmented reality (AR) is gathering pace across a multitude of industries, with one of the most heavily impacted being manufacturing. The market for AR is projected to reach $3.5 billion to $85-$90 billion in revenue over the next 5 years installed by 2020, according to a Digi-Capital 2018 report.
From smartphones and tablets to gadgets like headsets, Google® glasses or handheld devices, AR technology is continuously evolving. Focused on enhancing your real-world environment, AR provides you with additional information about the environment and the object(s) (assets) within it. AR-based equipment, such as wearables, can overlay digital information (text, voice or video) onto the user field of view in real-time.
When enterprise assets or industrial equipment go out of service, the resulting downtime not only affects profitability, but it can also result in entire projects grinding to halt. Making repairs in the field is time-consuming and costly. The resulting outcome leads to losses of revenue and customer dissatisfaction. Augmented reality (AR) has the potential to change the way users, and the business, collaborate to solve issues effectively while providing support and access to documentation. A solution with extended support for AR can help mission critical industries such as manufacturing, boost user productivity, improve workflow and reduce rework.
Wearables ranging from smartwatches and head-mounted tablets to connected glasses and smart contact lenses are increasingly making impressions on the mass market. The head-mounted tablet has become popular for integrating with enterprise-grade mobile solutions to enhance the everyday life of technicians. Having the right solution integrate with wearables enables service technicians to access information, create notifications/work orders, see instructions and reference documents all of which can improve productivity, performance, and even safety.
Innovapptive's Answer to Augmented Reality for Plant Maintenance
Innovapptive offers a solution for SAP Mobile Plant Maintenance, mWorkOrder , that gives your maintenance technicians any time, anywhere access to the information they need to do their jobs effectively while maximizing your asset reliability. It leverages the SAP Plant Maintenance (PM) module at the back-end to deliver a consistent, reliable and productive asset maintenance experience across a wide range of industries. mWorkOrder enables your users to view their assigned activities and access work order history and asset information to facilitate diagnosis and repair. With mWorkOrder, your enterprise improves your asset performance by increasing your field technician wrench time and increase workforce capacity by providing high visibility of real-time asset information.
Increased worker productivity, improved safety, and greater overall efficiency are just a few of the potential benefits mWorkOrder offers. The latest release of mWorkOrder 7.0 already making waves in the manufacturing world. It is helping users become more efficient in their roles, create safer working environments and minimize errors as well as mitigate potential risks. mWorkOrder 7.0 supports integration with weqarables like HMT (head mounted tablet), which is an intrinsically safe wearable computer, completely hands-free and run on voice command. HMT with mWorkOrder 7.0 provides workers in hazardous environments the benefits of hands-free computing and communications. The upcoming release of mWorkOrder 7.0 facilitates the calling feature enabling your users to interact with their colleagues and seek assistance on complex issues from experts anywhere on the globe. Your users will be able to take full advantage of the freedom and efficiencies available through purpose-built wearable computing.
Potential Benefits: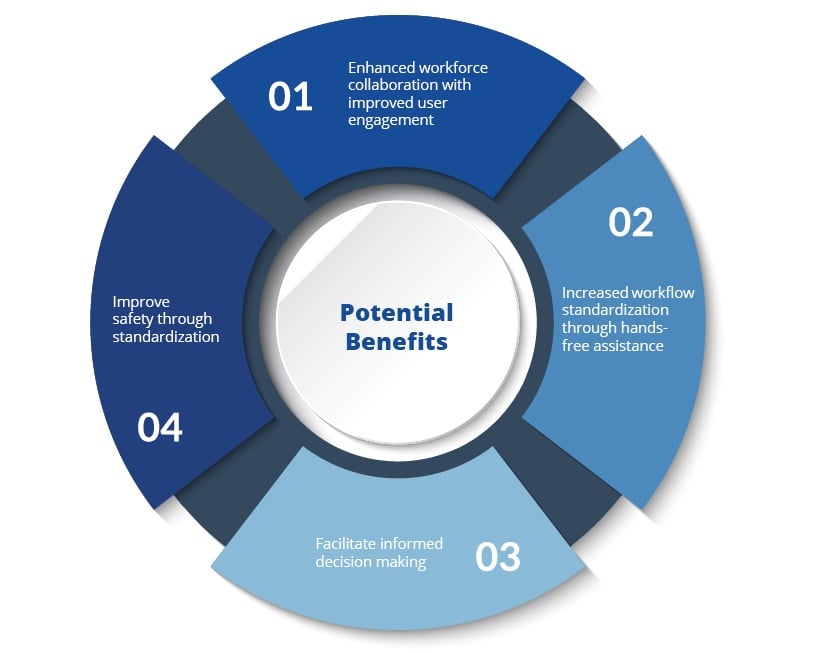 To experience Innovapptive's mWorkOrder 7.0 for yourself, select the "Request Live Demo" button. You can also speak with an Innovapptive Solution Expert via phone at (713)275-1804 or via email at sales@innovapptive.com.