Oil companies are constantly striving to improve refinery safety to better protect their assets and workers. Mobile operator rounds and digital refinery maintenance planning tools reduce safety and compliance risks and lead to more knowledgeable decision making based on real-time data.
A mid-morning explosion and fire at Marathon Petroleum's Garyville, LA, refinery injured five contract workers on Feb. 21, 2022, the company told Reuters. The contractors were working on the 110,000 BPD hydrocracker when the blast occurred. The refinery had been undergoing routine maintenance when the incident happened. Could a digital planning system and a mobile operator rounds solution have helped prevent or mitigate the tragedy? We'll examine the need for such applications in today's blog.
STO Represent the Greatest Safety Risk for Refinery Workers
It's a simple fact that no piece or refinery equipment runs forever. No matter how reliable a unit is, it has to come down for regularly scheduled maintenance to ensure it runs at peak efficiency. However, safety risks are at their highest during these shutdowns, whether the outage was planned or unplanned.
Why? There are several reasons for this, as the table below shows.

Shutdowns, turnarounds and outages represent a deviation from the routine. Hundreds, or even thousands, of outside contractors and subcontractors arrive onsite to assist the in-house maintenance staff in completing inspections, replacements, repairs, refits and renovations. These contractors, while technically talented, are strangers in the house. They may only have a general idea of proper maintenance and safety practices.
This situation significantly ramps up safety risks for refiners that planners must take into account.
Refiners Need a More Efficient Way to Plan STOs
A turnaround, like the one at Marathon's Garyville facility, is a complex project. It can include 30,000 individual procedures. That's a lot of moving parts constantly in motion. Paper-based planning and scheduling tools simply can't keep pace with everything happening across the refinery. Something more agile, flexible and robust is required to give planners and schedulers the ability to better mitigate risks.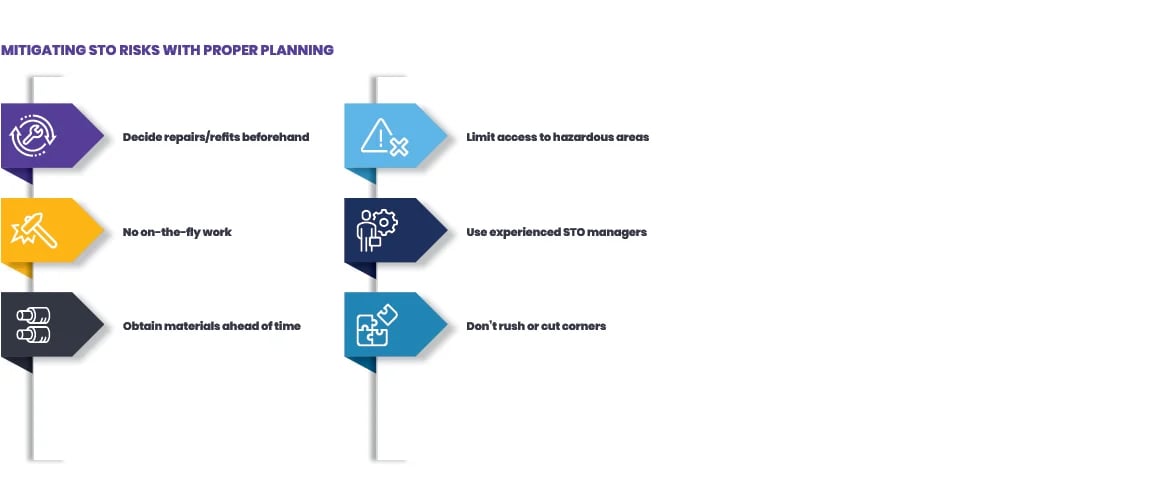 A digital planning and scheduling solution offers refiners many advantages that can help them better plan, coordinate, track and oversee multiple activities during an STO. Utilizing smartphone applications, tablets and desktop control panels, refinery planners and schedulers can spot and correct organizational, management and safety-related errors that can invariably occur during such a complex and time-sensitive operation.
The goal for any STO is a quick return to normal operations on time, on budget and with no safety incidents. That's seldom the reality. But there are steps refiners can take today to boost their chances of achieving these goals. Learn more about how a digital planning and scheduling solution enables refiners to conduct more efficient, safer and successful STOs in Innovapptive's free ebook Minimizing Refinery STO Downtime With Visual Planner. Click the link to download your copy today.
Mobile Operator Rounds Ensure Greater Safety during STOs and Normal Operations
The cause of the blast remains undetermined as of this writing. However, as stated above, STOs are dangerous. This is especially true for one at a refinery as large and complex as Marathon's 593,000-BPD facility, the nation's second-largest refinery.
The American Petroleum Institute (API) estimates refinery workers are five times more likely to be hurt in a workplace accident. The biggest threats are fire safety, occupational safety and process safety. Equipment can also pose a risk to workers' well-being.

Refineries conduct daily operator rounds to determine operational issues and safety risks. Many companies still rely on paper checklists and manual uploads into a back-office ERP to accomplish this task. Paper-based operator rounds are inefficient. They take a long time to complete, they're often interrupted and information can be old and out-of-date when they reach a decision maker for action. They're no longer sufficient for a complex modern refinery.
Because of these slow, inefficient paper operator rounds, refineries faced a greater risk of equipment failure and a heightened chance of accidents. That's why so many refinery managers lose sleep worrying about downtime and safety. Read more about this in our latest whitepaper 3 Ways a Mobile MRO Solution Can Help Refinery Managers Get Some Needed Sleep.
A best-in-class mobile operator rounds solution provides refinery managers a more restful sleep, free of worry. Information is shared in real time, letting the manager or a maintenance supervisor see what's currently under inspection and instantly know its condition and status. If there's a problem, a work order can be cut and assigned to take prompt corrective action. Mobile operator rounds can improve asset uptime while also providing valuable safety and compliance alerts, reducing the risks of accidents, fines or sanctions.
Ready to Increase Safety and Improve STO Planning and Scheduling?
Your refinery can enjoy more efficient and safer STOs that get equipment back online on time while keeping workers safe. Innovapptive, a connected worker platform leader, offers a robust STO planning and scheduling solution that digitalizes maintenance turnaround planning and execution. Optimize resource utilization, extend asset lifespan and reliability, minimize asset breakdowns and improve profitability. Our mobile operator rounds application eases worries over frontline worker safety and gives real-time insight into current equipment conditions and status. Schedule a free demo today or call us at 844-464-6668.