Are you concerned about the declining population of field operators and technicians and the generation gap between experienced workers and the incoming millennial workforce?
If so, you're not alone. A recent survey Innovapptive conducted of maintenance and reliability professionals revealed that concerns about this issue run rampant within asset-intensive industries.
This blog will reveal:
Concerns surrounding workforce attrition
How experienced workers are lost due to the "Great Crew Change"
The challenge of high turnover amongst Millennial workers
How to reduce turnover and boost technician productivity
What is workforce attrition?
In our survey, 52% of respondents answered "Yes" to the question, "Are you challenged with warehouse workforce attrition and change management?"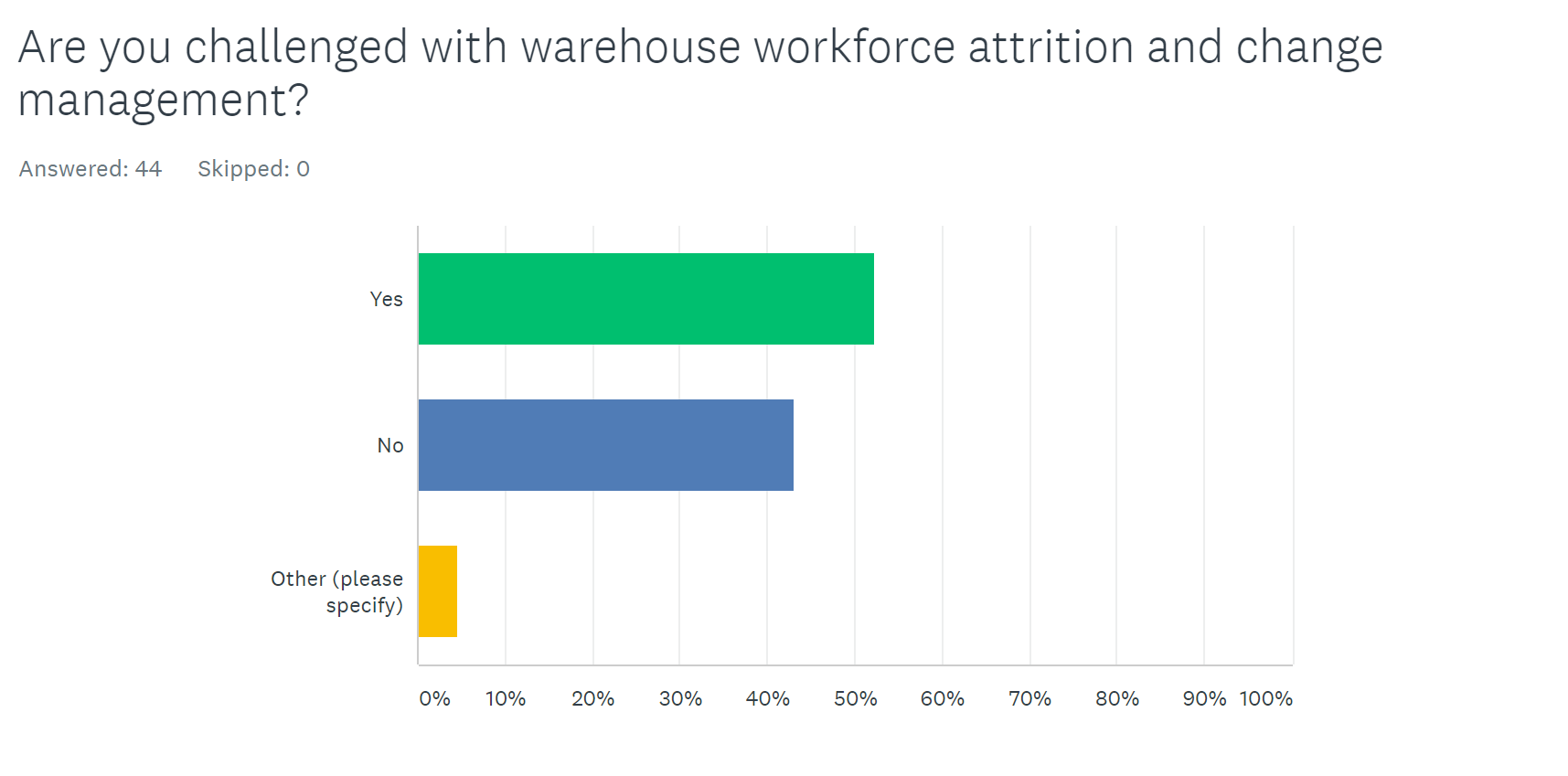 Attrition, as defined by dicitionary.com describes "a gradual reduction in workforce without firing of personnel, as when workers resign or retire and are not replaced," including retirement and other typical life events. In many asset-intensive industries, such as oil and gas, the older generation of field technicians is entering retirement age, leaving the less-experienced members of the workforce to pick up the slack.
Concerns about the "Great Crew Change"
One problem is that the incoming workforce is not replacing outgoing workers at an equal rate. According to some estimates, for every two workers dropping out of the oil and gas workforce, there's only one coming in. This phenomenon is often called the Great Crew Change.
This puts pressure on leadership to keep pace with operations while searching for qualified new workers to refill their declining workforce. In fact, our survey indicated 43 percent of respondents "strongly agree" and 41 percent "agree" with the statement, "Are you concerned with the 'Great Crew Change' and experience gap with the incoming Millennial workforce?"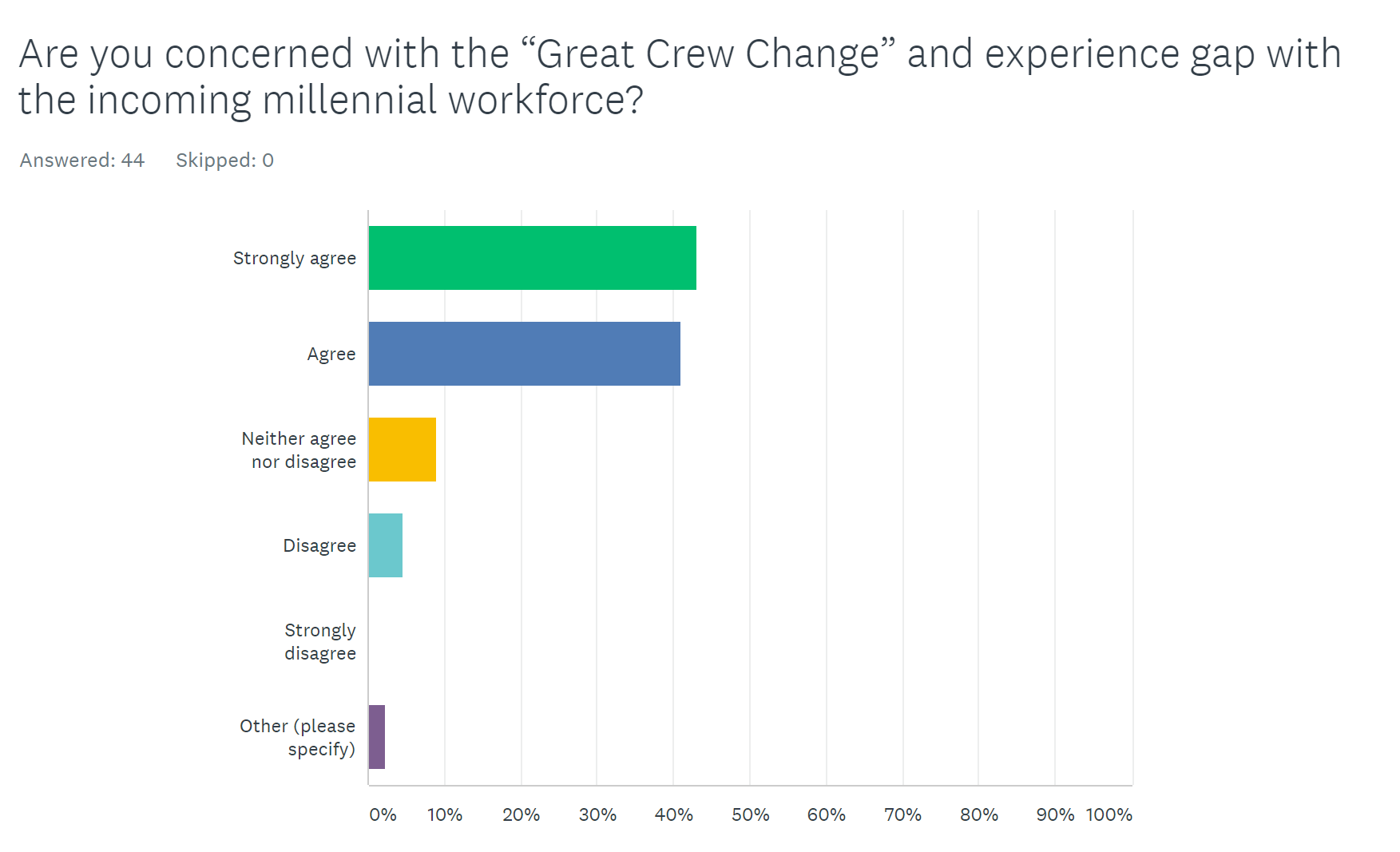 This concern could be due to the considerable experience difference between retiring technicians and the incoming workforce. This difference creates a major information gap within the business. With older, highly experienced technicians retiring, knowledge of how to run the operation is lost. There are also fewer people around to train the new technicians.
To make matters worse, the few new technicians who are entering the workforce in asset-intensive industries don't tend to stick around long.
The incoming Millennial workforce
This high turnover may be due in part to generational differences in how Millennials view work. For Baby Boomers, sticking with a company for the long term was standard. However, it's more common today for workers to switch jobs every few years. According to Deloitte, "43 percent of Millennials envision leaving their jobs within two years while only 28 percent seek to stay beyond five years."
Millennials also tend to believe that their jobs should make a difference in the world, in stark contrast to Baby Boomers, whose attitude is to use work to fund their lifestyles.
Millennials prefer digital processes to analog ones. Gartner reports that, "Millennials are more likely to use higher-end technologies in their personal lives, so it's no surprise that they have a more positive view of IT strategies that encourage the use of personal devices at work."
With a generation increasingly well-versed in mobile technology and digital connectivity, dealing with outdated, linear, tedious and paper-based operations is highly inefficient. Data collection and processing for inventory and warehouse management, enterprise asset management or fixed asset management processes may be particularly frustrating. This frustration, in turn, could contribute to poor morale and employee turnover.
What's the solution?
Leadership must ensure operations run smoothly despite the challenges with the incoming Millennial workforce.
To do this, managers should institute comprehensive on-boarding procedures to ensure new workers clearly understand their roles and how they fit into the overall operation. This will demonstrate to Millennials their jobs have a meaningful impact on the company, a value that holds strong importance to them. Additionally, managers are tasked with boosting employee morale to reduce turnover and with ensuring operations continue smoothly despite a shrinking workforce.
One way to accomplish this is by digitizing operations across maintenance, warehouses, and fixed asset management processes. This will appeal to Millennial workers already used to interacting with electronic and digital devices. Rather than issuing work orders and inspection checklists in paper binders, or capturing physical inventory movement on paper or outdated "mainframe" looking blue screens on bulky handheld rugged devices, organizations can switch to a "Mobile First" Operations Platform. Workers could then record their inventory movement in real-time, view and process their work orders, complete inspection forms and checklists via mobile devices. This reduces manual data entry into back office ERP systems, boosting technician productivity, which saves time and reduces frustration. Another important factor is to deliver personalized workflows by user, roles, sites or geographies to drive highest adoption of a "Mobile First" operations platform.
With the entire workforce digitally connected, workers and back office can connect and create a digital dialogue across physical transactions and access important documents while out in the field. For example, an inexperienced technician could instantly look up an unknown part in a digitized manual on their mobile device. Digital work order management systems like the one described above often result in not only increased technician productivity, but also better morale and job satisfaction. Such a solution also boosts efficiency for the entire plant.
For workers and their supervisors, Innovapptive's mWorkOrder mobile work order management solution is easy to use, has a superior user interface, and enjoys a 99% user adoption rate. For plant management, mWorkOrder customers have seen up to a 90 percent drop in unplanned downtime, an 80 percent reduction in safety incidents, 50 percent greater workforce capacity and 17% higher wrench time, based on clients' best experiences. Our patented platform "The Rapid Application Configuration Engine (RACE) allows for instant and code-free personalization of the millennial workforce experience by user, roles, sites or geographies.
To see a free demonstration of mWorkOrder, click here or call us at (844) 464-6668. If you want more information on how to make your plant more efficient, grab our white paper on eliminating work order and maintenance backlogs.