Mobile apps in SAP plant maintenance can offer great help for asset-intensive enterprises to address their unique challenges in maintaining their mission-critical assets. A typical mobile work order management solution enables remote workers (who spend most of the time on field) to access data from the organization's server using a handheld or other mobile device. It offers maintenance technicians anytime, anywhere access to the information they need most to do their jobs safely, thereby enhancing the productivity and efficiency on the field. With both online and offline access, a typical solution ensures delivery of mission-critical support of assets without any interruptions or delays, leading to better performance and reliability across plants, fleets, networks and the enterprise infrastructure.
However, there could be typical scenarios wherein a technician, who is assigned a specific geographical area need to visit multiple addresses to fulfil multiple work orders within a set time period. In such a scenario, a technician might find it cumbersome to track each and every address within a short period of time, even when he is able to leverage the Geographic Positioning Systems (GPS) feature available on his smart phone/device. This means delays in addressing the customer complaints in a timely manner that translates to loss of revenue, loss of customers and much more. Hence, the need of the hour is the route optimization functionality in mobile work order management solutions to mitigate the above pain points, helping field technicians to effectively track and complete the assigned work orders within the scheduled time frame.
Why route optimization?
Your customers are dependent on you when they require some critical asset to be repaired within the shortest possible time. Today, this is not a simple feat to accomplish, as this process involves multiple functions within an organization – commencing with order taking and closing the work order. Changing customer preferences, time sensitivity, capacity limitations and historical and real-time data flows such as traffic and navigation will directly impact the complexity of attending to the work order.
Incorporating a route planning optimization functionality in an existing work order management solution enables service technicians to analyze the most efficient usage of resources, while generating the most economical routes. A perfect route planning software solution has to balance multiple business constraints around technicians, orders, vehicles and compliance to create the best possible optimized routes. Moreover, it should consistently ensure the efficiency of the supply chain execution, which means, tracking the changes that affect the network in real-time scenarios, while allowing changes that keep the most efficient and economic route planning. With GPS integration, this software should help in optimizing the operational efficiency through better route scheduling. This way, technicians would be able to serve their customers in a better way by completing the work orders timely as well as enhancing the overall customer satisfaction. On the other hand, companies would be able to minimize operating costs by reducing total route distances and average miles between stops.
Some of the typical benefits that a company can derive using route optimization software include:
Minimized costs and enhancement of customer service
Decreased expediting costs and overtime charges
Optimized utilization of service technicians
Minimized distance travelled, stop duration and fuel spending
Improved on-time performance rates.
Incorporation of Route Optimization functionality in Innovapptive's mobile work order management solution
Innovapptive's mobile work order management solution (mWorkorder) leverages the SAP's Plant Maintenance module at the back-end to deliver a consistent, reliable and a productive asset maintenance experience across a wide range of industries. It empowers maintenance technicians and quality inspectors to work safely and productively relating to installing new equipment or maintaining, inspecting and repairing existing assets. Apart from that, the mWorkOrder app also mitigates the risk of injury by helping workers to complete safety checks and follow safe work practices.
However, in order to further enhance the work efficiency of the technicians and other field personnel manifold and to help them attend to critical equipment failures in a much lesser amount of time, route optimization functionality has been incorporated in the current version of the mWorkOrder.
Route optimization and what it means to the field personnel?
Currently, the mWorkOrder solution supports the integration of geo-spatial information, which means, you can geo-tag (works in conjunction with bar code scanning) and track the assets, perform assets' auditing and much more across the fly. However, to take this integration further, the new enhancement in the mWorkOrder offers a route based tracking of assets. Whenever an equipment failure needs to be attended by a technician, a "near me" notification is triggered (based on the assigned work order) and sent to the concerned technician (based on his locational proximity of the asset that needs repair) to help him immediately attend to that request. Based on the notification, the technician can instantly track the nearest equipment on a route map, as per his current locational co-ordinates, reach the site through the optimized route and attend to the request within the shortest possible time. Later, he can proceed to the next site from his current location and continue to do so till all the work orders assigned to him are accomplished – saving his precious time and resources.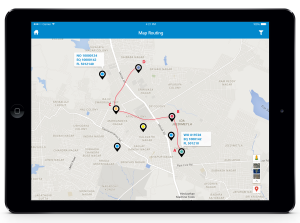 Simply stated, technicians can immediately attend to work orders that needs priority by tracking the route on the map, which was otherwise not possible in the earlier version of the solution. Moreover, once the technician taps the equipment icon on the route map, he/she can view the details of the work order/notification instantly.
Incorporation of Graphical Dashboard in Innovapptive's mobile work order management solution
In addition to the route optimization functionality, a graphical dashboard has been incorporated to let the maintenance personnel to perform a series of tasks right away, without the necessity to access the respective modules, saving lot of time.
Using this dashboard, a technician can:
View priority based work orders & notifications
View status based work orders & notifications
Track current week's pending work orders
Create work orders & notifications
Search specific list of work orders/notifications
Access the specific list of work orders/notifications, based on the selection.
Filter work orders/notifications based on priority, status & due date (through RACE)
Perform what-if analysis by generating pie-charts, bar graphs, etc
Now, let's summarize some of the key benefits that a technician and field supervisor can accrue by leveraging these new features: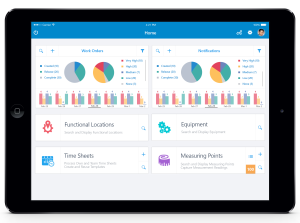 Benefits
Field Technician
Access route plan to complete the assigned work order/notification and reduce travel time
Quickly track critical/high priority tasks to be completed.
Know your stuffs assigned to individual technician.
Filter work orders, based on due date and priority
Field Supervisor
Track work location of the technician and reassign work, based on high priority
Plan activity for the team
Configure/create dashboards through RACE
With the rising expectations of the customers to attend any equipment failure within the shortest possible time, it is expected that the new version of the mWorkOrder with all the enhancements listed above would go a long way in redefining the way assets are tracked, maintained and repaired, offering a high level of transparency and operational efficiency.

If you would like a demo of Innovapptive's portfolio of Native or Web based mobile solutions, please click on the link. Alternatively, if you would like to discuss with an Innovapptive's solution expert, you can reach out to us by emailing us at sales@innovapptive.com or you can reach a sales representative at (713) 275-1804.