Innovapptive recently announced it has joined forces with two leading spatial systems integrators namely Critigen and We-do-IT to deeply integrate corporate Geographic Information System (GIS) data with mobile platforms and enterprise application data from SAP. The mWorkOrder (Mobile Work Order Management) mobile solution for SAP Enterprise Asset Management(EAM )deeply benefits from this announcement, as it now has enables business users to connect the location of assets and the rich geospatial information contained in corporate GIS systems to asset condition and maintenance information in SAP.
End-to-end support from various GIS Platforms such as GE Smallworld GIS, ESRI ArcGIS and SPATIALinfo spatialNET® or any other GIS format via OpenGeo or FME for spatial data is integrated across SAP HANA Cloud and SAP Mobile Platform, aiming to offer organizations the ability to:
enrich SAP Business Suite applications with geographic content.
rapidly process spatial, location and enterprise data in real time to enable decision-making related to asset management and customer service
visualize geographic information in maps, graphs and charts using tools from the SAP portfolio.
deliver applications to field workers that effectively process geospatial and business data using SAP HANA Cloud or SAP Mobile Platform.
GIS Integration with Esri-based Map Control by Critigen
Your field workers can use an interactive map to visualize work they've been assigned and see surrounding assets and work history. Your planners can see where the assets are and use GIS capabilities to more effectively bundle and plan work. Executives can combine all of this data into comprehensive and easy-to-use spatial analytics to incrementally or improve safety, reliability, or ROI.
Innovapptive and Critigen are now delivering integration of spatial data as part of the mWorkOrder solution for mobile Enterprise Asset Management. Field workers can now access business and spatial data in a single view and execute workflows on a map-based user interface. This deep integration is enabled through SAP HANA Cloud Platform or SAP Mobile Platform. Critigen has vast experience in the GIS area having completed several implementations integrating map controls and data from SAP with Esri ArcGIS® client mapping technology.
The ability to deliver spatially-enabled business processes will unlock the next level of process efficiencies through beautifully simple yet powerful mobile apps from Innovapptive.
Key Features -
The Critigen Map Control supports the following capabilities -
Display SAP objects on the map as map points, polylines, and/or polygons with selectable markers, line and polygon styles
Turn on / off SAP object map layers
Zoom to view all SAP objects displayed on the map Search displayed SAP objects
Click to view SAP object information (Title and Description)
Launch actions (Create, Related & Details) for work orders, functional locations, equipment and notifications
Use the application offline (requires ArcGIS 10.2)
Manage device storage by configuring areas, objects & level of detail to be cached for offline use
Turn on / off customer-defined GIS Layers
Popup of Feature object information from the GIS system
Display the current location of the device
Change base maps, selecting from a customer-selected set (online)
Turn on / off GPS tracking
LATLONGO® - Any data, any server, any device, any time by We-do-IT
From the field to the office, LatLonGO® provides a common platform for users to view enterprise spatial and attribute data over multiple base maps. With 100% accessibility both online and offline, field crews are able to capture accurate information in all work environments without compromising enterprise asset information.
LatLonGO® brings SAP technical objects and GIS assets together and displays them on a single platform allowing users to clearly identify assets and access SAP and GIS information in the field.
Key Features -
Its intuitive features require little to no GIS training or work practice reengineering for use; ensuring location accurate information is recorded in work orders.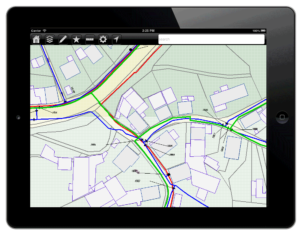 100% on/of-line availability
Complete office-to-field GIS, ERP & DMS integraton
ERP Work order, notification, equipment, functional location and operations
One-click-access to associated documents (work instructions, manuals, OH&S)
Geo-located photos, written and voice notes
Field editing instantly shared with the office
Single search across users' mobile database and geocode matching
Multiple utlity overlays on one device
Ability to view internal schematic and inside plans from the GIS