5.135 billion
That's the number of mobile phone users in 2018. That's up 4% from 2017 and continuing to grow as smartphones continue to evolve.
Are you considering investing in mobile solutions to improve your field services in 2019? Are you concerned whether the initial cost will be worth it down the road?
Positive customer experience or satisfaction encourages operational excellence for all organizations. Additionally, shorter response times to service requests by your mobile techs result in increased positive customer experiences and satisfaction ratings. In many ways, they go hand in hand.
Operational excellence is the goal of every organization. However, the steps needed to achieve this goal are very unique as they relate to field services. In today's workforce, with the heavy reliance on technology in operations, the technology for mobile workforce management is critical as is performance management. The widespread adoption of smart technology (smartphones, iPads, etc.) has led businesses to find, develop, and deploy mobile apps to their field service teams.
Using mobile technologies to support field workforce management helps promote innovation and improve operational efficiency and customer service. Companies can look forward to improvements in various areas, for example: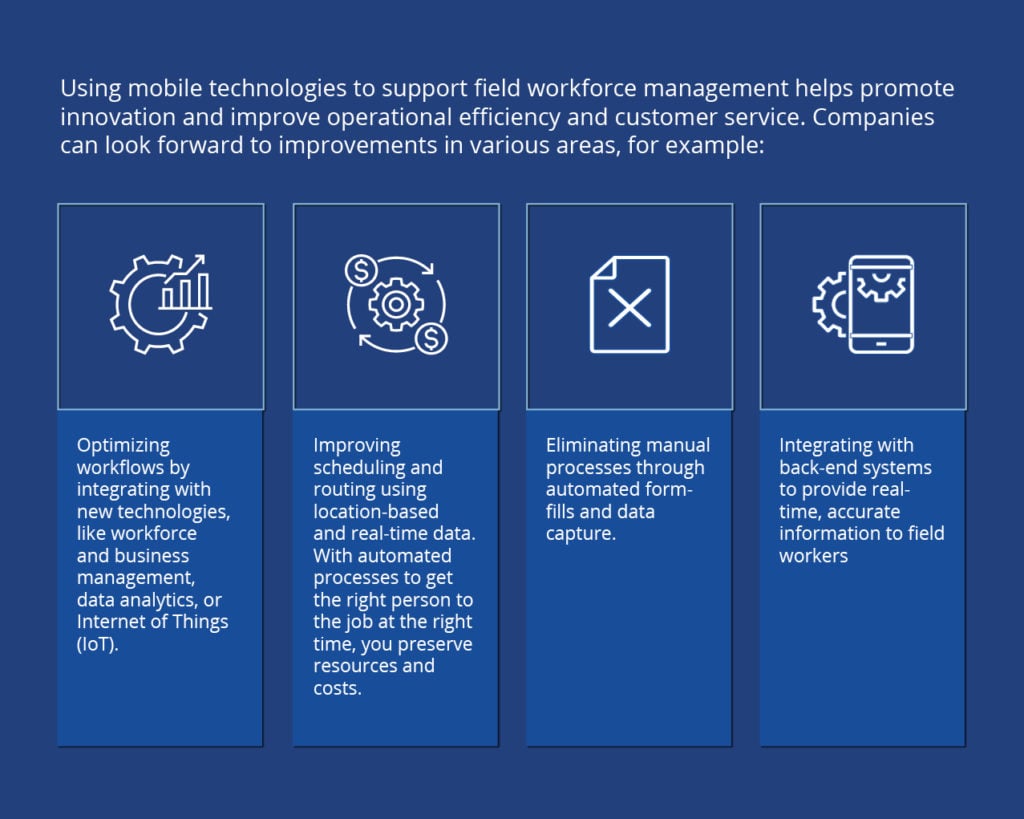 With intelligent field service management technology, organizations are improving operational excellence. The move to mobility in the field enabling field teams to deliver faster, smarter service and improve the customer experience.
Here's another fact:
People now spend 7 times longer using mobile apps compared to mobile web browsers (AppAnnie, 2018).
Wouldn't now be the best time to make a move to put the best mobile solution in your field service techs' hands?
Tackle Workflows, Routing & Scheduling and much more with an Intuitive Mobile Solution
Innovapptive's mWorkOrder is the most configurable enterprise mobile plant maintenance solution available on the market. It gives you the power to improve capital asset management in ways that increase reliability, enhance predictive maintenance, ensure regulatory compliance, reduce energy usage, and support sustainability initiatives. Additionally, mWorkOrder is fully configurable with RACE™. It allows unparalleled flexibility to zero in on the specialized industry requirements. This capability will turn your company's asset management into a competitive advantage.
mWorkOrder comes equipped with the ability to support HMT (head mounted tablet) devices, completely run on voice command. By using HMT devices integrated with mWorkOrder, technicians can create work orders, send notifications, scan equipment, attach multiple items, and more. Also, they can listen and respond to voice-based directions as well as process tasks in a more natural way, successfully decreasing turnaround time. Technicians can also take photos, record videos and upload them in real-time through voice command.
Find out how a leading Australian energy company is using mWorkOrder to optimize maintenance planning, improve assets reliability, and save field workers time while allowing them to work on the go with real-time updates.