The warehouse is a part of a bigger picture: the supply chain. In present turbulent economy, it is important for warehouse managers to deliver a high level of performance. Whether you manage a manufacturing warehouse, a distribution centre, or inventory - being well-connected and having complete visibility into all your assets, people, and processes at all time is crucial to having a productive, profitable, and compliant supply chain. For meeting rising demands and staying ahead of the competitors, there is always a pressure to move goods fast at lower cost, and it won't be surprising to see accuracy being affected. Sometimes, shipments may ship on wrong place or in the wrong quantities or at the wrong time.
For making warehouse efficient and successful it is essential to perform the role of receiving, storing, and shipping goods to the right customer in the right quantities at the right time that only possible when warehouse personnel would have the right information on their fingertips. An efficient inventory management is even more crucial for sustainability as business transactions take place on a global scale and cover multiple locations.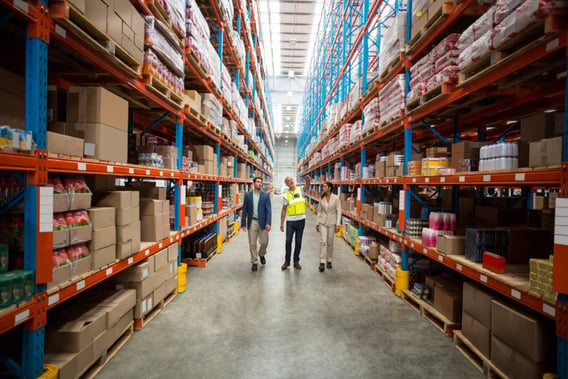 Technology is improving human's life day by day, but warehouses are struggling with operational inefficiencies. Today, what desktop computer offer is no longer enough. Inventory requires mobility, flexibility and the constant availability of products in the warehouse. There is need to eliminate paper-based approach completely and limit cycle count sheets, and pick tickets. The ability to gather and process information in a timely and accurate manner is much needed. If your warehouse is still relying on paper-based approach and legacy system to obtain and process important warehouse management data, you are not operating efficiently.
Mobility in the warehouse can dramatically improve the productivity, resource utilization, and inventory management. It enables warehouse personnel to complete order fulfilment in real-time from their mobile handheld devices. The right mobile solution can provide your warehouse personnel 'anytime & anywhere' flexibility and eliminate the paper-based approach. Automated data collection from mobile device can help you save time and money. The visibility improves resource utilization through just-in-time inventory levels that allow you to stock products based on demand. If you want to get the most from your warehouse and money invested in legacy system, you need to make sure you have the right mobile solution in place that is designed to help you achieve that goal.
Innovapptive offers SAP® Certified Mobile solution for Inventory and Warehouse Management (mInventory). The mInventory enables your warehouse users to perform common inventory transactions through handheld devices, smartphones, and RF scanners. They quickly perform transactions from the devices in their hands that results in real-time transaction processing, improved data accuracy and increased convenience. It helps your employees making more informed decisions and improving your business operations while reducing expenses. The mInventory helps you mobilize and optimize your supply chain while ensuring error-free transactions on the fly. Moreover, your warehouse employee can avoid duplicate scan/entry of bar codes, thereby eliminating downstream problems.
A slew of benefits you receive by using mInventory
Get valuable insights about the stock available within your plants, warehouses or storage locations
Access to accurate and timely inventory information with instant updates to your SAP system
Perform physical and cycle counts quickly and achieve higher level accuracy
Reduce inaccurate inventory records, shipments and customer complaints
Eliminate downstream problems in inventory and invoicing
Key Differentiators
Aligned with SAP's mobile strategy and quickly deployable within 8 to 12 weeks
Runs on SAP mobile Platform OData & HANA Cloud Platform Mobile Services.
Allows unlimited customizations with simple SAP configurations without a bit of code change.
Synchronous updates based on OData technology – minimized offline dependency and conflict resolution
Winner of SAP Pinnacle Award and SAP Mobile App Challenge.
Innovapptive's mInventory mobile solution comes built-in with our configuration toolkit – RACE™ that empowers your IT teams to achieve an infinite number of customizations of the mobile apps within minutes, translating to 40% of operational efficiency. You can achieve these customizations simultaneously on browser-based applications such as SAP Fiori and on the native mobile apps. RACE™ sits on the SAP Netweaver gateway and works as the backend that lets you activate or deactivate specific transactions, add or remove data fields, map custom fields and much more with simple clicks pertaining to any app that you want to customize. The net result is you have an app with a customized UI ready, that perfectly matches your business requirements. Without the need of changing a bit of the code. This simplicity in customizing SAP mobile solutions provides a strong value proposition and dramatically improves the overall TCO and ROI, thereby enhancing the overall customer experience to the next level.
If you would like a demo of Innovapptive's mInventory (Mobile Inventory and Warehouse Management) solution, please click on the link. Alternatively, if you would like to discuss with an Innovapptive solution expert, you can reach out to us by emailing us at sales@innovapptive.com or you can reach a sales representative at (713) 275-1804.
If you would like a demo of Innovapptive's solution,

please click on the link. Alternatively, if you would like to discuss with an Innovapptive solution expert, you can reach out to us by emailing us at sales@innovapptive.com or you can reach a sales representative at (713) 275-1804.