Refinery shutdowns, outages and turnarounds (STOs) are massive undertakings requiring careful planning and precise coordination. Timely and accurate information is essential to the successful construction of any STO plan.
Manual STO Planning Processes Are No Longer Up to the Job
If your refinery is still using traditional paper-based planning processes and spreadsheets, you're costing yourself valuable time, resources and money. Paper forms, checklists and schedules are slow, tedious and time consuming to complete. When inevitable changes occur, they're a huge pain to modify.
It's difficult to share paper forms and checklists with other STO team members. Information has to be inputted into SAP, a lengthy task that introduces the possibility of data error if something is miskeyed.
Efficient STO planning requires accurate, up-to-date information. Collaboration across departments and between outside contractors is essential to STO success.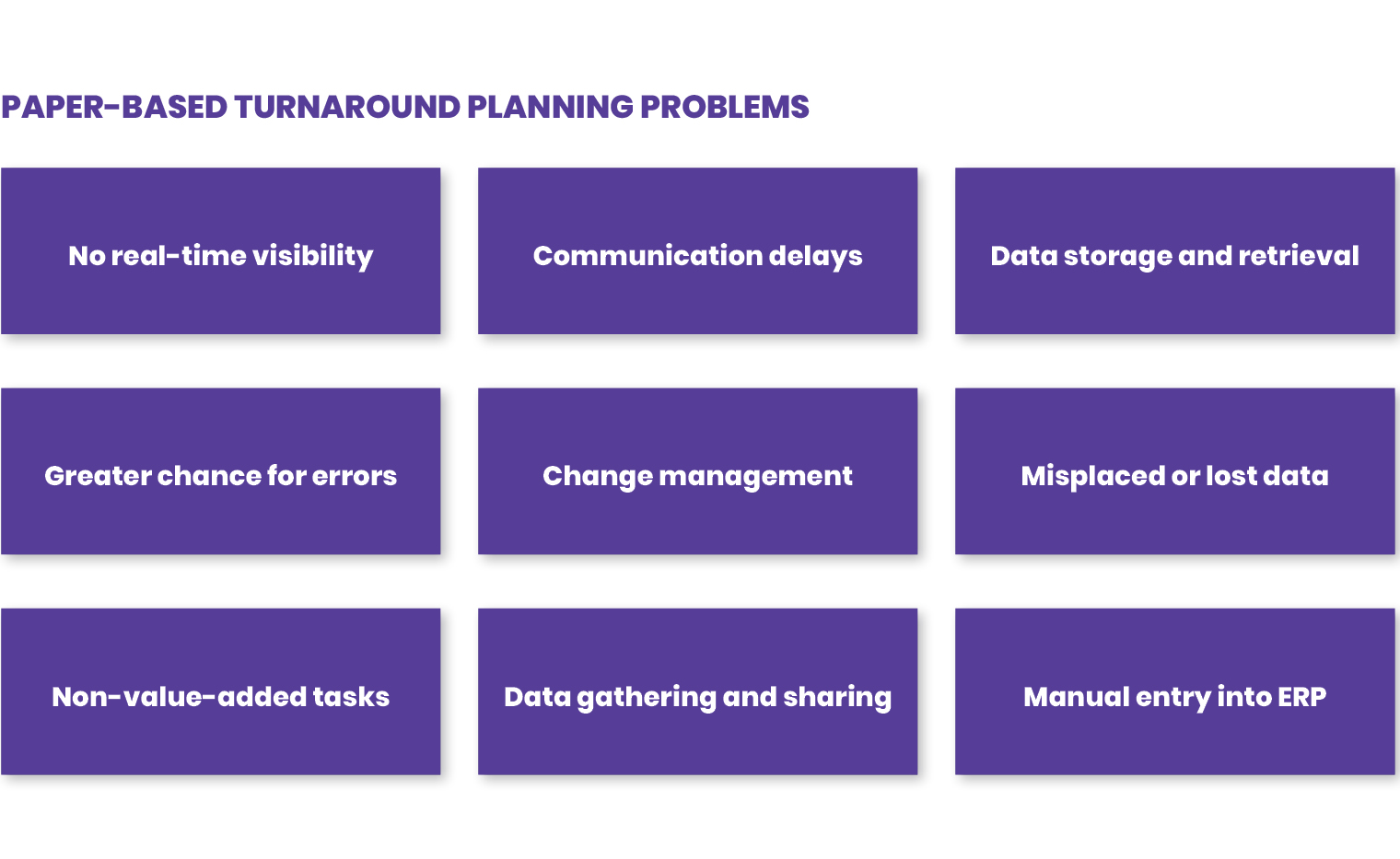 A Badly Planned STO Crimps Refinery Net Margins
The ongoing coronavirus pandemic has cut worldwide gasoline demand, cutting into refinery revenues, which were already hurting before pre-2020.
This means refineries can ill afford any additional revenue interruptions, especially ones that could be otherwise avoided. An STO calls for one or more production units to be taken offline. Refiners account for this interruption to production and revenues, but should the STO go wrong and last longer than expected, the results negatively impact revenues and disrupt the supply chain.
STOs Are Risky Business
Refinery maintenance work, by its nature, poses many unique risks. This is most evident during a turnaround, shutdown or outage. Is there a way to mitigate safety risks while achieving optimum STO performance?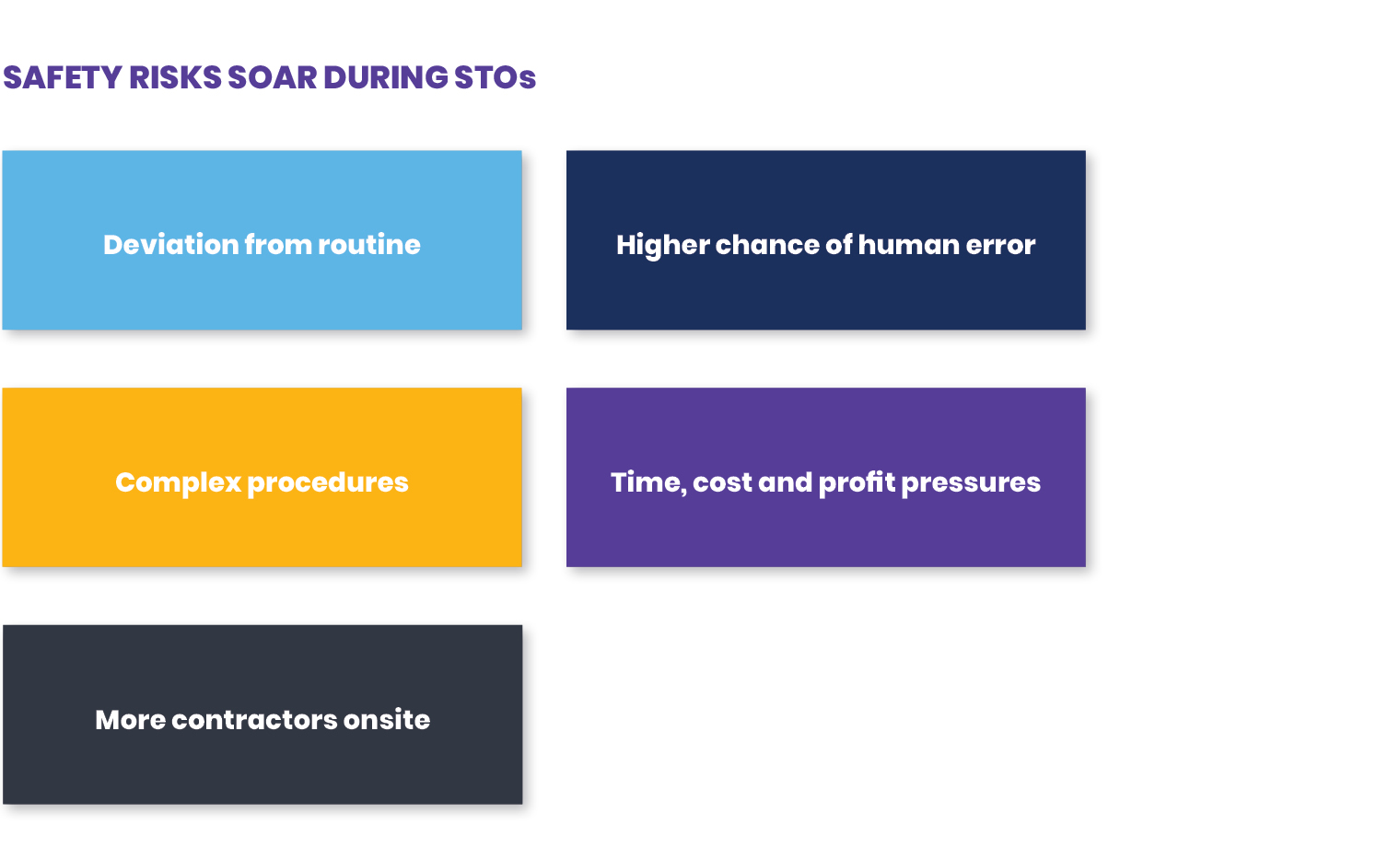 Learn How to Increase Planning Efficiency While Reducing STO Safety Risks
This is why agile maintenance planning and scheduling is crucial when preparing for an STO. It's easy to digitally plan these major projects with the Visual Planner app included in our Connected Worker Platform. You can learn more about how Visual Planner helps you minimize downtime, preserve revenue flows and make the best use of your resources in our latest eBook, Minimizing Refinery STO Downtime with Visual Planner.
This new free publication takes a closer look at:
The five steps of efficient turnaround planning
The problems with paper-based STO planning
How aging units and equipment are contributing to more refinery STOs
What causes safety risks to spike during STOs
The benefits of digital STO planning
Questions? We're Here to Help
Innovapptive is a pioneer in connected worker solutions. We understand the unique maintenance needs of refineries and the importance of proper, efficient STO planning. That's why we offer Visual Planner, a connected worker app that's part of our enterprise asset management suite.
Visual Planner ensures smooth operations during STOs, even in the case of an emergency outage. Planners don't suffer from delays stemming from paper-based processes. Real-time visibility means faster response times in situations where time is critically important, from production, customer service, revenue and safety standpoints.
Schedule a free Visual Planner demo today or call us at 844-464-6668.