A high level of inventory accuracy is a great indication that all your warehouse processes are working effectively. This will be reflected in increased productivity and reduced costs. Poor inventory accuracy can have far reaching effects on key business areas including warehouse efficiency, fulfillment, receiving, customer service, and employee satisfaction.
Lack of visibility into inventory data is one of the major contributors to poor inventory accuracy. Warehouse managers often face problems in tracking key performance indicators including on-time shipments, out of stocks, percentage of perfect orders, etc. Keeping track of these factors in real time helps managers improve warehouse throughput.
Configurable Operational Dashboard from Innovapptive for a Complete Visibility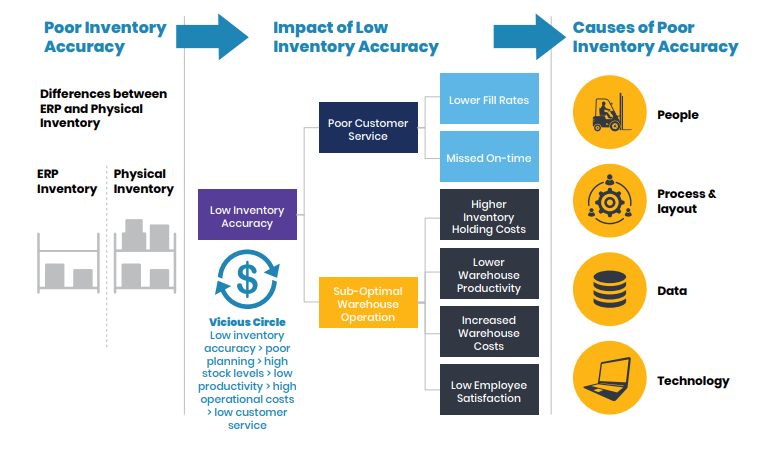 Innovapptive's Connected Inventory Platform, mInventory, includes a configurable dashboard for the Goods Receiving—Purchase Order (GR—PO) module. The dashboard offers a comprehensive view, quick identification, and easy navigation on the recorded data. Some of the key features of this dashboard that will help warehouse managers achieve higher accuracy are:
Layouts based on Metrics, Counts, Graphs and Lists to get a clear picture of real-time inventory data to make well-informed decisions.
RACE

TM

-configurable layout with a defined query to retrieve data and present a view based on an attribute of the data set. This feature helps warehouse managers get a quick view of the KPIs they want to measure.
Flexible filtering capability to drill down data to help managers get accurate information.
View user preferences while offline sync is in process. If updated and saved, offline sync will restart. This enables smooth functioning of the warehouse even in poor network coverage.
Some leading companies in the oil & gas, mining, and chemical industries have optimized their inventory management using mInventory. These companies gain real-time insights into their stock levels, including the batch wise stock availability in the respective storage locations, through the operational dashboard in mInventory. Inventory managers in these companies keep track of the type of the stock - unrestricted (ready for shipment), quality inspection (subject to quality control before shipment) and blocked (damaged stock not fit for shipment). This way, they can prioritize what stock needs to be shipped to various destinations vis-a-vis demand forecasts and logistical considerations.
To see Innovapptive's Connected Inventory Platform, mInventory, in action, request for a live demo here. Visit www.innovapptive.com to learn more about our Connected Worker solutions.