By Richard Sandall
Supply Chain Evangelist
At the sharp end of the supply chain, today's warehouse managers are faced with a range of challenges that make the job more difficult than ever. They have to be like the circus performers, keeping numerous plates spinning at the same time - workers, equipment, customers, and not least, senior management! The diagram below highlights five significant challenges that may be keeping warehouse managers awake at night. Although these pressures are unrelenting, we end on a positive note by highlighting what top companies are doing to overcome these problems, and how SAP EWM with Innovapptive's mInventory solution is enabling warehouse managers to sleep easy!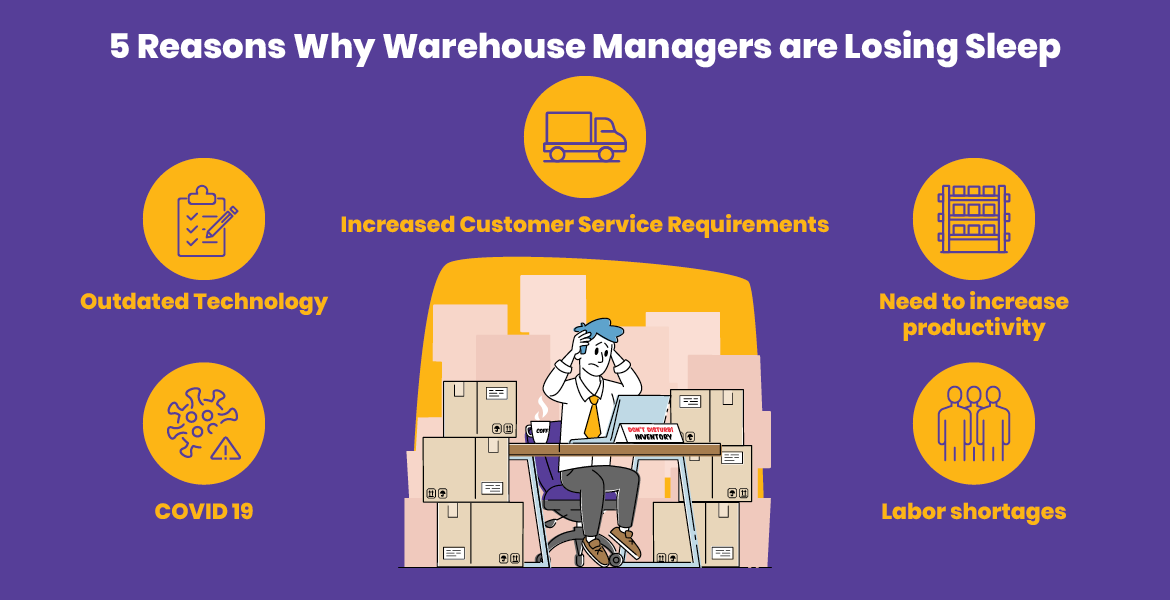 Increasing customer service requirements
More than ever, today's customers are king. Delivery lead times are becoming ever shorter; a few years ago a five-day lead time was acceptable, now customers want next-day or even same-day within a defined delivery window. Customers are savvier than ever, going online to compare prices, leading companies to launch a constant stream of promotional items to beat the competition. On top of all this, product traceability is now paramount with companies needing greater visibility into their tier 1 and 2 supply base. Taken together these trends mean much more complexity for the warehouse manager. Shorter lead times and more product promotions translate to workload volatility with less time to plan. Warehouse operations must be more flexible, processes must be slick with no time for errors and rework. With heightened product traceability, all products in the warehouse must be managed at batch level, which can slow down operations as well as increasing space requirements.
Need to increase warehouse productivity
Warehouse productivity will be close to the top of the list of a warehouse manager's key performance indicators (KPIs). Companies are facing increasing margin pressures and the warehouse manager is very much on the front line. In simple terms, higher productivity means doing more with less, thereby minimizing unit warehouse costs. But the increasing customer service requirements highlighted above are adding more complexity into warehouse operations, which is driving warehouse productivity in the wrong direction. Imagine a warehouse that was designed to serve large retailers and wholesalers with full pallet quantities. If that same warehouse now has to pick small, consumer e-commerce orders, warehouse productivity will fall and unit costs will increase.
Labor shortages
Whilst COVID-19 has caused an unemployment spike in some industry sectors, many countries, including the US, Canada, UK and Australia are reporting difficulty in filling warehouse jobs. Demand for warehousing staff is increasing as more people are required to serve the labor- intensive ecommerce sector, picking those small orders for home delivery. As the baby boomer generation is retiring it's proving difficult to attract Millennials and Gen Z to warehouse jobs that typically involve hard physical work and long hours. The response from some companies has been to raise wages. For example, in 2019 Amazon increased the hourly rate of US warehouse workers to $15 per hour and many companies were already paying far more. The US government has also had to step in removing age restrictions for interstate truck drivers. The industry is addressing labor shortages through more automation and efficiency, but will need to be more creative at attracting Millennials and Gen Z by offering career progression and a better working environment.
COVID-19
It is difficult to write any content today without covering COVID-19. Warehouse operations had to adapt quickly to the outbreak because they were providing essential supplies such as food, cleaning products and pharmaceuticals. Practical steps to guard against the pandemic whilst maintaining customer service included adding extra shifts, extending the work week, setting up one-way systems and providing additional Personal Protective Equipment (PPE). However, for many companies it has been challenging to maintain warehouse productivity levels and customer order fill rates/on-time delivery have taken a big hit.
Outdated warehouse technology
Whilst highly automated warehouses with robots, sky-high racking and miles of conveyors may capture the headlines they are still the exception. Most warehouses are dependent on people using basic material-handling equipment to complete goods receipt, putaway, picking, loading and internal movements. SAP Warehouse Management or Extended Warehouse Management (EWM) using barcode scanners can be used to control the main warehouse processes and guide warehouse workers to correct bin locations. But it's common to see a lot of paper-based processes going on in parallel, from receiving goods from suppliers to inventory counting. Paper-based processes are time consuming, inaccurate and lead to a disconnect between physical processes and the system of record. Additionally, first generation barcode scanning solutions that many companies still use are based on old Windows operating systems which are close to end of life.
History tells us that technology can help us overcome many business challenges and the warehouse is no exception. At Innovapptive, we are deploying mInventory, our best-of-breed mobile solution that integrates seamlessly with backend SAP Warehouse systems (SAP WM and EWM). This is a step-change improvement from the older generation of warehouse mobile solutions. Our clients have measured their ROI on deploying mInventory and enjoy the following positive benefits:
Reduction in time to pick goods = 30%,
Reduction in time to process goods receipt = 70%,
Reduction in time to complete cycle counts = 50%,
Fast solution deployment with pre-built SAP transactions,
Fully offline capable, so work can continue when there is no Wi-Fi network,
Low-code configuration platform - full flexibility to address localization requirements to meet the challenge of a multi-warehouse rollout.
Greater ability to leverage all the backend power of SAP on an easy-to-use mobile interface to meet today's complex warehouse challenges .
Better able to attract the Millennial and Gen Z workforce by providing them with technology they love to use.
Talk to Innovapptive if you feel your warehouse manager deserves a good night's sleep. Schedule a free demo today by calling 844-464-6668 or by clicking here.