An old proverb 'Time is Money' perfectly suits to the oil and gas industry. For oil & gas companies, their ongoing projects are the cornerstone of their business. Effectively, managing the projects of various sizes and complexity is often the key to success and every single minute is precious for them. For any reason or issue, if processes get delayed or stopped, it may cost to the company and affect company's revenues.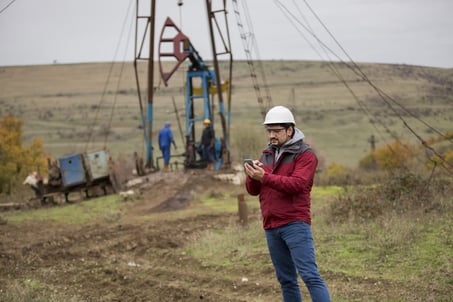 Many oil and gas companies invest heavily in technology, software solution, and tools, but still, they struggle with fragmented business processes, lack of integration and mobility. The legacy software systems, they use are fine, but they couldn't provide real-time operational insight that is necessary to maintain a competitive advantage and maximize productivity. The situation faced by their workers is even more challenging because they rely on paper-based approach. Oftentimes, the task is not updated in the system even after its completion. In case it gets recorded, the entries get differ or incorrect.
There are 6 reasons that will help you understand why mobility in oil and gas is not just the norm, but a necessity for success:
Helps gathering Accurate data
It is difficult to gather accurate information with the paper-based approach, which is error-prone, causes confusion among employees and delays the processes. The right mobile solution helps easing the work, replaces paper-based manual approach, also helps workers to gather accurate data.
Streamlines complex processes
Managers and supervisor at oil and gas company have more important tasks to do rather than manually scheduling projects with paperwork and spreadsheets. With the right mobility solution, workers can store, and fetch the information from anywhere, any-time on their mobile device. This streamlines the operational processes and helps employees in quick decision-making.
Monitoring & Reporting becomes easy
Mobility doesn't only help to save a lot of time, but also enables workers, technician to ensure time in the field is efficient and well-spent. Real-time information of task and activities can be updated quickly by workers/technicians from their mobile devices. Mobility solution empowers managers, supervisor to better track the productivity of workers and technicians in just a few clicks from their mobile devices.
Increased efficiency and quality in your on- and offshore maintenance & service
Mobility solution replaces manual paper-based procedure with faster data entry processes and drastically increases the operational efficiency. It enables workers/ technician to update the tasks as they perform work rather than at the end of a shift or when they return to the office. The mobility solution helps higher management by providing detailed information of what is currently happening and what has already occurred, in the field. It improves the use of available resources, increases asset productivity by reducing maintenance and rework.
Provides Safe Environment for workers
Health, Safety, and Environment issues continue to be the important factors in the oil and gas industry. Mobility solution empowers technicians, maintenance workers to work more safely and productively whether installing new equipment or maintaining, inspecting and repairing existing assets. Through easy to use mobility solution, maintenance and repair service of assets, equipment can be done before the issues arrive. It helps oil and gas industry to create a simplistic and safe work environment for their workers and prevents accidents, danger to human life while saving huge cost. Workers can easily prepare operations checklists and safety checks, which reduce the time wasted in duplicate data entry and following up on the wrong entry.
No more network connectivity woes
The right mobility solution offers a robust offline capability that will enable workers/technicians or field employees to access information even when they go out from the network range. It gets sync data automatically when they come back in network area. This will keep process flow moving forward rather than delaying inter-related processes or left workers to struggle for information without proper network connectivity.
The Right Mobility Solution helps Achieving More with the Less!
Innovapptive's mobile EAM portfolio is the most configurable enterprise-grade SAP Mobile Plant Maintenance solution on the market. Innovapptive's mWorkOrder gives maintenance workers, technicians anytime, anywhere access to the information they need to do their jobs, and their safety and productivity in the plant and in the field, will increase. With both online and offline access, it helps ensuring delivery of mission-critical support of assets without any interruptions or delays, leading to better performance and reliability across plants, fleets, networks, and the enterprise infrastructure. Fully configurable with RACE™, it gives you unparalleled flexibility to zero in on the specialized, industry requirements that can turn your company's asset management into a competitive advantage. To speed and simplify work, the mWorkOrder solution offers fully optimized, role-specific feature sets for each platform.
Key Value Drivers of mWorkOrder
Create work orders and notifications on the spot, and receive & update work orders on the go
Capture readings, measurements, and photos and record problems.
Get accurate directions with GIS and GPS.
View installed-base listings and access equipment, details, dependencies, and maintenance history.
View interactive part schematics (with SAP Visual Enterprise Viewer, follow guided workflows, steps, and instructions.
Business Benefits
Extend and improve asset life and reliability.
Increase plant, fleet, and equipment performance.
Improve workforce safety and productivity.
Reduce accidents, failures, and outages.
Reduce unplanned downtime and maintenance backlog.
Improve first-time resolution rates.
If you would like a demo of Innovapptive's mWorkOrder(Mobile Plant Maintenance) solution,

please click on the link. Alternatively, if you would like to discuss with an Innovapptive solution expert, you can reach out to us by emailing us at sales@innovapptive.com or you can reach a sales representative at (713) 275-1804.