Innovapptive Blog Series 1 of 3
Paperwork will always be constant, regardless of your industry of focus. More specifically, every industry uses forms to drive and fuel their processes and procedures. With the necessity of paperwork, and forms, rampant many industries are making the technical shift to a more digitally focused persuasion in the form of digital forms.
Innovapptive's RACE™ Dynamic Forms, are super flexible and provide a hassle-free integration into the SAP/ERP. With large volumes of critical data stored securely, the solution helps you to create and handle multi-pages' of digital forms expeditiously and efficiently and reduces written work for all users.
Mining
Digitizing data collection of information in mine operations on a smartphone or a tablet, allows users access to more accurate, complete and timely data which can empower miners to make accurate, timely, and smart decisions thus improving the mine's profitability. Recording shift data on mobile devices such as a smartphone or a tablet while in the field, miners will experience the following benefits of Innovapptive's RACE™ Dynamic Forms:
1. Data Accuracy & Completeness - Miners run the risk of losing critical information when relying on manual reporting of shift tasks and with Innovapptive's mWorkOrder and RACE ™ Dynamic Forms, operators can see workflows associated with tasks, and record data as and when the event is completed.
2. Timeliness of Data - Gone are the days of long processing times tied to paper forms as data is can be aggregated and instantly available for collaboration to improve productivity. RACE ™ Dynamic Forms allows users to create/edit/submit forms from an application, search or filter forms from the list, and even mark forms as Favorites for quick access.
3. Intelligent Decision Making - By utilizing data which is now available digitally, management utilizes the intelligence gathered to make more strategic in pursuit of goals. Data from the mobile forms in RACE ™ Dynamic Forms can feed into analytics systems and report on the entirety of operations and enable smarter decisions to lead to boosted bottom lines.
4. Improved Response Time - Digital forms such as RACE ™ Dynamic Forms can be aggregated with data and instantly made available to identify and detect changes and movements away from standard operating procedures and/or standards so as to take actions to optimize operations and respond to issues as they occur, in real time.

Chemicals
Digital technology and the data it brings holds tremendous potential for the chemicals industry. But technology, alone, isn't the answer. In the chemicals industry, the use of technology against the right digital strategy, on the best digital platform is what holds the real value. This requires a focus on implementing a true digital core that enables a common system of record through the business.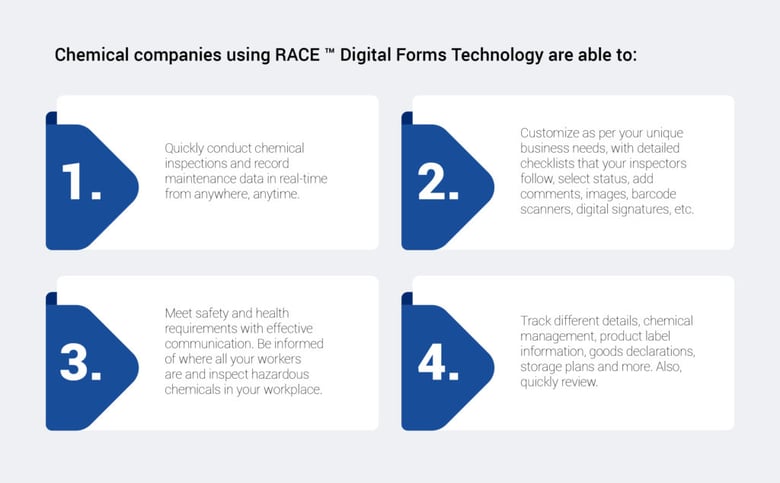 The benefits of RACE ™ Dynamic Forms are extensive specific to saving your workforce time, labor expenses, and reducing errors. RACE ™ Dynamic Forms is the solution to help you build robust mobile forms revolutionizing your field data capture, whether the objective is to improve productivity, increase visibility into operations, save time and/or gain data accuracy.
If you would like to find out more about RACE™ Dynamic Forms, or any of Innovapptive's Mobile W

orkforce Management Solutions, our Solution Experts are ready to chat with you or you can reach us at (713) 275-1804.