Presenters Joel Kreider & Andy Zimmer share the results of improving their materials management processes with mInventory + RACE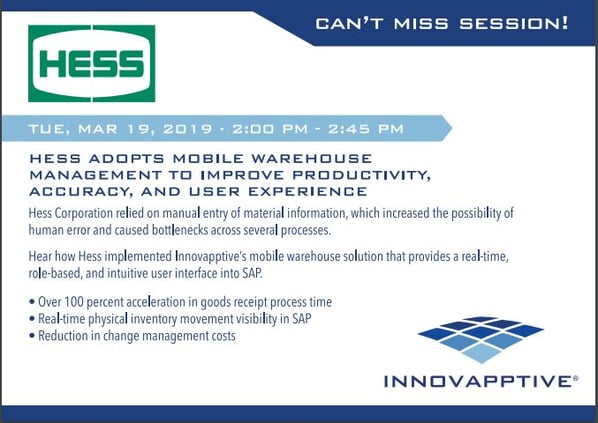 Make plans to be at the SAP Centric EAM/SCM conference. Look for Track 5 on Tuesday the 19th and join the discussion on improving productivity, accuracy, and your user experience with mobile warehouse management tools.
Joel and Andy will be discussing their old materials management processes and how they relied heavily on manual data entry which increased the potential of human error, inventory inaccuracies, and unexpected unavailability of materials. Previously using manual and SAP direct entry management of material flow, the system created inaccuracies, user frustrations, and slow to record movements. They also experienced a reduction in workforce which caused many of their technicians to experience user burnout due to more work and fewer resources. Lastly, with increasing demands, they encountered a lack of visibility and spent excess time spent fighting additional issues.
Taking all their challenges into consideration, Joel and Andy will share their insights on Hess's selection process for their Materials Management Technology project, examining their key must-haves in the selected solution, and how they chose to partner with Innovapptive.
You will also hear how, with the implementation of mInventory and RACE, Hess saw improvements in operational efficiencies including:
Same day Goods Receipts increased from 75% to 95%
New employee training time reduced to less than 1 week compared to 3+ weeks prior
Eliminated data entry and reallocated time-to performance of value-add functions
And much more…
Innovapptive is a Platinum Sponsor at the SAP-Centric EAM / SCM Conference and our solution experts will be on site for demos and discussions. Our purpose is to help improve people's lives with the next generation Connected Workforce Platform which digitally connects your executives, your entire industrial workforce, and your back office to minimize plant outages and improve operational excellence.
Join Innovapptive at Booth 1 after Joel and Andy's talk to see our Connected Workforce Platform in action.