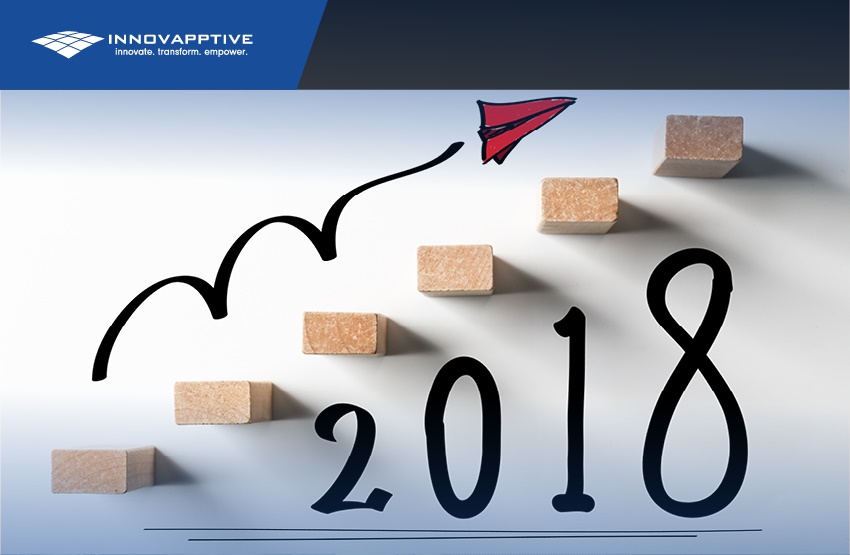 2018 was an extraordinary year for Innovapptive Inc.
Each part of our company executed at the highest level, resulting in solid financial results and operational success. Innovapptive's Executive Leadership Team headed up by Sundeep Ravande, CEO/CoFounder, and Hari Kamineni, Chief Product Officer/CoFounder, seized upon the culture and desire for new technology in 2018. Throughout the year, Innovapptive's continued our trek to achieving greatness. In the first 130 days of 2018, Innovapptive realized 700% annual recurring revenue growth. We didn't stop there. Innovate is the core of our company; in every area of Innovapptive, we innovated with new ideas/concepts, new people and visions, and new customers.
Plans + Goals = Strategic Hires
With visions and goals, come game plans and strategic hires. Innovapptive did just that! Our team grew with awesome hires in critical areas. Beginning in February 2018, Innovapptive made decisive moves in operations with the addition of Abhishek Parkala, Director of India Operations, and Anand Vemulapati, Director of Product Engineering – Product & Innovations, at our Global Development Center (GDC) in Hyberbad, India. Midway through 2018, Innovapptive welcomed Brant Jones, Director of Product Management, and Ted Steifel, Director of Finance, to the Innovapptive - Houston headquarters.
Global Expansion Continues...
In early 2018, Innovapptive conquered 4 c ontinents with our expansion into Brisbane, Gold Coast, Australia. March 2018 marked a triumphant time for Innovapptive as we opened the doors to our newest office in the Australian capital of Brisbane, Queensland. Led by Kalyan Vankayalapati, Managing Director, Australia/New Zealand, Innovapptive – Australia is already seeing great success having recently served as Platinum Innovation Sponsor for SAP's Fall 2018 "Mastering SAP Enterprise" Conference at The Star, Gold Coast.
Innovapptive Expands its Customer Successes
Adding to their spectacular opening in March, Innovapptive was selected by Zinfra, Australia's leading utility service provider, to implement our SAP ® Certified mWorkOrder solution. mWorkOrder will empower and enable Zinfra's field technicians and service teams to deliver a digital work experience within their operations and maintenance teams.
Innovapptive's continued focus on innovation and the customer experience helped lead to some of our best customer success stories in 2018. We've added industry leading customers across all our major focus segments: Oil & Gas, Mining, Chemicals, and Manufacturing. In addition to the developments in Australia with Zinfra, Innovapptive North America announced exciting news with the addition of Loudoun Water to our customers.
Loudoun Water, one of the largest water authorities in the Commonwealth of Virginia, providing water and wastewater services to over 75,000 households in the Commonwealth, became an Innovapptive customer in March 2018. They selected Innovapptive to deliver a consistent, reliable, and seamless inventory management experience that tightly integrates with Loudoun's SAP Inventory & Warehouse Management system. Innovapptive's mInventor y solution replaces Loudoun's manual paper-based processes in their Operations & Maintenance (O&M) Division. The solution empowers them with the ability to streamline work processes, reduce manual data entry, and produce accurate reports while working offline with real-time access and visibility across the warehouse.
In addition to Zinfra in Australia, and Loudoun Water in Virginia, Innovapptive's customer base grew exponentially in 2018 with additions in other segments as well. In July 2018, Innovapptive landed our largest SaaS contract to date at over $1M with the world's chief integrated producer of chemical intermediates, polymers and fibers. In October 2018, Latin America's largest petrochemical company, with 5 plants operating in the States, selected Innovapptive's mWorkOrder solution with customizations for operator rounds.
When the world leader in sustainability approached us in mid-2018, their need was simple: reduce unwarranted administrative costs and improve efficiency gains for their field engineers. Innovapptive's solution was a two-fold approach with mInventory and mServiceOrder to enhance daily service routes, provide 100% paperless service for internal and external customers, improve warranty information to 100% accuracy (saving up to 300-400 billing issues), and offer full visibility of warranties on spare parts. The Customer went live January 2018 in country 1 and rolled out to 6 additional countries in the following 5 weeks.
Improved Customer Experience with New Technologies
From Cloud integration with AI (Chatbots, RPA) to Drone capable technology enabled with RACE Digital Forms and Machine Learning, Innovapptive's solutions are everywhere necessary and needed by our customers. We are transforming our core products and our delivery platform to bring more speed and efficiency to our clients. In Q2, Innovapptive launched our beta version of the highly sought-after RACE App Builder – disrupting all traditional approaches to solving business challenges with digital technologies. RACE App Builder is the answer to organizations' needs for quick mobile application development, automation of development efforts, and empowering their "Citizen Developers".
Looking Ahead to 2019 and Beyond...
The energy and momentum around Innovapptive, our employees, and our customers are launching us into 2019 with fervor and excitement. With our expansion into AI, Wearables and putting the power of dev into the business user's hands, Innovapptive continues to excel and excite our customers. We are staying ahead of our competition at every curve with our creation of RACE App Builder and our expansion into Australia. Aligned with exciting customers who are industry leaders in petrochemicals, oil & gas, utilities, and mining, Innovapptive is moving forward into 2019 with confidence, optimism, and purpose. Thank you all for being a part of this journey.