Many industries, such as Oil and Gas, Mining, Manufacturing, Automotive, and Transportation & Logistics, rely on smooth supply chain performance, especially those with operations in remote locations. With digital transformation, all industries are experiencing an unprecedented change to processes especially companies with remote areas. Due to said change, companies should be mindful when managing logistics remotely, as the tasks involved can be cumbersome around procuring, storing, and transporting goods in more than one remote area. Remote Logistics Management (RLM) provides functions for supplying materials from base locations to remote locations (e.g., offshore oil platforms).
The field of remote logistics management is continuously evolving. Despite having the best-in-class software in place, i.e., SAP ERP, many companies fail to achieve its ROI due to dependency on slower, paper-based processes and the unavailability of access of real-time data. To make the right, and best decisions, users/managers should have full visibility and access to real-time data, but the limitations mentioned above thwart the goal of end-to-end transparency and may lead to customer dissatisfaction, resulting in potential lost profits for the supply chain.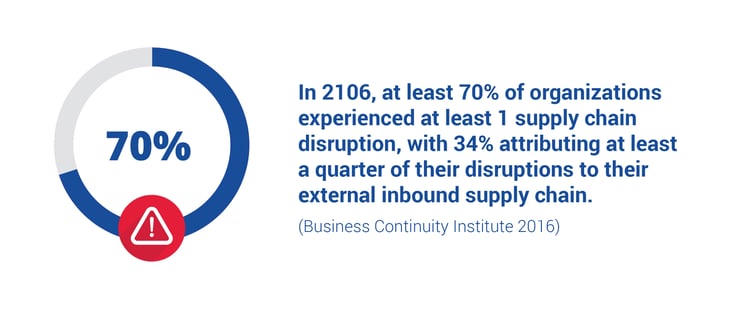 (Source: www.riskmethods.net/resources/)
With digitization taking hold in today's business environment, companies expect faster time-to-market as they need to drive greater efficiency to achieve profitability while simplifying complex operations. Industrial customers expect to receive orders/shipments faster and with far more transparency. Companies need to take control of their supply chain and ensure processes take place seamlessly, at excellent speed to meet customer demand. Since the success of a company largely depends on their supply chain efficiency and the extent to which it can delight its customers, an effective inventory and warehouse management is even more crucial for sustainability as business transactions take place on a global scale.
mInventory is the Solution!
Innovapptive's solution for Inventory and Warehouse Management – mInventory - allows users to perform day-to-day inventory transactions via handheld devices and laptops by accessing Master Data of SAP. The solution leverages SAP Inventory Management (IM), Warehouse Management (WM) and Extended Warehouse Management (EWM) modules and delivers a simple, reliable and productive user experience. mInventory provides out-of-box support for the SAP Remote Logistics Management (RLM) module which addresses unique aspects of remote operations and provides functions for supplying materials from base locations to remote locations (e.g., offshore oil platforms).
Using mInventory, users can effectively manage logistics located remotely, see movements in real-time which will reduce turnaround time, and cycle counts will be more accurate. mInventory improves stock accuracy and helps employees to complete customers' orders with real-time updates while avoiding errors. Companies can reduce inventory and labor costs while increasing overall efficiency as well as improve their supply chain through improved inventory data accuracy. The solution also works in places where internet access is intermittent or non-existent and allows you to seamlessly switch between online and offline modes. Check out what's new in the mInventory 7.0.
Business benefits of mInventory:
Shortened lead times
Better inventory management
Reduced Turnaround time and cycle counts
Improved supply chain visibility and data accuracy
Elimination of paper-based processes, errors, and loss of information
For a live demo of Innovapptive's mInventory solution, please click on the link/button. Alternatively, if you would like to chat with an Innovapptive Solution Expert, you can email us at sales@innovapptive.com or you can call us at (713) 275-1804.