Inventory and Warehouse Management plays a crucial role in an organization's supply chain model. It is basically knowing what is on hand, where it is in use and how much is the resultant finished product. In other words, it basically refers to the process of efficiently overseeing the constant flow of units into and out of existing inventory. It is more to do with balancing of stock vis-à-vis requirements of various warehouses/plants that operate within the organization's SCM space. In fact, an effective inventory management should control the transfer of units to restrict the inventory from becoming too high or fall to low levels, putting the company's operations into doldrums. Also from a cost angle, it should seek to control the inventory costs, both from the perspective of the total value of the goods included and the tax burden generated by the cumulative value of the inventory.
Primarily, effective inventory management hinges on three key aspects:
Time
Understanding how much time it takes for a supplier to process an order and execute a delivery is one of the key factors of effective inventory management. Apart from that, it is also concerned with the time that is needed for those materials to transfer out of the inventory to be established.
Buffer Stock estimation
Estimating the amount of buffer stock that is available is also a key factor in effective inventory management. Buffer stock refers to the additional units that are beyond the minimum number required to maintain production levels. Creating such buffer helps to minimize the chance for production to disrupt on account of lack of vital components in the operation supply inventory. Also, tracking materials as they are used to produce finished products helps to identify the need to adjust ordering amounts, as soon as the raw material inventory falls perilously low or is inflated to an unfavorable level.
Maintenance of accurate records
Finally, inventory management also relates to maintaining accurate records of finished goods that are ready for delivery. This implies posting the production of newly finished goods to the inventory totals as well as deducting the most recent shipments of finished goods to buyers. Accurately, keeping a tab on the figures on the finished goods inventory enables in quick dissemination of information to sales personnel as to what is available and ready to deliver at a given point of time.
From the light of the above discussion, a good ERP system can certainly do wonders to help an organization to optimize its existing inventory operations, in addition to improving critical product deliveries and building long lasting customer relationships. Most of the organizations have invested heavily in SAP ERP systems, offering a plethora of value added benefits, including improving their overall return on investment (RoI), However, a one step ahead in this direction is the advent of mobility in ERP, which is aimed to take inventory to the next level – providing access to inventory data to a multitude of users in real time, anywhere, anytime.
From the light of the above discussion, an SAP mobile management solution can be leveraged to optimize the existing inventory operations of an organization, in addition to improving critical product deliveries and building long lasting customer relationships.
Key value drivers of an SAP mobile inventory solution
Companies are slowly exploring ways to integrate their existing ERP systems with some good commercially viable mobile solutions to handle a plethora of inventory transactions on the fly without even the need for its users to access their desktops. Against this backdrop, a good SAP mobile inventory solution can fit perfectly, seamlessly syncing with the SAP server to retrieve and process transactions as well as set up a unified communication setup.
One of the biggest benefits of using a mobile inventory solution is the ability to hold your entire inventory in your hand, which means easy stock management. When you mobilize your inventory, you can instantly find an item in your database, just by entering a description or item number; or with an integrated barcode scanning feature, you can even scan and retrieve the basic product data.
Apart from that, being informed when items go out of stock, or their availability can help inventory or store managers to make informed decisions. In fact, investing in a good SAP mobile inventory solution can efficiently help you manage inventory – saving great deal of time and money, taking your business to the next level.
The next question that arises in our mind is what is the best SAP mobile inventory management solution that we can look for? Though there are a quite a few commercially viable solutions in the market, organizations are looking to invest in the solution that can comprehensively address the multifaceted requirements of its users, within the broad scope of SCM and Logistics.
From this perspective, Innovapptive solutions, a premier SAP partner came out with a perfect mobile inventory management solution – mInventory that can address the unique requirements of the industry. mInventory is designed to support the existing SAP users, who could be store managers, delivery managers and other professionals taking care of the day to day inventory operations. It offers a seamless, intuitive and an enriching inventory management experience at the comfort of their phones.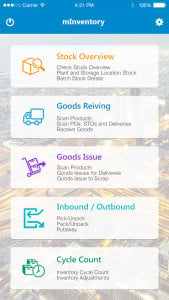 Using mInventory, you can perform day to day inventory transactions including tracking the status of the stock at your warehouses/plant at a given point of time; process goods receivables, stock issues, inbound/outbound transactions and asset transfers. With mInventory, you can ensure real-time transaction processing, enhanced data accuracy and improved mobility and convenience.
One of the key differentiators that distinguishes mInventory from other products is the flexibility that it provides to help you accomplish unlimited customizations with simple SAP configurations. Whether you want to add/remove new fields, modules or even change the business logic, you can easily accomplish using our proprietary product - Rapid App Configurator Engine (RACE). And the best part is you need not change a bit of the code - no need to hire costly Mobile UI/UX designer, iOS, Android or Appcelerator developer.
Key Features and Value Drivers
Ruggedized peripherals for RFID, Bar Code or QR Code Scans.
Scan RFIDs, Bar Codes and QR Codes to ship and receive inventory.
Accept and distribute incoming materials by purchase order.
View stock detail information at plant, storage location and batch level, anytime, anywhere.
Pre-pick materials and issue, return or transfer goods electronically.
Ensure inventory cycle count scheduling, counting and adjustments.
Print packing slips and bill of lading documents from SAP wirelessly.
Print USPS, FedEx and UPS shipping labels.
Check availability of materials while on the job.
Business Benefits
Perform physical and cycle counts quickly and achieve 98% accuracy of inventory levels.
Streamline inventory cycle counting and reduce number of FTEs for cycle counting.
Speed up receipt and back-order reporting to and from shipping/receiving by over 35%.
Reduce inventory carrying costs by 5 – 10%.
Manage physical inventory movement in real time and improve inventory accuracy by 30%.
Eliminate investments in expensive RFID guns and consoles to tighten your supply chain, service responses and order fulfillment.
Streamline goods receipts, issues, transfers and returns.
Streamline data processing on receivables.
Manage rolling inventories, satellite storerooms and truck/trunk stock.

If you would like a demo of Innovapptive's portfolio of Native or Web based mobile solutions, please click on the link. Alternatively, if you would like to discuss with an Innovapptive solution expert, you can reach out to us by emailing us at sales@innovapptive.com or you can reach a sales representative at (713) 275-1804.