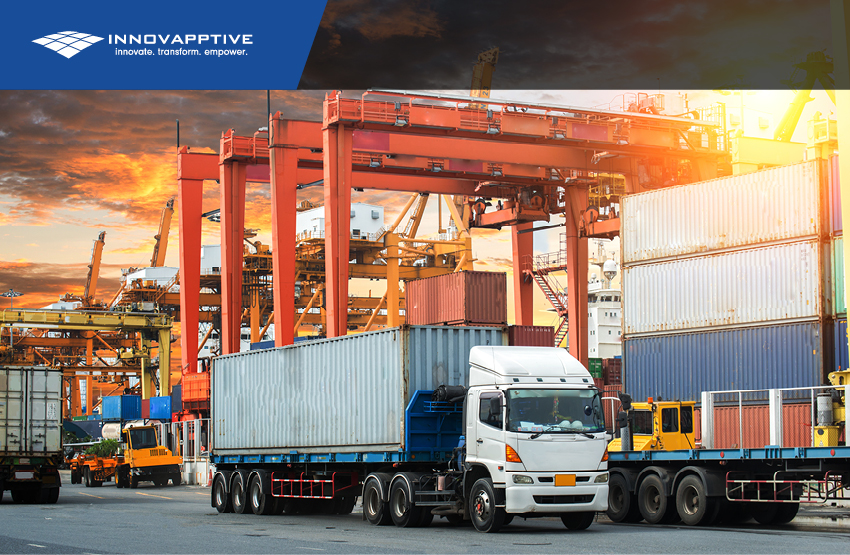 Problem: I need a new laptop. Solution: I go to Amazon's website and compare the features and prices of hundreds of options. With a few clicks, my new laptop is ordered and paid for. I requested same day delivery but, since I'm going to be out and about during the day, I opt Amazon's convenient package pickup at a local store, where I collect my laptop from that evening.This is a fantastic customer experience and why traditional bricks and mortar retailers are struggling to compete. But what relevance would that Amazon experience have for oil and mining supply chains, designed to supply equipment or spares parts to an oil field or mine site? Can the oil and mining companies really learn anything from Amazon?
I believe the answer is a resounding "Yes." For too long, the oil and mining sector has been insular with the old argument that "we need to do things differently around here". Consequently, many oil and mining supply chains are stuck in a time warp, with supply chain processes, technology, and productivity little changed since the 1970s.
I would stress oil and mining companies should not try to duplicate Amazon's operations - oil and mining supply chains are very different from an e-commerce operation. It's more about embracing how Amazon thinks, the speed of action and constant desire to improve.
1. Challenge the Status Quo
Challenging the status quo has been in Amazon's DNA since Jeff Bezos started the business in 1994. The original business focused on selling books online and subsequently expanded into pretty much everything of sale. Supply Chain expertise has been central to Amazon's success. They challenged current thinking on the breadth of stock range, warehouse processes and speed of delivery.
A straightforward idea used in Amazon's warehouses is during the stock putaway process after suppliers have received the product. Conventional wisdom would be that the warehouse management system would identify the putaway bin location at goods receipt and each bin should only contain one unique product. Instead, Amazon's warehouse operator finds the nearest bin where the product fits, even if there are other completely different products in that bin. The operator enters the bin location on the handheld device and the warehouse management system is immediately updated. This process minimizes operator travel distance, putaway time and maximizes bin utilization.
The oil and mining industry need to be more prepared to challenge the status quo and adopt ideas from other industries. For example, many oil and mining companies have minimal knowledge of what material deliveries they are expecting daily, because of poor communication with suppliers and logistics service providers. This limited visibility causes peaks and troughs in daily warehouse workload and generates the need for overtime and higher costs.
As a minimum, there should be a simple booking in the system for supplier deliveries which allows goods receipt operations to be smoothed over the week. Suppliers should be required to provide Advanced Ship Notices (ASN) advising details on all inbound orders. These are not new ideas, but they have not been widely adopted in the oil and mining sector.
2. Embrace Technology
If a strong case can be made that Amazon is a logistics company, an equally strong case can be made that they are a technology company. Amazon Web Services (AMS), the cloud computing arm, has annual revenue of over $20 bn, making it a significant business in its own right. Amazon uses extensive state of the art technology in its fulfillment centers (its name for warehouses), including conveyors, scanners, and robots.
In 2012, Amazon purchased Kiva robots for $775 million and was rolling out the automated solution across its network to automate the whole putaway and picking process at Amazon. But Amazon has also been very pragmatic about the use of technology and has only deployed where there is a strong business case. Not all of Amazon's fulfillment centers are using the Kiva robots and, in more manual operations, large numbers of people are deployed on putaway and picking across 24-hour operations.
In contrast to Amazon, the oil and mining sectors have suffered from a lack of investment in supply chain technology as the development of new oil fields, hydro-carbon plants and mines take priority. This lack of investment is often because the sector does not understand the Return on Investment (ROI) that can be delivered from technology. One fundamental technology where the industry lags far behind other sectors is the deployment of barcode scanning across the supply chain.
Many warehouses are still operating in a Dickensian world of paper-based processes leading to low levels of stock accuracy, poor material required on-site dates and asset uptime. At Innovapptive, we use a very detailed ROI Calculator with our clients to clearly show the quantifiable benefits of investment in our mInventory mobile solution for warehousing. Payback periods are typically less than one year with multi-million-dollar savings!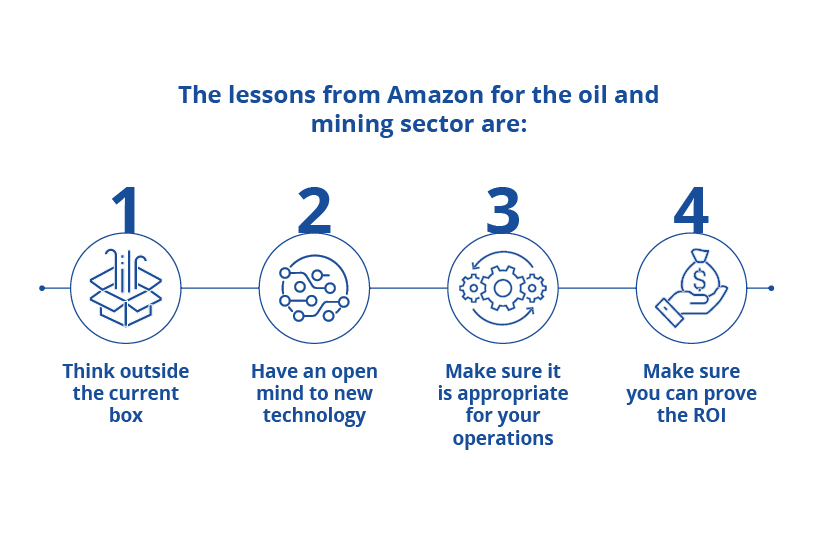 3. Data-driven Operations
Walking around an Amazon warehouse is a real eye-opener. First, the sheer size of the operation hits you. Their Dunfermline warehouse in Scotland covers 1 million sq ft - that's the size of 14 soccer fields!
Design and layout of the warehouse are critical to operational efficiency. For example, Amazon's supervisors/managers sit very close to physical operations in an open plan space integrated into the warehouse. Dotted around the warehouse are display boards completely covered with operational performance graphs. Closer inspection reveals Amazon's obsession with measuring every conceivable aspect of operational performance: supplier delivery performance, pick rates, pick accuracy, stock accuracy, safety incidents, etc.

In this dynamic high-volume environment, Amazon's management team uses this data to drive operational decisions. For example, if they are behind with order picking in a particular zone of the warehouse, labor can then be redeployed immediately to close the gap. This is lean visual management at its best. Not just pretty graphs to impress visitors, but meaningful data driving operational decisions and efficiency.
In contrast, oil and mining warehouses belong to a bygone age. Some companies have tried to embrace lean thinking including training up some blackbelts and starting some initial lean projects. But it hasn't become embedded as part of the culture of the organization like at Amazon. Indeed, the industry needs to be doing a lot more to support its front-line leaders to manage better and control operations.
One solution from Innovapptive is to provide Operational Dashboards as part of our mInventory mobile solution. The Dashboard offers front leaders all the latest operational information at the touch of a button. For example, "how many purchase orders have we currently received against today's plan" or "what is the current stock accuracy level based on the 15 cycle counts we did this morning". Importantly, with mInventory, leaders don't need to know how to use an ERP system, they are given easily digestible information, ready-made to drive real decisions.
4. Continuous Improvement
For Amazon, in their fulfillment centers, it's not just about running daily operations. At any one time, each supervisor/manager is expected to work as part of a Kaizen Program (Japanese "for change for the better"). This is part of lean thinking, continually looking at ways to improve existing processes and reduce waste. The scope of a Kaizen project may be broad, for example - looking at ways to improve the whole customer returns process, or small, identifying the best place to stick a bar-code label on a carton to maximize read accuracy on a conveyor belt. Amazon operates a high-volume supply chain so even a small incremental change in a process can have significant financial benefits.
Volume in a typical oil or mining spares supply chain would be low when compared with Amazon. However, the continuous improvement mindset is still very relevant. There are opportunities to fix weak process areas such as the goods receipts from suppliers, material preservation and the whole returns process. Again, a modern mobile solution, such as Innovapptive's mInventory can be used to streamline existing warehouse processes, improve warehouse productivity and stock accuracy - critical to achieving high levels of customer service.
Conclusion
In summary, oil and mining companies need to be more open to best practices from outside their industry. Thinking should not be constrained by the narrow boundaries of how the industry currently operates. Understand and see how best practices from the supply chain and technology leaders like Amazon can be deployed. Challenge the status quo and look to implement fresh, innovative ideas from outside the industry.
P.S. If you are in Texas in March, don't miss Innovapptive at Best Practices for Chemicals (Houston) and SAP-Centric EAM/SCM 2019 (San Antonio). Check out our Events page to learn how you can connect with us. Be sure to Register today !