Plant managers have a tough job with a lot of responsibilities.
But few things cause them bigger headaches than the dreaded alert that a production unit or line has suddenly and unexpectedly shut down due to equipment failure.
That headache is threatening to become a chronic malady at some plants. Numbers from Aberdeen Research reveal 82% of companies experienced unscheduled shutdowns in the past three years. Those shutdowns come at a high price. Aberdeen estimates unplanned downtime can:
cost an industrial plant up to $260,000 an hour
last an average of four hours
prevent delivery of services to customers
result in a loss of customer trust and future sales
At that cost, plants need to be vigilant about preventing unplanned outages. Yet, more than two-thirds of respondents to an Aberdeen Research survey had no real idea when their vital production equipment is due for maintenance, upgrade or replacement.
At plants along the U.S. Gulf Coast, only 25% of maintenance downtime is planned. The remaining is costly unscheduled shutdowns. The International Society of Automation says that industrial facilities lose nearly $650 billion per year to unplanned equipment outages and missed production.
Unplanned downtime is an industrial-sized headache that requires more than two pills and a call to the doctor in the morning.
To better understand how prevalent this challenge is, Innovapptive surveyed maintenance and reliability professionals. Our survey revealed that over 93% struggle with unplanned downtime.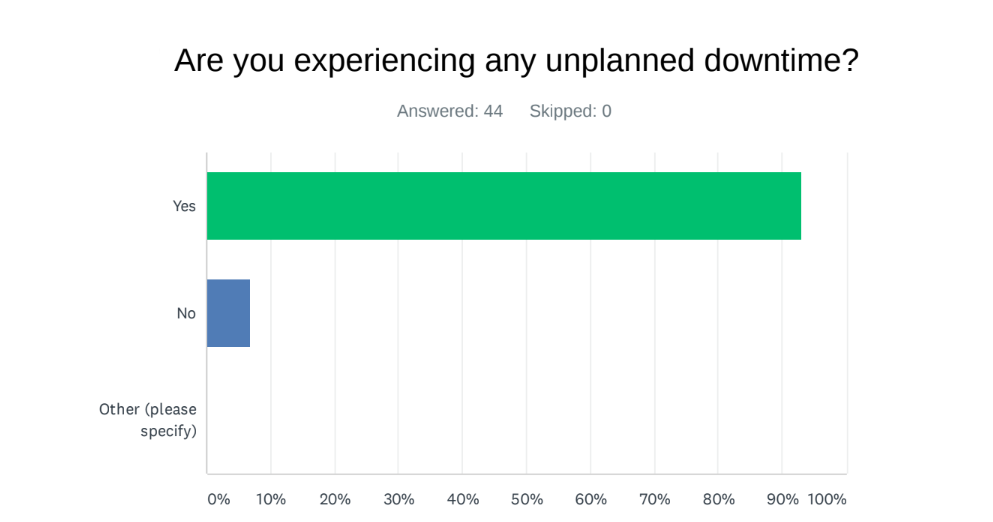 What's causing all this unplanned downtime? We uncovered three common causes of unplanned outages and shutdowns that should be fixed immediately to prevent financial losses.
Reactive maintenance processes
Reactive maintenance, where maintenance teams wait until there is an observed issue with equipment, is still commonplace. This process relies on a technician to find and identify a problem, such as a leaking pipe or worn part before action is taken. This reactive — or sometimes called run-to-failure — maintenance process is flawed.
First, someone must be present to identify the malfunctioning equipment. A problem could go unnoticed for some time if it's hidden away or not obvious. The issue could be urgent by the time someone finds it, leading maintenance managers to hastily reprioritize and communicate with their staffs to fix the issue.
There may not be a proper part on hand to fix the problem. This leads to delays of several days to order and receive a new part. In the meantime, operations could be delayed or even shut down if the issue is serious enough.
Our survey found that 66% of maintenance and reliability professionals complain of having unplanned downtime due to unavailability of spare parts.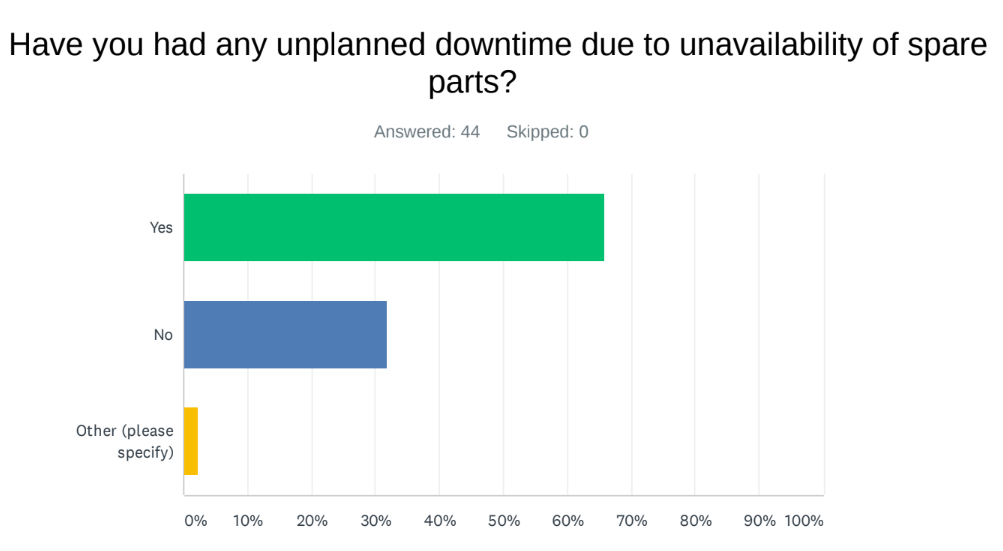 Lack of visibility into maintenance operations
A lack of visibility into maintenance work processes is another serious issue leading to unplanned downtime. Managers typically issue work orders to field technicians in paper binders. Tasks are checked off manually until the completed work order is delivered to the manager's desk at the end of the day. The manager may not see the report until the next morning. This leaves them unaware on a day-to-day basis of what's happening in their plant.
Poor communication between supervisors and field techs
When an important work request arises, managers must hunt down the appropriate person to work on it. This wastes valuable time, causes confusion and leads to reprioritization of other important tasks in the work order backlog.
Paper-based work order management processes cause confusion between supervisors and technicians. A technician may have completed a work order, but the documentation is incomplete, incorrect or lost in transit between its completion and the time it's entered into the back-office system of record, like SAP.
What can be done to prevent unplanned shutdowns?
Managers only have access to the information that is in their back-office system, so when they need to make critical decisions about where to allocate spare parts, what needs to be reordered or replaced, or who to assign to which tasks, they're operating on inaccurate, incomplete data.
This can lead to an unplanned shutdown if:
The poor data causes communications to suffer, leading to wasted effort and frustration among field technicians
Parts are ordered late because the system records them as being there and it's later discovered that they have already been used
Backlogs grow too high due to an inability to keep up with maintenance demands
One way to prevent unplanned shutdowns is by digitalizing operations across maintenance, warehouses and fixed asset management processes. Rather than issuing work orders and inspection checklists in paper binders or capturing physical inventory movement on paper or outdated bulky handheld rugged devices, organizations can switch to a mobile-first operations platform.
This enables frontline workers to record their inventory movement in real time, view and process their work orders, and complete inspection forms and checklists via mobile devices. The reduced manual data entry into back-office ERP systems boosts technician productivity, saving time and reducing frustration.
Our mobile work order management solution provides these benefits. It's easy to use, has a superior user interface and has been adopted by 99% of users. It's a customizable solution that delivers personalized workflows by user, roles, sites or geographies. Our customers have seen up to a:
90% drop in unplanned downtime
80% reduction in safety incidents
50% greater workforce capacity
17% higher wrench time
If you're looking for a cure to your unplanned downtime headache, click here to schedule a free demo.