All over the world, the Life Science & Healthcare industry will continue to grow as long as man exists hence forming an enormous part of any country's economy. This industry is very important to the society because people get ill, meet with the accidents, emergencies do arise and Hospital, medical clinics need proper medicine, equipment' to diagnose, treat and manage different types of diseases. Since, many of people's desires cannot be met without longer, healthier, happy lives. No matter, whether your company manufactures medical equipment, medicine, or small clinical instruments for improving human's lives. but one thing which cannot be compromised that is operational efficiency for meeting customers' demands.
At present, Healthcare & life sciences industry is undergoing the market forces and challenges that restrict growth and slows innovation. With rising costs of drug discovery, increased government regulations and price cuts, profit margins are adversely impacted. Moreover, the complexity of running global operations, disoriented supply chain and fragmented information access, which all are creating severe bottlenecks for sustained growth and improved customer service. It is expected that by 2025, the global Life Sciences market will have gone through the dramatic change from the industry we know today. Technology can help, but how much would it be effective? Would it able to help Life Sciences and Healthcare companies to increase ROI on their existing investment? To answer these questions, let's take a step back and consider a scenario.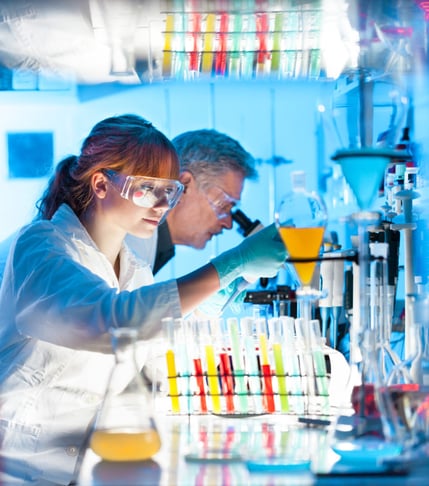 A global medicine manufacture company relies on its global supply chain to run like a well-oiled machine. The company is managing its operation through legacy system, but processes are manual and dependent too. Employees, whether they are at manufacturing plant, warehouse or involved in procurement activities have to note down information on a piece of paper and go back to their desk and enter the information in the system. It is getting tough for the company to gain visibility across an enterprise-wide. There is a lack of accurate, reliable and real-time visibility of information on any device. The absence of a seamless mechanism to help field service personnel, access data from anywhere, document customer complaints, prioritize and synchronize work orders, is negatively impacting the revenue, ROI and customer service. The company immediately needs a solution to resolve the challenges, which can fill the gaps in the processes, provide an efficient information access from anywhere at any time on any device and increase employees' productivity.
Fortunately, major technology trends are shaping the digital economy –cloud computing, AI, Mobility, Internet of Things. Many leading Life Science and Healthcare companies are looking at advance solutions and the key focus is on leveraging disruptive technologies and increasing returns on their existing software. To stay competitive in the global market, they have started mobilizing their processes. The Industry has understood that mobility doesn't only improve the response time that makes the communication far better, but also provides employees a flexibility of access information from anywhere that boosts the speed of operation. Mobility provides long-term benefits for the health and life science industry through better connectivity and streamlining their complex operations.
Mobility has changed the working style and working environment of the industry. It is helping companies adapt quickly to employees' expectations, transparency by enabling them to access real-time information, accuracy, and productivity. It doesn't only improve reliability, but also reduces the cost of the organizations and unnecessary expenses like managing paper inventory, printing documents, sending emails etc. Proving the real-time information is more reliable and more effective with right mobility solutions. A huge amount of time and money can be saved by using mobility. Users at the plant, manufacturing site or even in a warehouse having mobile devices in their hands always expect a quick response. They can quickly access information, download and attach files on the Fly.
Innovapptive's mobile EAM portfolio is the most configurable enterprise-grade SAP Mobile Plant Maintenance solution on the market, which empowers you to improve capital asset management in ways that increase reliability, enhance predictive maintenance, ensure regulatory compliance, reduce energy usage, and support sustainability initiatives. The mobile solution reduces lead times by integrating mobile capabilities into operational tasks to drive productivity and optimizes maintenance costs. Fully configurable with RACE™, and gives you unparalleled flexibility to zero in on the specialized, industry requirements that can turn your company's asset management into a competitive advantage.
Innovapptive offers the mWorkOrder mobile app for SAP Plant Maintenance (PM) It empowers maintenance crews to work more safely, productively, and independently, whether installing new equipment or maintaining, inspecting and repairing existing assets. This SAP® Certified solution leverages the SAP Plant Maintenance (PM) module at the back-end to deliver a consistent, reliable and a productive asset maintenance experience across a wide range of industries.
Extend your inventory management system into the field to increase availability and avoid downtime! With the Innovapptive's mInventory mobile app, precise tracking and paperless management of inventory helps you increase productivity, lower costs, optimize your supply chain and improve customer service.
Mobile apps have helped SAP customers realize these asset-related benefits:
Downtime and production delays reduced by 20 to 30%
Preventable failures reduced by up to 90%
Maintenance backlog reduced by up to 60%
Inventory carrying costs reduced by 5 to 10%
Empower your maintenance crew with Innovapptive mobile solution and let them work more productively, safely in the plant and work field
If you would like a demo of Innovapptive's mobile solutions,

please click on the link. Alternatively, if you would like to discuss with an Innovapptive solution expert, you can reach out to us by emailing us at sales@innovapptive.com or you can reach a sales representative at (713) 275-1804.