Industry 4.0 is the buzzword for the current trend for data exchange and automation in manufacturing technologies including IoT, cloud computing, cognitive computing, and cyber-physical systems. Mobile technology is one of the driving forces behind Industry 4.0, creating "smart factories" and streamlining manufacturing operations with mobility.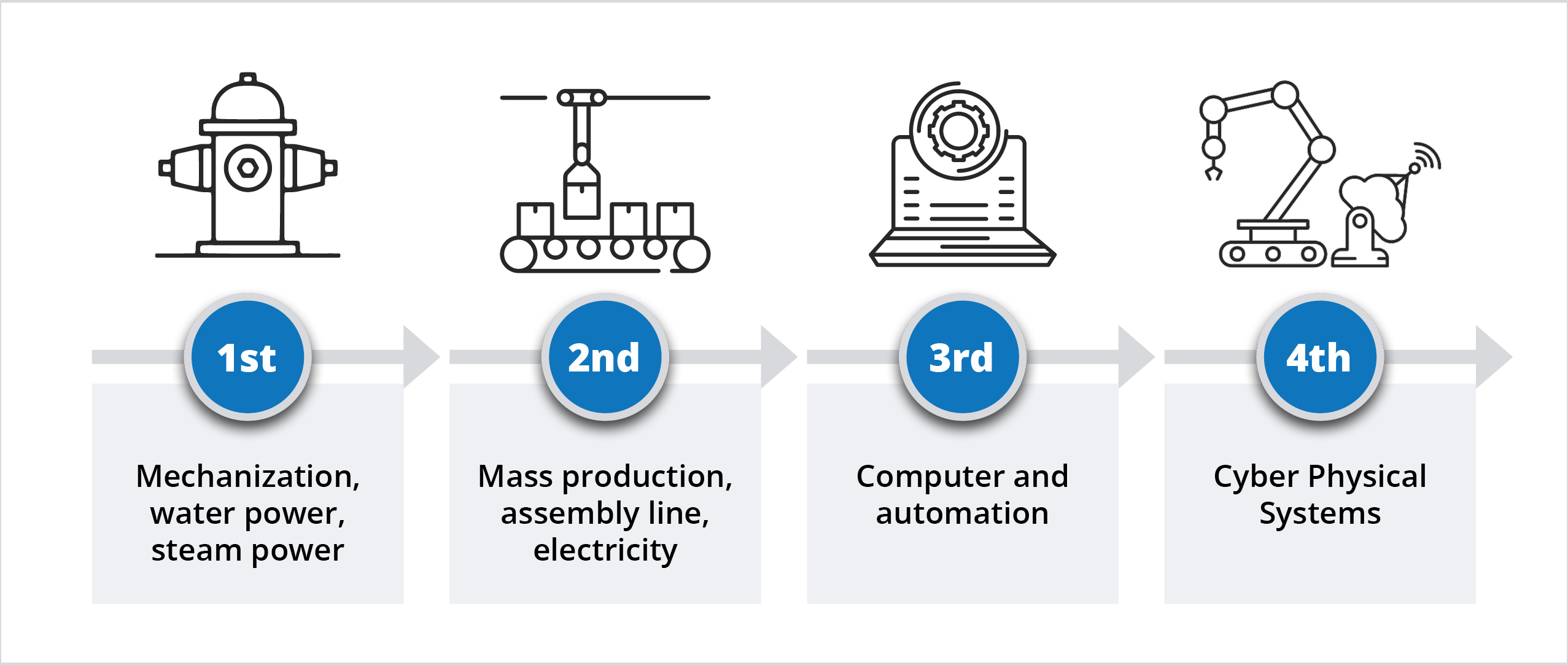 While slow to embrace the benefits of technology, manufacturers are not blind to the vast palpable improvements other industries are experiencing with the implementations of mobile technology and organizations are already seeing such improvements in their divisions. Mobility in manufacturing is bringing enhancement across all divisions of the plan, from the shop floor to the warehouse to management. IT leaders cannot ignore the competitive benefits of production downtime and improving productivity by mobile devices and solutions on top of it. Especially today, when the world is entering Industry 4.0 revolution, manufacturing operations must be closely connected, wherein communication and cooperation happens both among machines and with people in real time via Wireless Web.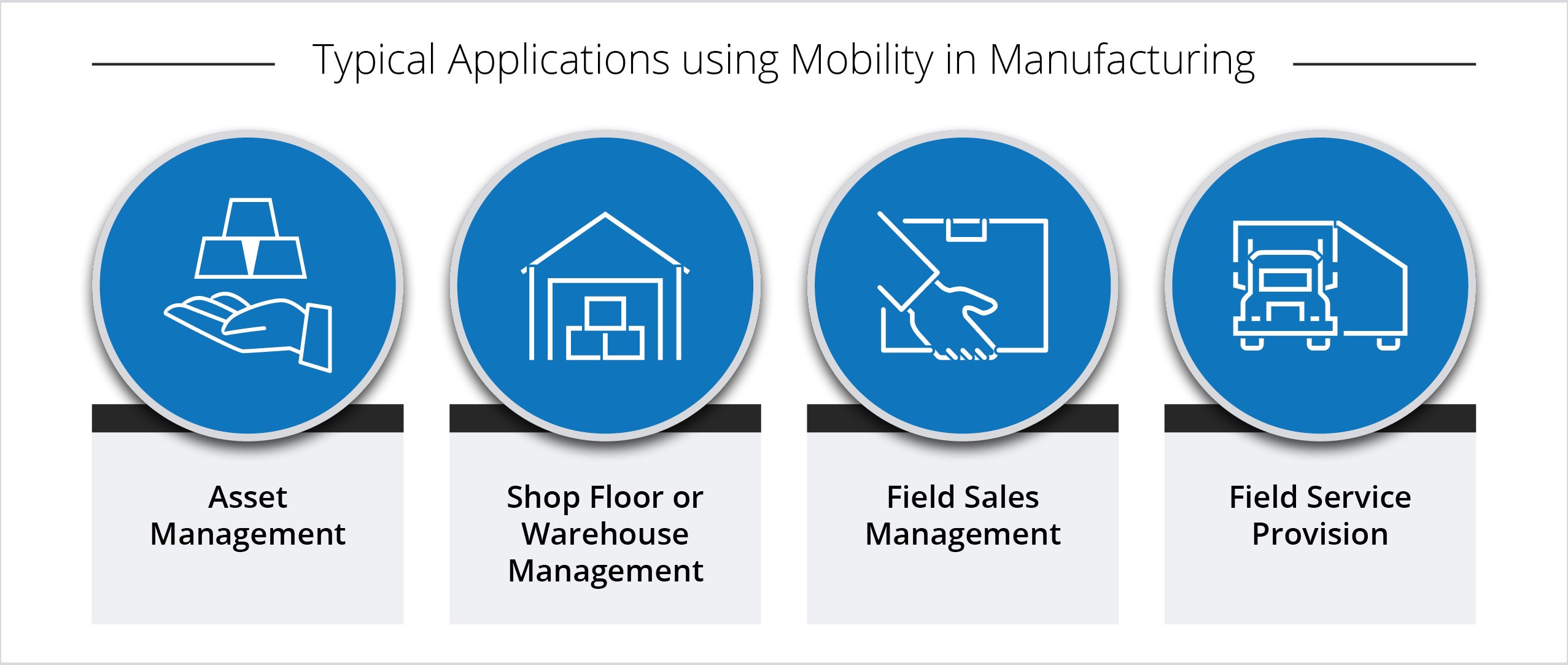 Main Benefits of Mobility in Manufacturing
Portability – Mobile apps are designed to for on the go, anytime usage; the right mobile solution can drop the need to return to a single fixed-point to receive information, review checklists, or fulfill orders. Using tablets allows workers to conduct quality checks, alert of any problems and instantly update job status on an order or piece of machinery.
Real-Time Problems / Real-Time Solutions – Rather than predict problems and outcomes based on earlier performance and/or trends, it is critical for organizations to have the ability to learn about an issue while there is still time to correct it. Instead of learning about errors, malfunctions or other problems after the fact, with mInventory, the management team and staff can be alerted instantly of issues in real time. Having true situational awareness can decrease reaction time and lead to increases in positive outcomes. Being able to instantly assess an issue while in the field will allow the management team to act instead of reacting; improving outcomes and customer relationships as well.
Relatability Increases Worker Productivity - Choosing mobile tablets can lead to better productivity of warehouse workers as people respond well to easy to understand, current technology. Rather than having to return repeatedly to a stationary workstation throughout the day, workers can perform tasks on the go. With today's workforce already embracing mobility in their personal life, the traditional learning curve needed when introducing innovative technology, systems or processes is reduced.
Precision Monitoring – GPS locations in real time allow manufacturing organizations to assess their logistics and figure out where they are losing time or being inefficient in their freight management tasks. Instant updates allow team leaders to check the status of any order at any time, or to instantly find raw materials and goods arriving. For organizations with active outside sales staff(s), the ability to both check inventory and input sales on the go improves efficiency tremendously and can boost customer relationships as well.
Mobility in manufacturing industry is trending nowadays like other industries and is the reason many companies give mobile devices to their staff and discourage BYOD to avoid risk. But, for the company-owned devices as well, organizations should be extra vigilant for the security of the devices as well as business data. For this very purpose, Innovapptive helps companies to rule out any concerns related to the mobile device management like, device and data theft, misuse of the devices for personal entertainment which eventually leads to wastage of time and productivity decline.
Operational Benefits of Mobility
Increase Overall Productivity
Ensure Cost Reduction with Increased Efficiency
Faster Access to Critical Information
Facilitates Collaboration between People at all Levels
ROI Improves
Increase Sales
Assure a Competitive Edge
Innovapptive offers mInventory, a Mobile Inventory and Warehouse Management Application, which makes it possible for warehouse employees to perform day-to-day inventory transactions through handheld devices, smartphone, RF scanners, and laptops by accessing the master data of the SAP. mInventory mobilizes and optimizes supply chain operations while ensuring error-free transactions on the go. The application helps organizations ensure real-time transaction processing, enhanced data accuracy, and improved convenience as well as empowers warehouse employees in processing inventory transactions from any location, either offline or online mode.
mInventory enables you to:
Get valuable insights about the stock available within your plants, warehouses or storage locations
Access to correct and timely inventory information with instant updates to your SAP system
Perform physical and cycle counts quickly and achieve higher level accuracy
Reduce inaccurate inventory records, shipments and customer complaints
Eliminate downstream problems in inventory and invoicing
Book a demo of Innovapptive's mInventory (Mobile Inventory and Warehouse Management) solution or speak with an Innovapptive solution expert today by clicking on this link to request a demo.