No matter, if you manufacture electrical equipment, cars or foodstuff, staying up-to-date on daily processes is very important. Organizations want the ability to address planned and unplanned work with increasing speed and accuracy while improving their assets and employees' performance. Despite the fact that mobility has become a strategy for enterprise businesses. However, paper-based processes are still being used by most of businesses in the manufacturing that causes the loss of productivity and risk for the possible loss of information while incurring millions of dollars in unnecessary costs annually.
Many organization has understood that mobility can create a competitive advantage, increases employees' engagement and helps maximizing the profit and revenue. The mobility doesn't only help organizations reaching their goals, but also provides new opportunity. It made things easier than ever to access information from anywhere and increases employee's productivity, and most importantly assets' performance. With the right mobility solution, you can achieve your business goals with the tap of a finger.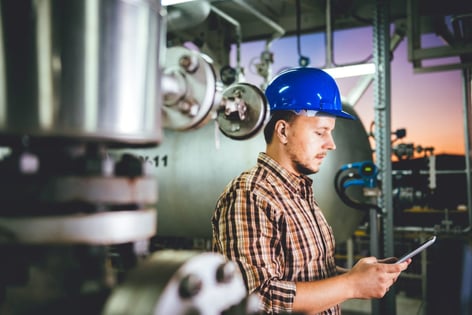 Learn how using a right mobile solution, your manufacturing organization can be benefited in several ways.
Replaces time-consuming paper-based processes
The right mobile solution enables employees, technicians to report status to every level of product manufacturing that saves thousands of hours in a year. It provides an opportunity to implement inventory tracking, and reporting systems. Using mobility in manufacturing, field technicians, managers, and supervisors are now able to connect from anywhere on a multitude of devices.
Provides Accurate Information in real-time
In the past, supervisor or managers had to be in the plant to access real-time information and communicate with employees. Moreover, tracking employees' productivity used to be a difficult task. However, the right mobile solution doesn't only resolve this issue but also provides employees an accurate real-time information while easing the business processes. Managers/supervisors can see what's going on across facilities, access data, communicate with employees and make decisions quickly.
Monitors assets' performance and compliance
Manufacturing activities need inspections to check product quality, plant safety and compliance at work sites. By replacing paper-based manual process with the fast and mobile approach not only saves time and money, it enables manufacturing companies to monitor compliance with digital data capture and real-time reporting while allowing immediate response as well. Higher authority, such as managers, head personnel get notified instantly so they can keep an eye on the entire facility from anywhere and ensure constant compliance.
Retains Existing Customers and Increases Service Revenue
For any successful manufacturing company, retaining their existing customer base and driving higher customer satisfaction is a top priority. The cost of retaining customers could be an expensive proposition if your field service management processes are not optimized and automated. A right mobile solution cannot only help you improving workforce productivity and optimizing your field service operations, also it allows you keeping your customers informed about their order status, delivery dates and order alerts in real-time from their mobile devices.
Going mobile can help simplify complex manufacturing operations and minimize challenges faced by the companies. The right mobile solution will provide real-time visibility into work status, technician location, and financial performance and boost productivity by eliminating paperwork. It will improve decision-making in the field, raise customer satisfaction by improving the first-time resolution and ensuring SLA compliance. Benefits of mobility in the manufacturing industry don't stop here. There are more great benefits such as you can track employees, technicians and field personnel as often as necessary and send notification for updates. In case of occurrence of unexpected event or emergency, instant reporting allows supervisors and management to know where employees are, what has happened and what needs to be done to resolve the issue immediately.
Discover how quickly Innovapptive's SAP® Certified Mobile solutions can help you achieve your manufacturing goals:
If you would like a demo of Innovapptive's solution,

please click on the link. Alternatively, if you would like to discuss with an Innovapptive solution expert, you can reach out to us by emailing us at sales@innovapptive.com or you can reach a sales representative at (713) 275-1804.