Validating information, access to data anywhere and one place of storage of all the forms are just a few of all the features that paper forms don't have. With digital forms, data can be organized quickly and with ease, which makes sorting the important data easy and is kept in synchrony for the users to access it from anywhere.
Digital electronic forms provide access to every form from anywhere, anytime. They can easily be converted to IPad forms or mobile forms, ensuring that the data is captured accurately for processing.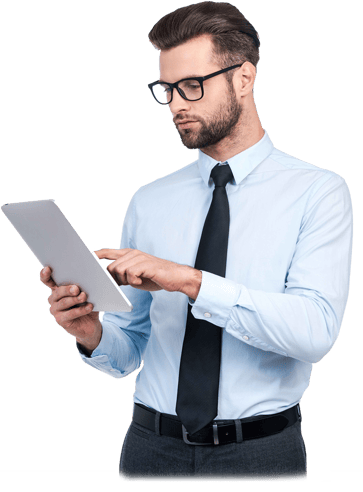 RACE™ Digital Forms, are super flexible and provide a hassle-free integration into the SAP platform. With large volumes of critical data stored securely, it helps you to create and handle multi-pages' digital forms super quickly.
At the fingertips of your field technicians, there is access to tons of forms that usually would pile up a lot of paper. The ability to use geo-locations and photo cameras in our forms, can be stored in the SAP database and is readily available in real time anywhere. Customer name, address, city, or other important information can be organized easily with any cost of printing, storing, or distributing paper forms.
A small business with limited employees or a large one with more employees. RACE™ Digital Forms, is the paperless form solution from Innovapptive you want. Why?
Create digital forms, by adding any fields you like as per your requirement. They can be printed, emailed, validated with the ease of your digital device.
Purchase orders, invoices, receipts, reports, proposals, etc. All kinds of forms can be stored at one place with zero administration You can track and view submissions, pick a form you're looking for amongst thousands in seconds through easy search tools.
Ensure real-time information you need to perform tasks efficiently. Eliminate manual data entry with automated notifications based on your data input, while improving receptiveness, customer experience, data accuracy and completeness.
Modify your forms as per your complexities, add calculations, auto-fills, spreadsheets, GPS and time stamps, barcode captures and pictures, geo-tagging, and field images.
Access to all the data from one single place can be organized quickly and with ease. Sync your data in real-time, irrespective of connectivity, directly in your SAP database.
Track forms and instantly have all the updates and changes synced to same time. Fasten your services and update your clients in seconds. Also, in no time you can sign off approvals digitally.
Uses of digital forms, industry wise
Oil and Gas
Reduced logistics of forms and paper handling.
Field inspectors can reduce filling out multitude of forms for safety inspections in environmental compliances, permit regulations, maintenance, equipment checks and much more.
Reduce incomplete or missing data to restrict halt in production and complete turnaround planning smoothly.
Eliminate equipment malfunctions with automatic uploads and corrective actions to keep the pipeline inspections timely without any errors.
Utilities
From safety inspections to backflow device test reports, enhance the field workforce with greater accuracy of data.
Share and react to information in real-time, take control of the work orders and notifications to increase productivity.
Record logs, service calls, inspection requests, checklists, site visits, repair, and installation forms for measuring performance and work efficiency.
Reduce the need for internal IT and administrative resources and speed time across your workforce.
Chemicals
Quickly conduct chemical inspections and record maintenance data in real-time from anywhere, anytime.
Customize as per your unique business needs, with detailed checklists that your inspectors follow, select status, add comments, images, barcode scanners, digital signatures, etc.
Meet safety and health requirements with effective communication. Be informed of where all your workers are and inspect hazardous chemicals in your workplace.
Track different details, chemical management, product label information, goods declarations, storage plans and more. Also, quickly review.
Life Sciences
Streamline the process and accuracy of data capture for mission critical business operations.
Review case reports, site monitoring, event reporting and many more in real time online or offline.
Receive notifications and analyse and engage with wholesalers, hospitals, physicians, and patients, having accurate data in hand.
Track the history of any batch or device, including every ingredient or part to accurately trace drugs and devices fast and extract only the effected products.
Digital forms enable you to track forms completion, routing it and accessing data in real time from anywhere.

If you would like a demo of Innovapptive's portfolio of Native or Web based mobile solutions, please click on the link. Alternatively, if you would like to discuss with an Innovapptive solution expert, you can reach out to us by emailing us at sales@innovapptive.com or you can reach a sales representative at (713) 275-1804.