With asset management becoming a challenging task day by day, companies are adopting more strategic and innovative means to manage, streamline and distribute the assets. As technology is playing a major role in optimizing the asset management operations in the manufacturing and other asset intensive sectors, there is no exaggeration that small & mid-sized companies are investing more in procuring third party user friendly applications or even developing solutions in-house. SAP, a market leader in ERP is in the forefront of providing a slew of applications in the EAM space to help asset intensive industries mitigate the challenges involved in maintaining and distributing the assets. It is in this context that enterprise asset management (EAM) systems are playing a major role in streamlining the entire asset life cycle, minimizing costs and enhancing the operational efficiency. This is a major shift, compared to the scenario a few years ago, where most of the operations were manually handled, leading to chaos and mismanagement.
However, the latest development is the advent of mobile technologies to take the EAM experience to the new level. When you integrate mobile devices and apps with the current asset management solutions, it saves time, reduces errors and streamlines processes – all with a single goal to minimize operational expenses and boost the ROI. Apart from that, mobile EAM contributes to greater operational improvements through minimized inventory and maintenance costs. A one step ahead in this area is integrating bar code scanning technology with mobile technology to ensure a seamless, efficient and a user-friendly asset & inventory management process.
Barcode scanning & its significance
The usage of barcode technology in EAM solutions can play a major role in instant tracking of assets – particularly useful during asset audit reconciliation process. Leveraging the GPS technology, barcode scanning helps to geo-tag the assets (generates an asset ID) that helps to instantly get the vital data of the assets including locational co-ordinates to track their movement in the supply chain eco-system.
Innovapptive's contribution in the EAM space
Identifying the potential of EAM solutions in the mobility space, Innovapptive has developed cutting edge mobile solutions in sync with the growing requirements in the asset management arena. Typical solutions in this segment are enterprise asset management (mAssetTag), enterprise inventory management (mInventory) and enterprise work order management (mWorkOrder). These apps sync with the respective SAP modules at the backend, offering easy transactional processing and information access, anywhere, anytime, without the need to get attached to desktops or laptops.
Beacon technology - the next generation asset tracking system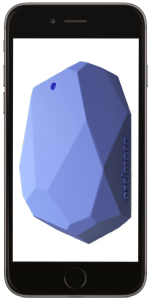 Though, barcode scanning is a great value–added feature in Innovappative's EAM apps, however, it has its own limitations. You need to bring an asset closer to the device (mobile, hand-held ruggedized device, etc) to scan and tag the assets. This may pose cumbersome, in situations, where there are hundreds or thousands of assets that needs to be scanned in a single day. In order to overcome this challenge and to enhance the user experience to new heights, Innovapptive has done a lot of research in Beacon technology and incorporated this technology into its mAssetTag app to greatly enhance the asset tracking experience, considerably saving lot of time and resources.
What is Beacon technology and how it works?
Beacons refers to a type of low-cost, micro-location based technology that use Bluetooth low energy (BLE 4.0) protocol to communicate with beacon enabled devices. In fact, it's a low-cost piece of hardware that acts as stickers and can be inserted on walls, or objects. It leverages the battery-friendly Bluetooth connections to transmit messages or prompts directly to a smartphone or tablet. The potential of the Beacon market is huge. In fact, as per BI Intelligence reporting, Beacons would be driving $44 billion in retail sales by 2016 that is up from $4 billion this year.
It was Apple that introduced this technology (iBeacon) in 2013. However, Apple doesn't actually make beacons; in fact, it has developed the iBeacon standard around which beacons can be built. Similarly, Google has its own Beacon standard, namely Eddystone.
Syncing Beacon technology in mAssetTag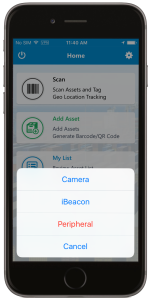 As stated earlier, Beacons employ BLE wireless technology to pinpoint customers' locations in warehouses and other places to deliver messages to their mobile devices. Considering the huge advantages it can bring across the EAM table, Innovapptive has taken the first steps to sync this technology into its mAssetTag product. This implies incorporation of a compatible software development toolkit (SDK) into mAssetTag that recognizes the beacons, attached to the assets. This technology is currently implemented in the iOS platform.
To understand this technology in a much better way, consider a practical situation, where there is a huge warehouse with over hundreds of assets that needs to be scanned. When beacons are attached on these assets, they emit a BLE signal that mAssetTag (once the "iBeacon" option under the "Scan" module is selected) can pick-up within its range and get the complete picture of the asset including the name of the asset, description and locational co-ordinates. This way, delivery and store managers can save huge time and resources, while maintaining the integrity and accuracy of the information.
One of the major differentiators between beacons and RFID is that beacons are quite secure and offers high level privacy, as it offers greater control of the app that leverage the beacon. In other words, beacons offer high level authentication, which means greater security and enhanced user experience.
If you would like a demo of Innovapptive's portfolio of Native or Web based mobile solutions, please click on the link/button

. Alternatively, if you would like to discuss with an Innovapptive solution expert, you can reach out to us by emailing us at sales@innovapptive.com or you can reach a sales representative at (713) 275-1804.