With mobility sweeping through every spectrum of our life like never before, it is little doubt that organizations are spending a huge amount of money developing a variety of apps to make our lives easier. Be it accessing email on an Android or using an iPhone to facilitate a video conference from a remote location, everything has become a reality with a click of a button. If Forrester Research's latest report, "Predictions 2019: Transformation goes pragmatic", is any indication, B2B IoT and mobility will "focus on driving efficiencies, connecting the enterprise, expanding the edge, and, in some cases, providing personalized customer experiences". This is a clear indicator about how mobile is playing a major role in our professional lives, considering that the major contributor to this new found interest would definitely be the industrial sector, particularly in asset-intensive or manufacturing industries.
Organizations can save time and enhance efficiency by helping their workforce to work anywhere, anytime without the need to constantly be attached to their desktops. This blog sheds some light on the benefits of using mobile devices in routine plant maintenance activities.
How can mobility enhance plant maintenance?
Though many industries have recognized the importance of empowering their workforce with mobile devices, it is imperative that organizations clearly define their mobile strategy and identify why it benefits their organization. This is particularly true in case of plant maintenance.
Can integrating mobility with day to plant maintenance activities really yield benefits? The answer is yes. The secondary question: but how is this possible? Take, for instance, a worker who has a tablet to help him gather field information instantaneously – not at the end of the day. This will enhance the pace at which the work orders are updated and completed.
So, what are the functional and commercial aspects that we need to look at when planning to purchase a solution for plant maintenance?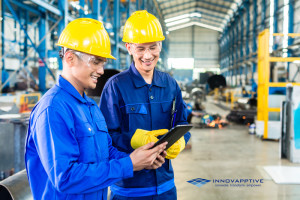 Access to real-time data
Instantaneous access to information including real-time notifications and confirmations pertaining to various transactions such as breakdowns is one of the factors to consider while looking for a mobile solution for routine plant maintenance. By offering real-time updates, technicians can save hours of work, while working on a desktop, providing an accurate status of progress tracking of a work order.
2. Access to routes and inspections
Maintenance supervisors and quality inspectors should be able to use the mobile app on their tablets and smartphones to create, view and update maintenance routes and measurements points in real-time. Apart from that, the solution should help them respond and approve notifications on the fly when they are out of the plant floor. This way, they can enhance the wrench time and provide an accurate picture of the completion status.
3. Simple and user-friendly interface
This should be the primary goal of a good mobile application, considering that a mobile screen is much smaller, compared to a desktop screen. This means companies need to identify what key aspects of their daily maintenance process are to be displayed on the interface. It is always better to display lesser information with quicker access and updates, rather than having too many buttons or text, creating a lot of clutter and confusion.
4. Ability to upload pictures
Instead of typing endless text to provide the description of the equipment, a good mobile application for plant maintenance should have the ability to attach pictures associated with equipment breakdowns, thereby creating better visibility on equipment reliability.
5. Barcode scanning
This feature helps to identify the history of a piece of equipment under consideration as also helps to search for parts. One step ahead is the geo-tagging feature that lets you identify the exact location of the equipment, which is quite useful during tracking and auditing of assets. A good mobile solution should be able to provide this barcode scanning feature with the help of camera available on a smartphone or a tablet, saving a lot of search time and avoiding information inaccuracies.
6. Search options
A good mobile solution should provide user-friendly search options for the availability and location of spare parts. This way, it maximizes user's efficiency, while improving the repair timelines.
7. Document viewing
A right solution should provide access to key documents such as work order instructions, technical documents, and safety instructions in a variety of formats including PDF. This way field technicians and plant personnel can make informed decisions about work orders and assignments, while considerably cutting down costs on printing.
8. Quick deployment
A good mobile solution should be able to quickly adapt to an organization's infrastructure, enabling quick deployment and minimizing implementation timelines.
9. Data Security
Most of the organizations are concerned about the security of their data, particularly when they are dealing with costly equipment and assets. A right solution should be able to address these issues and provide an extra layer of data security, without posing hindrances to the existing functionality, while executing day to day maintenance tasks.
10. Cost aspects
Last, but not least is the cost aspect that typically crops up in our mind – how much does a good mobile work order solution cost and will my organization be able to afford it? Hence, a good solution vendor cannot ignore this aspect, irrespective of the number of features that the solution can offer, as most of the companies are in the mid-level segment, looking for a solution that is affordable including costs related to installation, maintenance, and future upgrades.
Innovapptive's Connected Workforce Platform and mWorkOrder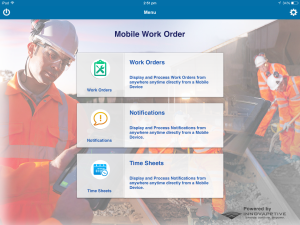 Innovapptive evaluated and understands the various pain points and challenges encountered by asset-intensive industries. Innovapptive's Connected Workforce Platform empowers and improves people's lives with a next-generation platform that digitally connects the entire industrial workforce, executives, and back office to minimize plant outages & improve operational excellence. mWorkOrder, a solution within the Platform, leverages SAP's Plant Maintenance module at the back-end to deliver a consistent, reliable and a productive asset maintenance experience across a wide range of industries. It empowers maintenance technicians and quality inspectors to work safely and productively relating to installing new equipment or maintaining, inspecting and repairing existing assets. Apart from that, the mWorkOrder app mitigates the risk of injury by helping workers complete safety checks and follow safe work practices.

If you would like a demo of Innovapptive's Connected Workforce Platform and our portfolio of mobile solutions, please click on the button. You can also reach out to an Innovapptive Solution Expert by emailing us at sales@innovapptive.com or via phone at (713) 275-1804.