Though technology has a major role to play in every facet of life, asset management in particular has undergone a sea change due to influx of technology in the past couple of years. This is more pronounced due to advent to mobility and mobile technologies to take enterprise asset management (EAM) to the next level. Integrating mobile devices and apps with current asset management solutions can save time, minimize errors and streamline processes - reduce operational expenses and boost the bottom lines. Mobile EAM also plays a significant role in generating higher RoI due to the fact that the operational improvements tend to reduce excessive inventory and maintenance costs. A one step ahead in this area is integrating bar code scanning technology with mobile technology to ensure seamless, transparent and a reliable asset & inventory management process.
Why barcode scanning can transform your mobile device usage effectiveness?
The usage of barcode technology is revolutionizing the way assets are managed and distributed. In fact, in certain asset intensive industries like manufacturing, where there are a large number of assets and inventory running into several crores of rupees, it becomes cumbersome on maintenance, production or warehouse personnel to physically verify each asset/inventory to perform asset reconciliation process on periodic intervals. Not only is it time consuming, but is also prone to innumerable errors – each error or counting discrepancy may cost an organization several lakhs of rupees, which in turn poses a serious challenge to maintain profitability of the company. The usage of barcode asset tag greatly simplifies the process of reducing the time taken and also lets you take an accurate count, which would significantly have a bearing on the overall organizational efficiency and profitability of the organization.
Hence, a typical asset management solution uses barcodes or RFID tags to collect precise data that lets an organization to have better control over their assets, while improving the overall revenue generation opportunities. If you have an organized bar code system consisting of printers, scanners and labels, you can ensure a streamlined process of cataloguing and fixed assets counting. With an automated identification and data capture (AIDC) solution featuring RFID, organizations can enjoy a range of benefits including locating remote assets, monitoring the movement of assets or even defining and refining complex workflows.
Incorporating bar code scanning technology for the Innovapptive Mobile Portfolio
Innovapptive is effectively transforming barcode data capture with a configurable barcode scanning capabilities offered by the Rapid App Configurator Engine (RACE™). The configurable barcode scanning setting allows you to add a barcode scanner to any screen with the mobile application and also customize the data string that is captured based on the type of barcode scanned. This configuration can be accomplished using SAP configuration - without writing a single line of code.
The best part is these solutions are adapted to work on any handheld devices including mobile phones, tablets, external peripherals and ruggedized hand held devices (people who work at onsite remote locations).
mInventory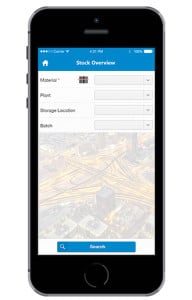 The mInventory mobile solution is designed to support the existing SAP users, such as warehouse clerks, managers, store managers or order processing and delivery managers. This solution lets you seamlessly manage and run all critical inventory management transactions such as stock overview, goods issue, goods receipts, picking/unpicking, packing/unpacking, bin to bin movements and inventory cycle counting to name a few. This solution offers a seamless, intuitive and an enriching inventory management experience at the comfort of your smart phones, ruggedized handheld devices, peripheral devices and tablets.
Using mInventory, you can perform day to day inventory transactions by simply accessing the master data and transactional data of the SAP inventory or extended warehouse management module, thereby helping you manage the core spectrum of transactions within the scope of supply chain management (SCM) space. With mInventory, you can ensure real-time transaction processing, enhanced data accuracy and improved mobility and convenience.
Bar code scanning for effective inventory management
The technology behind bar code scanning is the same as implemented in the mAssetTag solution (as explained above). Some of the core inventory management transactions, where bar code scanning adds significant value are listed below:
Stock Overview: You can scan bar codes of the inventory to get an overview of the total available stock (batch wise) of any inventory including the stock available in the plant and its respective warehouses.
Goods receiving/issuing: By scanning the items (basic product data), you can update and post the Goods Receipt or Goods Issue report to the back-end server.
Inbound/Outbound operations: By scanning the assets, you can accomplish a series of activities including material lookup, picking/unpicking the line items from the warehouse, packing/unpacking the items and checking the cycle count of the inventory in your warehouse at any given point of time.
Mobile Asset Management (mAssetTag)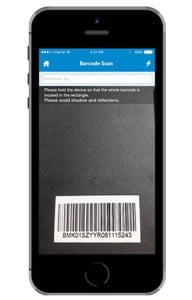 mAssetTag is a mobile app that is basically developed to support the existing SAP users of FI-AA module to enable them to connect and access the master data of that module from the comfort of their mobile phones. It primarily works on any Android phone and is very simple to use.
Once you configure mAssetTag (for connecting to the back-end FI-AA module) on your mobile device, you can right away login, using your existing SAP credentials and get started using mAssetTag.
How bar code scanning technology is implemented in mAssetTag?
One of the features of mAssetTag is to help you scan assets and tag the geo-location of the assets to start the asset reconciliation process. Once you access/tap this feature from your mobile, the GPS connection in your phone gets activated and the camera opens to let you scan the bar code of the asset. Using your smart phone camera, mAssetTag reads the bar code and generates the data including the positional co-ordinates (latitude and longitude) of the asset.
mAssetTag subsequently sends this data to the SAP's FI-AA module to cross check this data with the existing data on the server. Upon successful verification, the FI-AA module sends an Asset Id that gets tagged with the scanned asset. This Geo-tag for an asset helps in effective tracking of the asset and is beneficial at the time of asset auditing. This includes physical verification of the assets with the assigned batch of assets, wherein a push notification is sent to the assignee updating the asset reconciliation status.
From the above discussion, it is evident that the bar code scanning is a major technological breakthrough in mobile EAM solutions with several innovations still in the offing to enrich the user experience to a new plane.
If you would like a demo of Innovapptive's portfolio of Native or Web based mobile solutions, please click on the link. Alternatively, if you would like to discuss with an Innovapptive solution expert, you can reach out to us by emailing us at sales@innovapptive.com or you can reach a sales representative at (713) 275-1804.