Asset Management plays a vital role for any organization, be it manufacturing, IT, Health care, etc. Managing the assets in the right way is itself an art that involves prudent balancing of costs, opportunities and risks against the desired performance of assets to accomplish the set organizational objectives. In addition to that, Enterprise Asset Management also plays a crucial role in enabling an organization to examine the need for, and performance of the assets and its associated systems at different levels. Simply speaking, it implies taking the right decisions and optimizing the delivery of value.
This high level reliance on assets, coupled with an innumerable market trends and technological advancements is paving way to a systematic and a coherent enterprise asset management (EAM). EAM is slowly gaining ground, particularly in asset intensive industries, where typical challenges like managing the complete life-cycle of assets, tracking their location to ensure assets are not missing or stolen, and ensuring upgrades and system deployments are adequately addressed. Since most of the field personnel working in such industries are remotely placed, enabling an effective communication and data sharing mechanism is one of the core objectives of EAM. With a comprehensive EAM, you can gain valuable insights and gain control to tightly align with your organizational goals. Asset management helps in organizing comprehensive programs for preventive, predictive, routine and unplanned maintenance. This way, you can control costs and increase asset uptime, thereby reducing the total cost of ownership (TCO).
Confluence of EAM and Mobile Technology
As this new approach is slowly gaining ground, one of the key most technological advancements is the usage of mobile devices and apps for managing the assets in the enterprise. Integrating mobile devices and apps with current asset management solutions can save time, minimize errors and streamline processes - reduce operational expenses and boost the bottom lines. In addition to that, mobile EAM contributes to high ROI, since operational improvements minimizes excessive inventory and maintenance costs. A one step ahead in this area is integrating bar code scanning technology with mobile technology to ensure seamless, transparent and a reliable asset & inventory management process. EAM encompasses the management of an organization's entire portfolio of assets across various processes including adding/minimizing the equipment, replacement, over-hauling, redundancy setup and maintenance budgets. The net result is the decreased total cost of ownership (TCO) that is one of the primary objectives of mobile EAM.
Innovapptive's contribution in the EAM space
Work order management and inventory management are key technologies that enable organizations to manage, maintain and upgrade their assets and inventory to derive a slew of benefits – helps in gaining maximum usage from items and ensuring that they run at optimal efficiency. In addition to that, one of the crucial objectives of a good EAM solution is to ensure safety of an organization's remote workforce, while providing access to critical information that they need most to ensure high productivity of its personnel.
From the above backdrop, Innovapptive has taken a lead to meet the ever growing demand of mobile apps in this fast growing asset management spectrum. It has collaborated with SAP to deliver two cutting edge solutions - – mobile inventory management (mInventory) and mobile work order management (mWorkOrder).
Let's explore these apps briefly and understand how these solutions can create an impact in asset intensive organizations.
mInventory:
The mInventory mobile solution is designed to support the existing SAP users, such as warehouse clerks, managers, store managers, or order processing and delivery managers to seamlessly manage and run all critical inventory management transactions such as stock overview, goods issue, goods receipts, picking, unpicking, packing, unpacking, bin to bin movements and inventory cycle counting to name a few. The solution offers a seamless, intuitive and an enriching inventory management experience at the comfort of their smart phones or ruggedized mobile computers or handhelds.
Using mInventory, you can perform day to day inventory transactions through hand held devices, smart phones or tablets by simply accessing the master data and transactional data of the SAP inventory or extended warehouse management module, thereby helping you manage the core spectrum of transactions within the scope of supply chain management (SCM) space. With mInventory, you can ensure real-time transaction processing, enhanced data accuracy and improved mobility and convenience.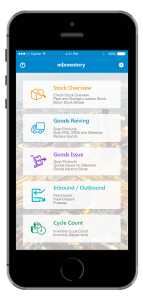 Business Benefits
Perform physical and cycle counts quickly and achieve 98% accuracy of inventory levels.
Streamline inventory cycle counting and reduce number of FTEs for cycle counting.
Speed receipt and back-order reporting to and from shipping/receiving by over 35%.
Reduce inventory carrying costs by 5 – 10%.
Manage physical inventory movement in real time and improve inventory accuracy by 30%.
Eliminate investments in expensive RFID guns and consoles to tighten your supply chain, service responses and order fulfillment.
Streamline goods receipts, issues, transfers and returns.
Streamline data processing on receivables.
Manage rolling inventories, satellite storerooms and truck/trunk stock.
mWorkOrder:
mWorkOrder leverages SAP's Plant Maintenance module at the back-end to deliver a consistent, reliable and a productive asset maintenance experience across a wide range of industries. It empowers maintenance technicians and quality inspectors to work safely and productively relating to installing new equipment or maintaining, inspecting and repairing existing assets. Apart from that, the mWorkOrder app also mitigates the risk of injury by helping workers complete safety checks and follow safe work practices.
Using mWorkOrder, a quality inspector can notify their field personnel and technicians about an asset that needs maintenance/repair or even update an existing work order to let their field personnel accomplish a specific maintenance task of an equipment/machinery in their factory premises. On the other hand, field technicians can constantly keep track and update the status pertaining to their notifications/work orders or even fill up time sheets to keep track of the time spent on their respective activities.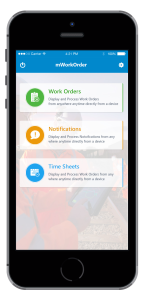 Business benefits
Streamline enterprise asset management.
Lower overall costs by improving safety and productivity in the field.
Avoid unexpected downtime with proactive dispatch and scheduling of work orders.
Extend and improve the asset life and reliability.
Increase plant, fleet and equipment performance.
Reduce unplanned downtime and maintenance backlog.
Increase efficiency of warehouse, plant, field and accounts payable personnel.
From the above discussion, it boils down to the fact that mobile asset management solutions are the order of day with asset intensive companies religiously embracing them like never before. Apart from offering a seamless user experience, it provides a plethora of benefits including providing a holistic view of their assets, ensuring seamless tracking, reducing maintenance costs and improving the shelf life of their assets. This translates to greater revenue generation, higher return on investment and above all reducing the total cost of ownership.
If you would like a demo of Innovapptive's portfolio of Native or Web based mobile solutions, please click on the Button. Alternatively, if you would like to discuss with an Innovapptive solution expert, you can reach out to us by emailing us at sales@innovapptive.com or you can reach a sales representative at (713) 275-1804.