Safety is a primary concern in all industrial plants for which daily safety and operational inspections are a necessity. Plant managers and operators relying on manual, paper-based processes not only waste a lot of valuable time but also risk safety and productivity. Using efficient maintenance work order management processes and performing operator rounds effectively helps companies prevent catastrophic incidents.
Paper forms and checklists don't provide the real-time, accurate information decision-makers need to take quick remedial action when safety or equipment maintenance problems are discovered. They only relay information written down at the time of recording, not the data as it is in real-time. That information could be minutes, hours, or even days old, and thus out of date. It's practically useless for decision-making. Despite this, about 40% of plants and facilities still use paper records for maintenance reporting.
Paper-based data collection and sharing processes have trapped far too many industrial facilities in inefficient, reactive maintenance programs. Reactive maintenance costs are typically 50% higher than preventive or predictive maintenance costs.

There is a way to decrease these costs. Using a mobile work order management and digital operator rounds solution. These solutions can help industrial maintenance teams achieve the following five goals:
Greater process visibility
Make better use of labor and resources
Enhance workforce productivity and wrench time
Bridge technician skills gaps
Stay regulatory compliant
Manual Work Order and Operator Rounds Problems
More than two-out-of-every-three industrial plants recently surveyed revealed they had no idea when their equipment was due for routine maintenance or upgrades. It's no surprise then that 82% of all plants have suffered at least one unplanned shutdown in the last three years.
Companies perform daily inspections/operator rounds. Managers use these inspections to identify equipment issues and help them prioritize repairs. Despite available technology, too many organizations still use paper forms during these inspections. Paper poses many problems.
Paper-based operator rounds, inspections, and checklists bring problems that erase many of the task's benefits. These issues render inspections ineffective at best and useless at worst. They also lead to:
Increased expenses
Lost production
Revenue disruptions
Customer service problems
Potential fines and penalties
Decision makers need the completed checklist to quickly determine what action to take. Paper-based operator rounds are static objects, however. The information remains unseen and unknown until the technician completes the form and turns it in or manually uploads data into an enterprise resource planning (ERP) system.
No maintenance repairs occur without a work order in a well-run industrial plant. However, a manager or supervisor issuing a work order doesn't ensure a smooth work order process. As with operator rounds, too many plants use a paper-based work order system which causes work order problems, too. Paper work orders make the maintenance process harder rather than easier. They:
Slow down actual work
Keep decision-makers in the dark once issued
Add more non-value-added tasks
Leveraging Digital for Efficient Industrial Plant Maintenance
Innovapptive offers two connected worker applications to address operator rounds and work order management issues.
Digital Operator Rounds help companies organize, conduct, share, and review daily equipment and safety inspections. Mobile Work Order Management lets decision-makers create, issue, track, and complete work orders for problems found during an operator round.
Each app gives maintenance managers, supervisors, and frontline workers greater flexibility and agility. They can accomplish significant tasks faster, better, safer, and cheaper than traditional manual processes.
Digital Operator Rounds replace error-prone paper checklists with an efficient electronic process using mobile handheld devices (smartphones, tablets, barcode scanners, etc.). Technicians access digital forms on their devices to conduct inspections. Managers can quickly and easily change and customize dynamic digital forms on the fly (unlike paper checklists) to better meet situational needs.

Technicians scan equipment barcodes and complete digital forms. They check customized data fields that document present operational status and safety conditions. The inspector can't advance to the next piece of equipment or location until completing all fields for the current step.

The apps immediately and automatically upload collected data electronically into the back-office system. Decision-makers can view inspection data in real-time via a mobile device or desktop app and communicate with the technician during the round.
Mobile Work Order Management also utilizes mobile handheld devices. The app functions in real-time. This gives decision-makers instant visibility into their facility's operational status and into where work orders stand.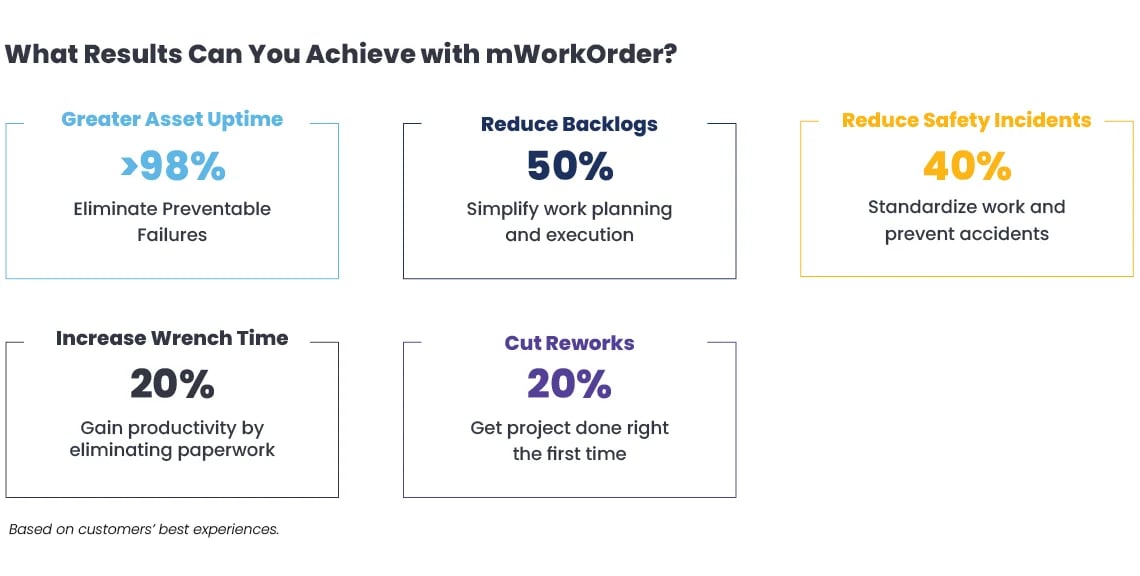 Managers and supervisors can create, edit, assign, and monitor a maintenance work order at any time from anywhere. This greatly speeds up the work order management process and is especially useful in a maintenance emergency when seconds count. Address problems quicker, cut downtime, and extend asset lifespan.
Learn More about Digital Operator Rounds and mWorkOrder
Innovapptive offers solutions to overcome the challenges discussed in this blog. Digital Operator Rounds app delivers a streamlined data collection process and gives technicians and decision-makers greater agility and flexibility to share critical operational information in real-time. The solution digitizes paper forms, boosts collaboration, reduces downtime, and mitigates safety risks. Explore more in this video.
Mobile Work Order Management improves the work order process. Managers and supervisors can better allocate maintenance resources, send notifications, track progress, improve wrench time, and more. Repairs get done right the first time, reducing reworks, cutting downtime, and stopping revenue disruptions. Watch this video for details, then schedule a free demo today or call Innovapptive at 844-464-6668.