Industrial organizations have used digital tools like Enterprise Resource Planning (ERP), Enterprise Asset Management (EAM) and Customer Relationship Management (CRM) over the last 20 years to boost production and profits.
But these tools are often limited to back-office staff with frontline workers, like maintenance technicians, forced to hustle between field sites and the office carrying clipboards and binders. Connected worker solutions enable these frontline employees to tap directly into the digital tools that have revolutionized industrial organizations.
Incomplete industrial transformation
The fourth industrial revolution, or Industry 4.0, brought robotics, IIoT and artificial intelligence technologies to asset-intensive industries. Collaboration and video conferencing tools have enabled office workers to do their jobs remotely, especially during the coronavirus pandemic.
Frontline workers often can't take advantage of these technologies. It's much harder to hop on a Zoom call or unlock the data stored digitally in an ERP system when you're a field maintenance technician in a remote location. These "deskless" workers are still visiting the office to collect manuals, paper-based checklists and work instructions before heading to the field to do their jobs. Hours or days later, they hand over the papers documenting the work they've done to office staff that manually key data into an ERP like SAP or IBM Maximo.
Compare that to your typical deskbound knowledge worker, who has access to all the real-time data they need at their fingertips. They can collaborate with colleagues around the world, either through a company chat app or instant video call. When there's a question about how to do a task, they can just go to their company intranet or knowledge management system and catch up on step-by-step instructions.
This gap between the frontline workers and back-office leads to some inconveniences, inefficiencies and extra costs that hit the bottom line. These include:
Duplicate work due to manual data collection
Data inaccuracies
Delayed asset data due to the lag in feeding the data into ERP systems
Reduced wrench time from technicians waiting on instructions, work orders, spare parts and more.
High inventory carrying costs due to data silos
Hefty compliance penalties
The Connected Worker
Connected Worker solutions complement industrial transformation by integrating frontline workers with the digital ecosystem through mobile and wearable technologies. These solutions break down data silos and ensure your ERP or EAM system is indeed your single source of truth when it comes to maintenance and operations. Cutting-edge technologies like wearables, optical character recognition and GPS are all available to frontline workers for the first time, streamlining their work and allowing them to be more productive.
A true connected worker can now easily check spare part availability, better plan stock levels according to maintenance plans, and access work instructions, all on their mobile device in the field. The back-office gains even more ground in the digital transformation race with a comprehensive view of plant operations thanks to accurate real-time data that leads to better decisions.
Here're some ways Connected Worker can reshape maintenance and operations: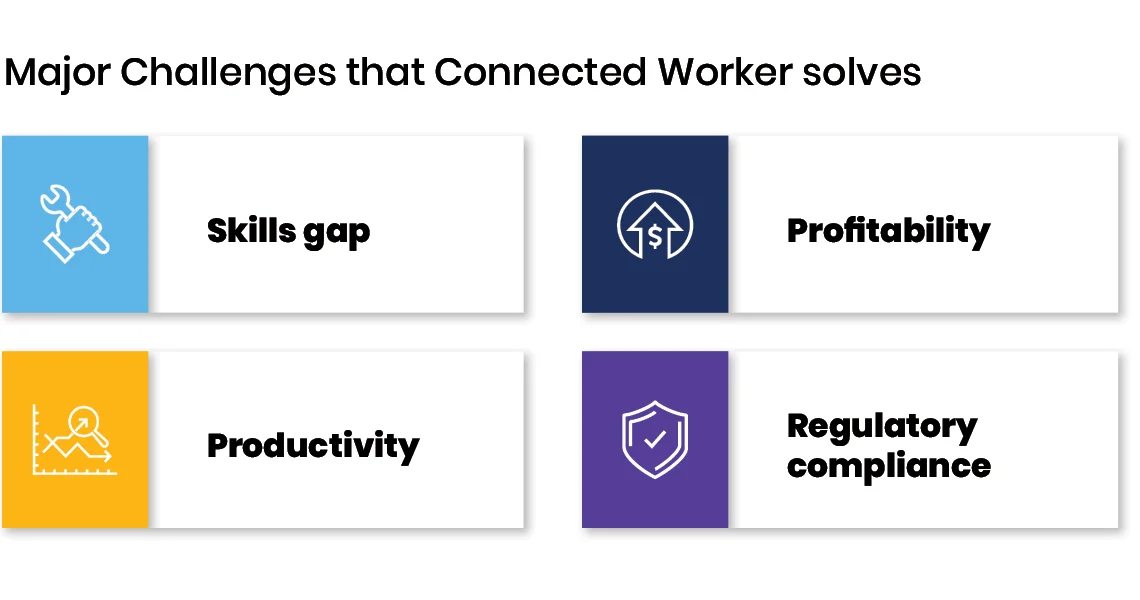 Want to learn more about the Connected Worker?
Innovapptive is a Connected Worker pioneer, with nearly a decade of experience rolling out solutions that bring frontline workers and back-office systems together. Reach out today to learn more about how we can complete your digital transformation journey.